Is there such a thing? After last weekend I could possibly be THRIFTED OUT. Well at least for a week or two. ;) I think part of it is that my dining room table is piled with the spoils of three thrift stores and numerous yard sales and I can't make heads or tails of what I have. I'm starting to a mass a collection of items for an EBay store and an actual brick and mortar store that I hope to realize in the next year. It's a long shot and I won't go on about it until I have more news to share but we are hoping to make The Goodness Shop a reality.
Now about that pile . . .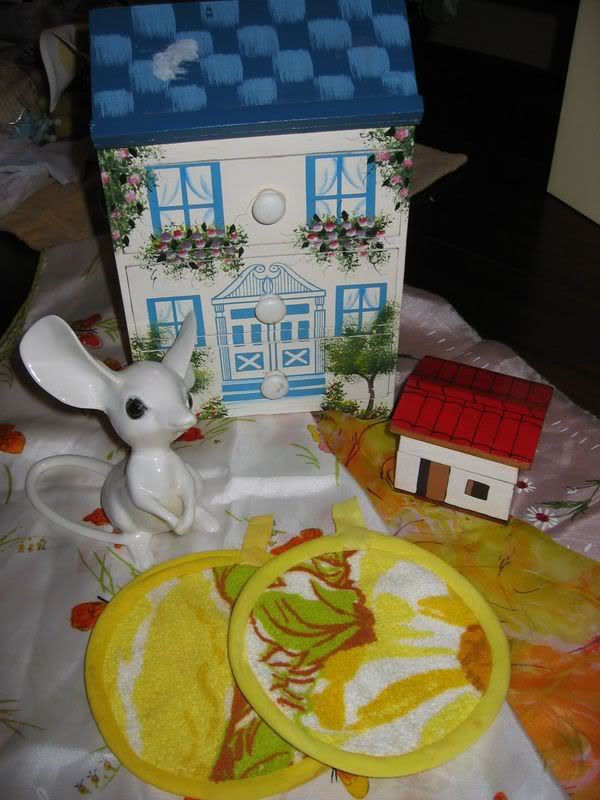 Vera Scarves - (on the bottom) -
my Mom scored these so I'm unsure of the price but she only pays a certain amount for things so I know it was a good one. The pink one with flowers (on the right) is my favorite and has a sticky spot from an old tag which I hope to be able to remove. Does Oxi Clean take out sticky stuff? I use
Goo Gone
to remove sticky tags from household items but I'm not sure about using it on fabric. (And if you don't have some and frequent a thrift store where they stick big white tags on EVERYTHING you must get yourself some Goo Gone, it's the best!)
mini pot holders - 45 cents -
these are tiny, maybe 3 1/2 inches across and are that lovely light terry cloth of many 70s kitchen accessories.
mousie - 50 cents -
isn't he the CUTEST? I just love him. I'm not much for porcelain animal figures but I couldn't resist his big ears. I think I'll give him a little bow around his neck.
wooden house chest of drawers - $2 -
I've always wanted something like this for "doo dads" and this one is well made. The drawers are lined in velvet and the roof lifts up for an extra hidey-hole space. Oh the stuff I can put in here!
wooden house box - 50 cents -
this is just a tiny box and I think it's hand painted. Not sure what I'll do with it, it was sort a of "wooden house" kind of day.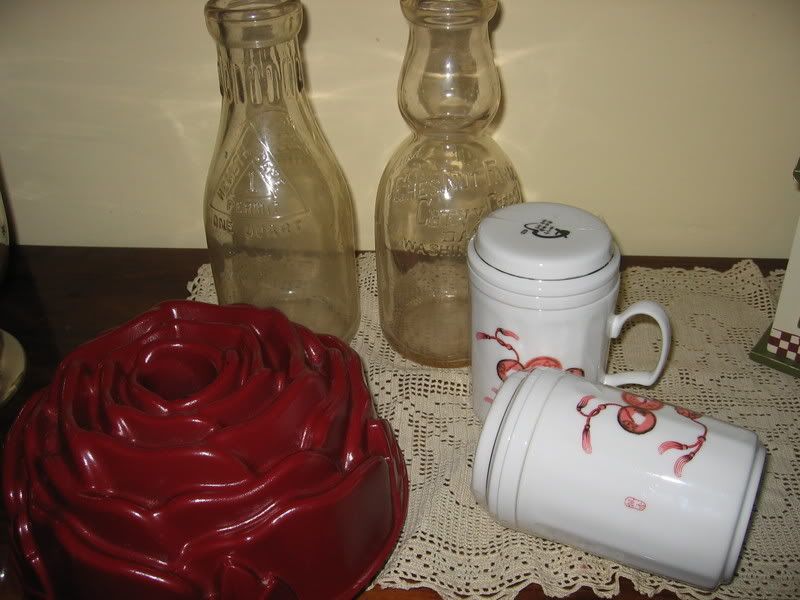 rose shaped "bundt" cake pan - $3 -
this is a nice heavy enamel on cast iron version and I think I'll put it to some use this weekend.
Any suggestions for cake recipes??milk bottles - $3 each -
this was a bit much for these but it was the first yard sale I hit that day and I do really like them . . . I think I will fill them with sea glass I find at the
Rockaways
.
tea cups - $4.50 each -
yes, a lot for the thrift but do I need to go into my love for these AGAIN? :)
Believe me, there's a ton more but I have decided not to bore you with the menial thrifts. I found a few sheets to add to my rag rugs (which I hope to have up in my shop next week), a chenille bed spread I cut up for a custom tea cup pin cushion order
(expect to see all kinds of crap made out of that bed spread -
I'm open to your ideas!! Drop me a line!
) and a load of paper items that I hinted to yesterday. Next week is going to be big for The Goodness Shop!
*****************************
SPRING FLING SWAP
I have only heard from one person who has not heard from their Spring Fling Swap partner. Anyone else out there? Check out a few swaps already received
HERE
,
HERE
and
HERE.
Everything I have seen so far is lovely! Are you ready for the next swap? Hmmm?
Cheers!
RR