Katie
is my new go-to girl. She likes to thrift, craft, eat chocolate, read Martha Stewart magazines and sit on the couch. All of my favorite things! I picked her up last Saturday and headed to Savers. She's a good partner as she pointed out the
Pyrex
I showed you yesterday and says she likes to hear me babble. :) We are off on another adventure this weekend. Wish us luck!
So in addition to the
napkins & napkin rings
and the
sheeting/fabric
I have already showed you, this was my haul from last weekend:
tin - $1 -
it's not vintage but it looks it, plus it's red. My favorite accent color!
whisk broom - $1 -
it says Hungary on the handle.
wire basket - $2 -
Oh so many uses
blue atlas jar - $49 cents -
this is a new jar and was too cute to leave. I think I'll save it for swap goodies.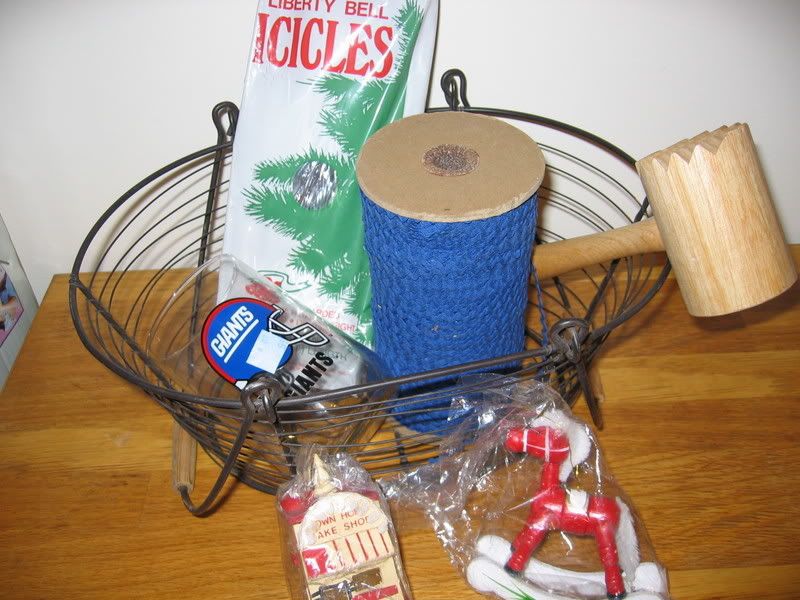 tinsel & 2 wooden Christmas ornaments - $1.99 -
these were in a bag of goodies. I have to say, the first thing I head for lately are the bags of misc. crap. I've found some real treasures in there including those enamal Italian napkin rings I showed you
rick rack - $1.99 -
this is a HUGE amount of blue rick rack. So if you get any mail from me, swap or otherwise, expect some blue rick rack.
Giants glass - 49 cents -
Luis seems to use the thrifted Giants glasses I have found for him more than the our nice glasses.
wire basket - 99 cents -
again, think of how many ways to use this! I can't resist a wire basket.
meat tenderizer - $1 -
I needed one. Plain and simple.
So, I need your thoughts . . .
I'm still considering a "vintage" online store. I'd really like to offer a place where you can get quality items for a good price. I won't be one of those seller's who makes money on shipping, I plan to know pretty much what the shipping will cost and use flat rate boxes when I can. I also would like to have an area of "in search of" items. Like trying to find that creamer to go with my
French Saxon China Thistle pattern sugar bowl
! I'd like to have bartering as an option as well. So what do you think? And don't blow sunshine up my skirt, I want your real opinions. :)
What's doin' tonight?
Curried Leek Soup
,
some crocheted baby booties
and
Ugly Betty.
xoxox
R