Okay, remember how I said I was putting things up in the Goodness Shop YESTERDAY? Yeah well, I haven't taken any pictures so in reality there will be things in there tomorrow. I am still having motivation issues I guess. I did make probably the cutest shabby chic crocheted pot holder EVER last night. It'll be in the shop tomorrow MAYBE even with a mate.

My sister, however, has already loaded things to the site. Please visit
The Goodness Shop
and see her wonderful barrettes for, as she says, girls of all ages. :) Speaking of Mandi, she has decided to become a blogger! PLEASE go and visit her. She needs friends. ;) (did I mention she is my little sister??) Anyway,
visit Handi Dandi
! Mandi and I are quite different, like she doesn't even go to the thrift store! I know. Craziness. She does, however, seem to like the things I have gotten for her there so I guess that makes it a little better. One similarity is that she is getting married this year as well. :)
****************
I went to the Savers on Saturday. I've been having some good thrifting there lately and I think it might be because I've been going Saturday mornings instead of my usual Sunday. I also had one of those 30% off coupons burning a whole in my wallet. So all the prices below are pre-coupon. :)
napkins - 95 cents each -
lovely delicate embroidery.
duck plate - $1.95 -
too. cute. for. words.
pillow - $1.95 -
this may be my most recent favorite find!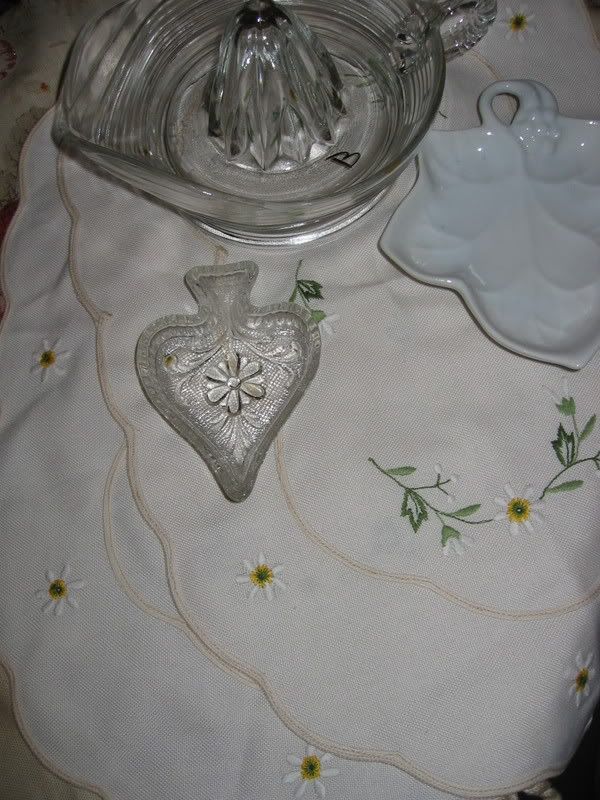 juicer - $1.95 -
love these things!
leaf dish - 95 cents -
I know have four leaf shaped dishes, that is definately a collection!
spade shaped dish - 45 cents -
just plain cute I think
daisy place mats - $1.95 -
perfect for the Easter buffet!
And yesterday I mentioned how I found yet another china pattern I adore:
French Saxon China: Pattern: Thistle - 2 plates, 2 small bowls and a sugar bowl - around $5 for the set -
you know I NEED the creamer now right? I looked on Ebay and replacements.com and no such luck. I'm hoping one of you comes upon it in your treasure hunting and I get a little thrifting karma for
reuniting Heidi's Hazel Atlas sugar bowl with it's long lost mate
. :) If you do, let me know! I have much to barter.
Please friends, send me some motivation jou-jou so that I can get pictures taken and things sorted out for the Etsy shop. We are also working on our very own website store as well where we will sell vintage and other used items at a good price. We'll need extra jou-jou to get that done!
xoxoxo
R