Mother Nature is in an uproar
. So I think I'll have a cuppa in my new mug:
It's quite silly to get so excited over a mug but I love this one. I found it at Savers on my Saturday thrift outing with
Katie
. It was a bit more than I would usually spend on a
thrifted
mug at $4.50 but now I wish I had grabbed it's mate as well. (The other mug was not nearly as sweet as this one with the geisha.) I love that it has both a tea strainer and a lid and is now on my desk at work full of a piping hot cup of Lady Grey.
Katie and I had great intentions of hitting a few
yard sales
on Saturday but thanks to
MapQuest
we never found them. We did happen to find a small church thrift store where Katie found 3 cute dresses! We then hit the Savers and both did well. I'll share some today and tomorrow so as not to overwhelm you with our
thriftyness
. :)
Another favorite find from Savers:
Bookends - $3.99 -
these are from Carter's "Yoko Ono Lennon" collection. I didn't even know they had one.
Hmm
. I looked on
Ebay
and there is a little lamp to match. So cute! Maybe I need that now, too.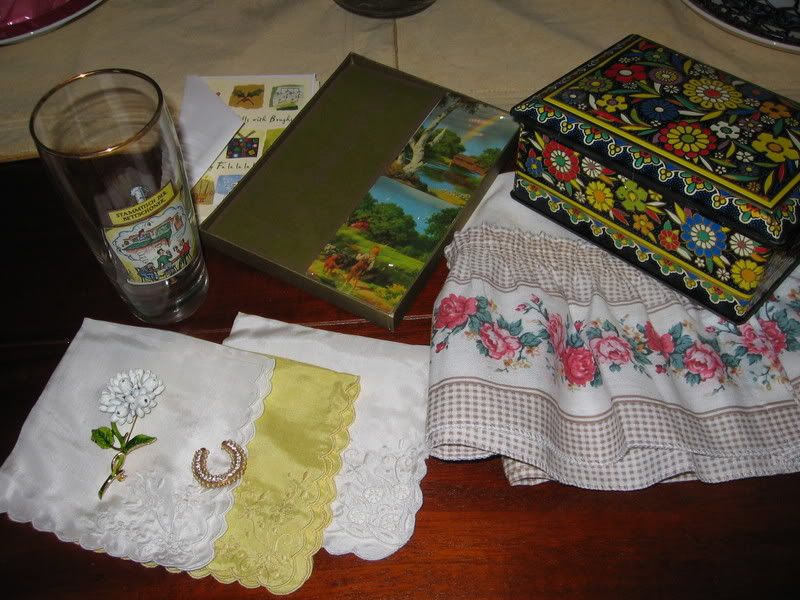 hankies - 3 for 99 cents -
these seem to "new" to be vintage
pins - $2 each -
lovely
enamel
flower and pearled horseshoe, found at the church thrift
beer glass - $1 -
it has a picture of three men in a bar with a big bubble over their heads showing a woman in bead looking over to find an empty pillow where her husband should be. Says something above it in German, probably witty.
vintage bridge set - $1 -
I thought this was stationary until I opened it and it's a score pad and two unopened decks of cards.
flowered tin - 69 cents -
I love these and always pick them up to hold odds and ends in the craft room. I envision a whole shelf of these one day.
curtain - $1
- this would make a cute apron but I may try it out in my kitchen window first
More to come tomorrow including my second rag rug. :)
So pink and green Spring Fling Swaps are winging through the air as we speak! Once you receive your goodies please remember to take pictures and post them not only on your blog but on the
Spring Fling Flicker Site
!
Stay dry!
Rebecca