Late yesterday afternoon
Sarah
sent me an email with a link to
this tutorial on making rag rugs
. You can see more pictures
here
. I think she wanted me to trial run it for her. ;) Well I was of course happy to
oblige
since it just so happened that on my
thrifting
trip with
Katie
on Saturday I picked up a vintage sheet and a good sized piece of vintage material. So I had at it!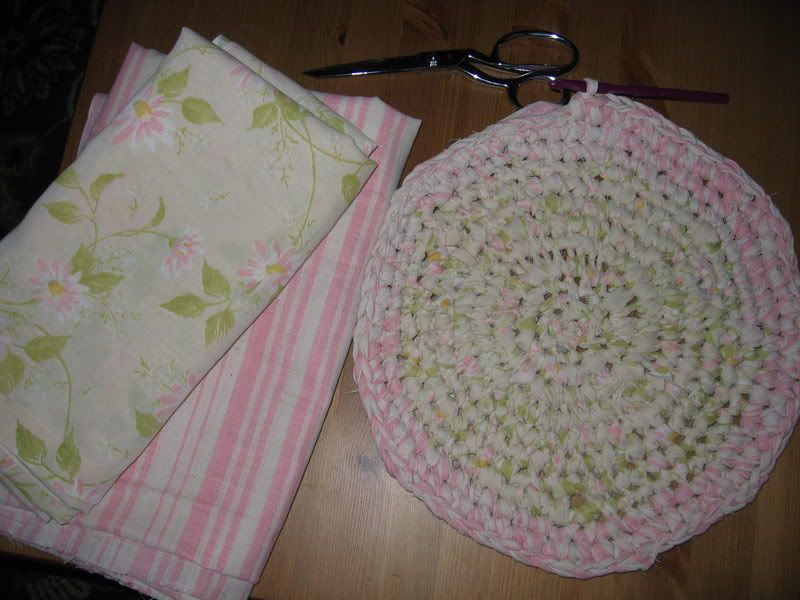 So far so good! Honestly the most annoying part is cutting up the sheets which is why I only did halves to start
in case
I wasn't happy with the finished product. I am using a smaller crochet hook than the one in the
tutorial
because it gave it a more sturdy feel. I'm loving the color combination as well. I think this could become a bit of a habit for me! I'm thinking an oval next time. Thanks, Sarah! I needed that bit of motivation to get started on something new.
Now I know you're all sitting on the edge of your seats waiting for that Pyrex I teased about, right?
LOL
! Well I looked it up on EBay and it doesn't sell for that much but who cares! I like it and plan to share it with my mother who seems to be on an eternal hunt for a butter dish: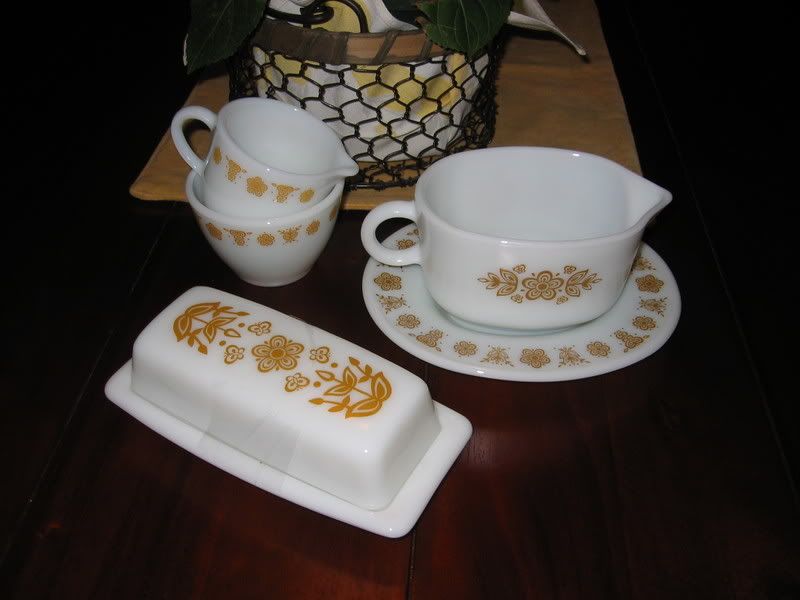 Creamer, sugar, gravy boat and saucer and butter dish all about $11
minus
a 30% discount. Katie's sharp eye found the matching pieces when I snatched up the gravy boat! I don't see much like this in the thrift stores often so it was a nice surprise. Mom you can have the butter dish, we'll have to see about the other pieces. ;)
I
thrifted
a few more things that day that I plan to share once I get some pictures. My idea of cleaning for Easter included dumping everything
unceremoniously
into my craft room which included my bag of
thrifted
goodies.
So tonight I think I'll cut up more "yarn" for the rag rug. I have a light green sheet in my cabinet that hasn't been used since we upgraded to a queen, do you think a green stripe should be next?
updated:
please check out the comments from Carrie B. in the comments section! She has some great tips on making fabric strips. She also included
a link to a different way to make rag rugs called Toothbrush Rugs
! Thanks Carrie, I don't have an email or a blog for so if you want to chat, drop me a line, email is in my profile.
xoxoxo
Rebecca