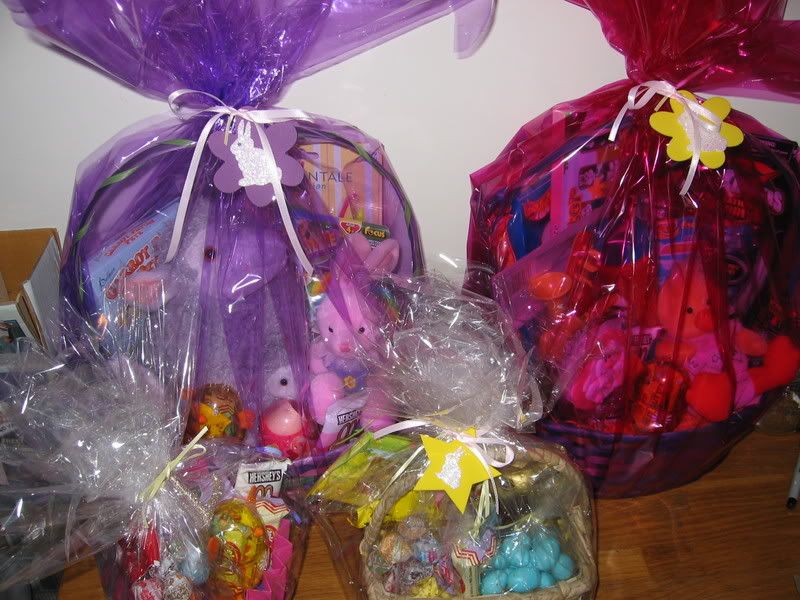 I made up the baskets last weekend and put the tags on this week. I cut the tags from craft foam with my
Sizzix
and stuck some sparkly foam bunny stickers on them. They are probably my favorite Easter craft so far. Simple, easy and oh so cute. I see in the picture that Luis' basket (bottom left corner) does not have a tag! Better hop to it I guess. The Easter bunnies work is never done I suppose. And don't you love how the kids baskets are so much bigger than the adults? ;)
What are your Easter plans? We have brunch for Luis' family and a few friends. I'm still not sure what I'm making beyond the traditional ham and some mac and cheese for the kiddos. I'd like to try something new so if you have any ideas, toss them my way! I know I'm making a peach bundt cake and displaying it in
my fabulous new cake keeper
.
Tomorrow I'm up bright and early to hit the thrift store and the grocery with my dear friend over at
An Odd Duck
. She has been crazy busy lately and hasn't blogged much but stop by and give her a hollar. She is a wonderful writer! You must
read this
.
This came in the mail:
Man that's a lot of yarn. I got it from
Mary Maxim
. I ordered it on Saturday and it was here Wednesday morning. They are super dooper fast! It's for finishing my afghan and I hope it's enough. 15 balls does seem like a lot but it looks a bit smaller now that it's out of the box. :) I think it's time to go through my yarn stash and have a yarn blow out sale right here on Thrifty Goodness. I have a serious fiber addiction.
I hope your weekend is full of fun and family and that however you chose to celebrate Easter that you are safe, happy and content.
All my best,
Rebecca