Easter has come and gone. Now what shall I craft for? I am almost done with the Spring Fling Swap (hope to mail that out NO LATER than next Monday,
Jenn
!) We've had a few emails that some swap packages are already on their way! You still have two weeks to get them out.
So how was your Easter? My friend
Stacy
and I cooked our little hearts out! It really all came together well despite the fact we overcooked the ziti and decided on mashed potatos instead of a gallette.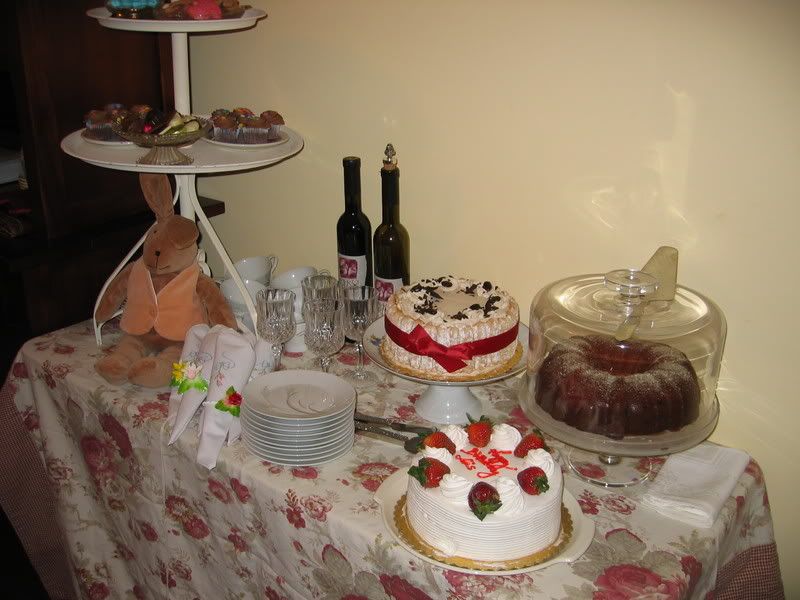 Luis' cousins brought two cakes from
Veniero's
and I made the peach bundt cake. It's from an actual Bundt cake mix I got at the Williams-Sonoma outlet for $4. They are regularly $14 and even though they include the sugar and are really really tasty I doubt I would pay that much for one. I would buy it for $4 again though.
Check out those napkins: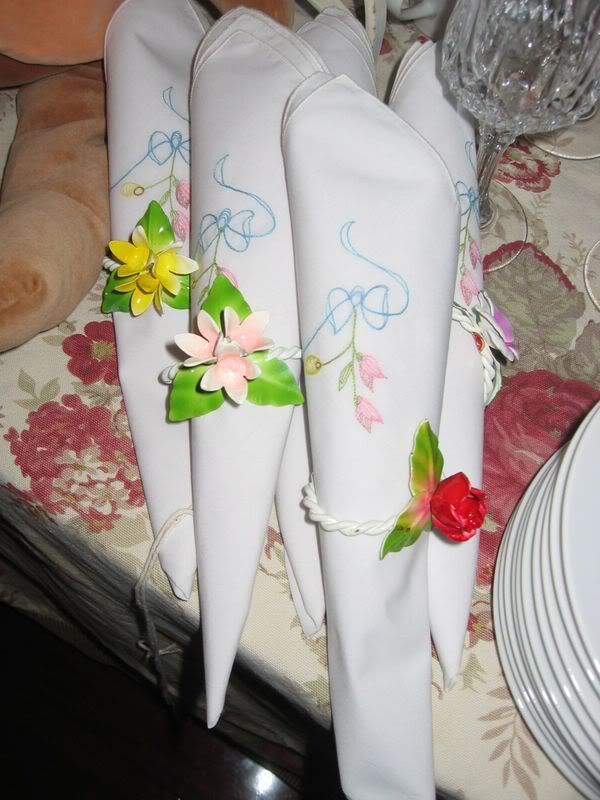 I found the napkins and the enamel napkin rings at the Savers this past Saturday! How lucky on the day before Easter. You know I wouldn't have found a darn thing if I went there looking for them. The napkins were 95 cents each (there are 5) and the 5 rings were in a bag with a few other things for $1.99. Oh and 30% off with another coupon. :) I also found a small table cloth I used on Sunday (but forgot to photograph) and a Pyrex goldmine! I'll post about that later once I get some decent pix.
My feather tree from
Sarah
was a huge hit! I moved it into the living room where everyone could see it. See my little menageri?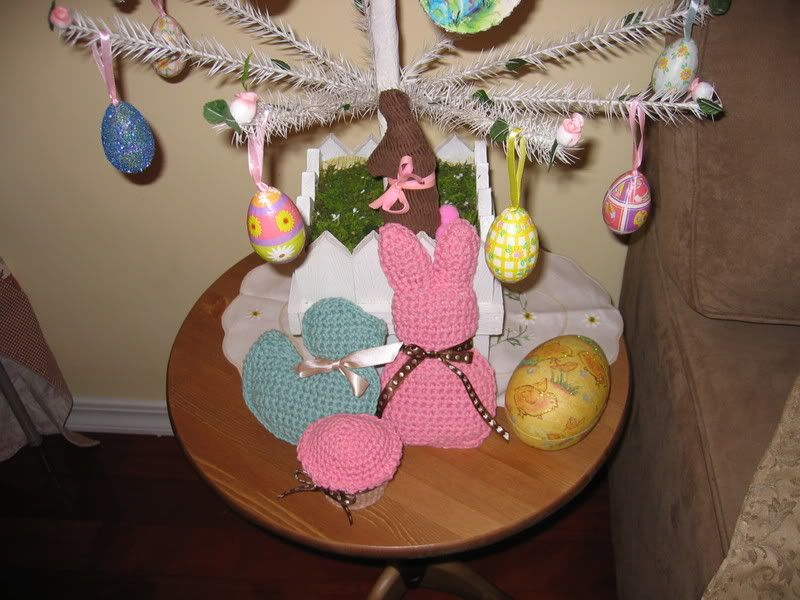 There's my brown courderouy bunny pin cushion from
Ms. A
and my little crocheted pals. I've decided to keep the pink bunny for next year and will put the duck and the cupcake up in
the shop
today. The egg is from Joann's and I added a little glitter to spruce it up. I actually got it for a friend but figured I'd put it out for decoration before sending it. Is that wrong? ;)
The kids had a wonderful time and my niece Christina especially loved the kid friendly bar. I had champagne, raspberry champage, sparkling tangerine strawberry punch, seltzer, pom juice, orange juice, raspberries, strawberries and limes. Needless to say, they didn't get any of the champagne. ;)
Wait until you see the wonderful Pyrex set I thrifted. I'm totally tickled by it. More tomorrow!
ciao
Rebecca