I'm in print! :) I wrote a short article for the monthly newsletter for
The Thrift Store Shopper
. You can read my little story
here
. I am fortunate to share a page with
Apron Thrift Girl
! (By the way, ATG, send me your info for the swap ahem ;) ) You'll notice that ATGs article has beautiful pictures. I looked and looked for a picture of my thrifted Halloween Costume with no luck. Oh well. Cookie has asked me to contribute again so next time there will definately be pictures even if I have to fake them. ;)
The swap is alive and kickin' and I can't wait to get everyone paired up. We have a few more participants and I'll post a list on Friday and send out swap partners over the weekend.
So what else did we find on our
Tour De Chance
?
Pampered Chef Chilzane Bowl
- $4 - Goodwill - I had the smaller one you see on top. This is for reference since my Mom or my Sister gave me the smaller one.
pink leaf dish
- $2 - Selden Thrift - This is a favorite and goes wonderfully with the
green leaf dish
from a past thrift. Hmm, do I feel a collection coming on?
pig cutting board
- $2 - Selden Thrift - I've already used this like 5 times. It says handmade in the Phillipines on the back. Don't you love his leather piggy tail for hanging?
pie shield
- 35 cents - Selden thrift - already used this too. It's amazing, I didn't burn the crust. Who knew? (okay everyone knew but me . . .)
Still need to photograph a few more things from that weekend and I saw a comment from Nina about the pink apron and pink carafe we gave her. I will definately post that picture once she sends it, I've been dying to see her new pink kitchen myself. I did find this picture of the carafe: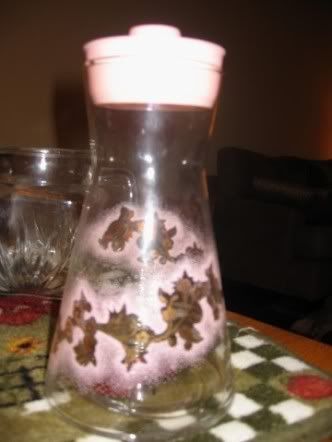 What a crappy shot, it's so blurry, but you can still see the cuteness of it. :) I so rarely find these with the lids still intact and in great shape. Baltimore Goodwill, $3 I think . . . it's been awhile.
More to come . . .
xoxo