I am SO glad I was able to hit my favorite thrift while in Baltimore. Lizzy Ann and I drove right to the store in Baltimore from NYC last Thursday. Mom met us there. I spent $45! That's a lot for me but like I said, it's my fav store and I so rarely get to go that I just bought up everything that peaked my interest. I'm sure NONE of you has done that before, RIGHT? uh uh.
Anyway, some of the booty: (typical disclaimer of crappy photography blah blah blah)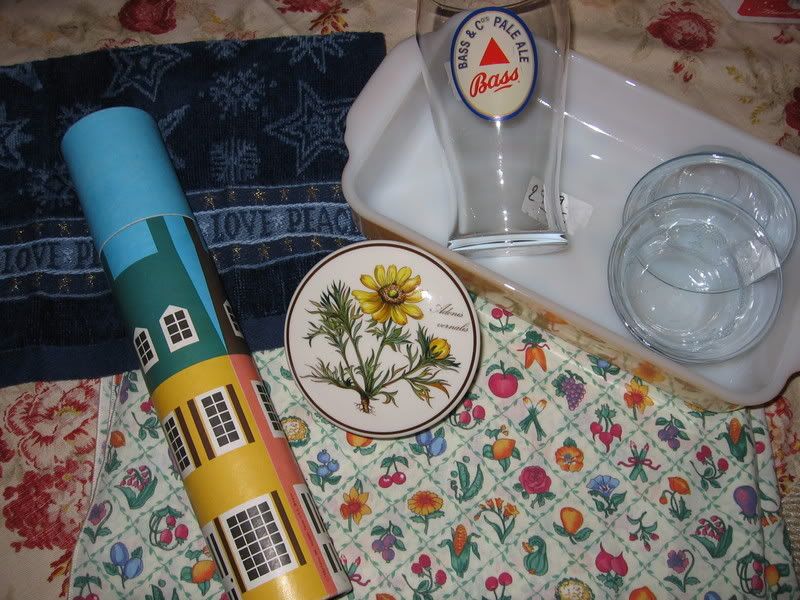 blue holiday wash cloth
- 45 cents - cute and perfect for my half bath
fireplace matches
- $2 - mostly I wanted these for the super cute little house tube they came in but it is filled with blue tipped fireplace matches as a bonus!
Villeroy & Boch trinket box
- $3 - oh how I love Villeroy & Boch
vintage table cloth
- $2.50 - (under the matches, etc.) this was a half price item and it seems that these days you NEVER find the half price colors any more. I just couldn't believe some body didn't snatch this baby up! What a great fruit and veggie motif.
Bass pint glass
- 45 cents - I love lots of ice in my drinks and pint glasses are the perfect size. Oh and sometimes we use them for beer, too.
Fire King casserole dish
- $3 - I don't know a damn thing about Fire King but I hear people raving over it all the time and when this dish caught my eye (it's in great shape and has that sort of orangy iridescent finish) I turned it over and it said Fire King Made in the USA - I knew I had to buy it.
Fire King votive holders
- 45 cents each - I thought these were from Yankee Candle and matched some I gave my sister for her B-Day but they say Fire King on the bottom. I am still giving them to her, they will go nicely I think.
I like all of this lot but I think the trinket box is my favorite:
I won't over load you and will post more tomorrow - $45 of thrifted stuff is A LOT of stuff. :)
Anyone who has more info on Fire King, I'm curious. Apparently, I'm not as thrift saavy as I thought ha ha . . . I'm also again considering starting up a little EBay store AND . . . this is where I really need your insight . . . an Etsy Shop to maybe sell some of my paper creations. I have a great idea for a set of Thanksgiving menus, place cards and napkin rings that I thought people may like to own. I've realized that once I iron out the details of the design I'm pretty good at mass producing. So thoughts? I'm hoping to make up a set this week and post for all of you to see. Think autmun colors and lots of leaves and acorns. Oh, and of course GLITTER GLUE. Well maybe, I figure I can have the "rustic" version as well. (ie: no glitter)
I will leave you with another of the fabulous hats from the tea party: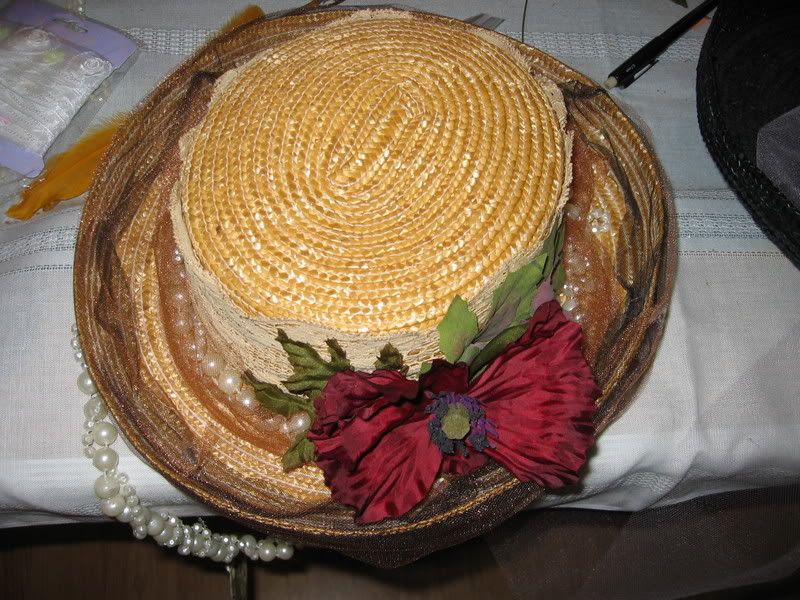 This was done by Lizzy Ann and was probably the most "normal" of all the hats. Normal meaning - no fake birds.
God bless hats.
R