I usually do not go out to the Savers during the week. The traffic is bad and it's usually takes forever to get there. But I guess it was an attempt to make up for my sadness at the state of the Astoria Goodwill that got me in the car last night. Fortunately the traffic moved well and I had a delightful conversation with dear Nina on the way there. (Feel better, sister!)
So how was it? Okay, not very crowded and I did find a few things. I'm still a little put off by the prices as compared to the Baltimore thrift but I got some okay bargains.
counted cross stitch baby blanket kit - $5 - more than I would normally spend but it was brand new and these kits usually run atleast in the high 20s. (the orginal price tag says $35)
linen napkins - 49 cents each - there were six and I thought they were Christmas. They're not but that is still what I will use them for. I guess I have my Mom to thank for my not being able to pass up nice napkins.
leaf dish - $3 - made in Japan and I just love it.
here is a close up of the napkins and dish: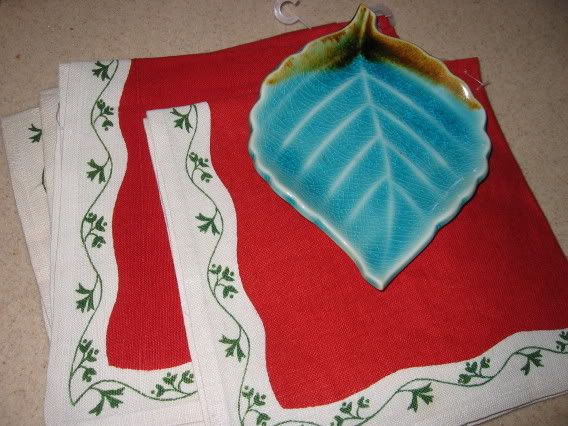 I guess I thought that was holly around the edges. They are still very Christmas-like and will look nice on the table.
So as not to bore you, I'll post the rest tomorrow. :)
I'm considering starting an EBay store for some things I find at thrift that I know others would love but that I have no use for. I really wish there was another place to post such things. Anyway, I'm worried it will be more work than I'm ready for especially since it seems like such a chore to make it to the post office these days. (Regina, I promise to get your scrapbook goodies in the mail soon! I got some new Sizzix dies and I'm making a pile of die cuts for you. :) )
Tomorrow, more thrifts and the success of the mitten clips! However, they are not clips (wait and see!) and Carrie B. - I took your advise and used the Aleene's Tacky glue (I actually had some hidden in a bottom drawer) and it worked perfectly!
xoxo