*I reserve the right to add the word GOODNESS to any phrase. Thank you.
I am probably one of the few people who does not have children yet still sends holiday photocards.
I sent this one in 2003: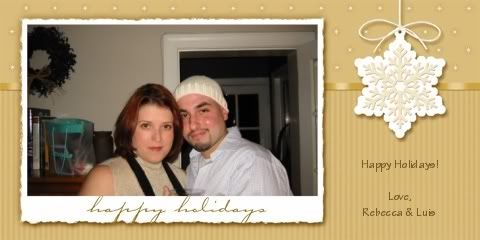 and then this one in 2005: (I have no idea what happened in 2004)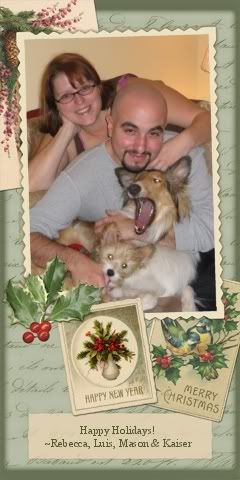 and I was considering sending this one this year:
I don't love this picture of me, I look pregnant and I'M NOT so that's distressing but whatever. All of these are from
Snapfish.
I use them for my digital photo albums, too, and have been pleased. However, today I got an e-mail from
MARTHA
about her new
holiday photocards
. Well they are wicked cute and now I may have to just send lots of photocards for every holiday. I mean everyone wants a picture of my dogs dressed up for Halloween, right?
I'm off to Baltimore today and won't be able to post until Monday. Hopefully I will be get to do a little thrifting (it's on the agenda) and will have pictures from my Bridal Tea Party to share as well. Everyone have a fantastic weekend and keep on thriftin'! woot woot!
cheers - R