Sometime back I received an e-mail from Anna in Poland. She had a Polish translation of
The Knitters Bible
and thought that it was translated incorrectly as the sheep she was knitting was HEADLESS. Yes, without a head. Nada cabeza. Sans melon.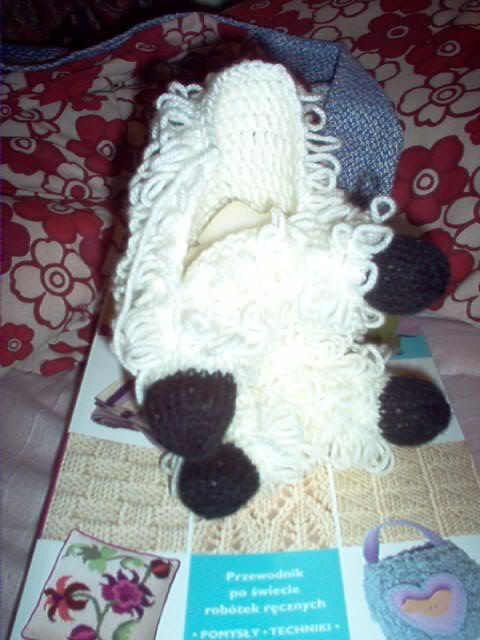 *shudder* Seems like the pattern instructions for the head were unclear. Anna read that I was knitting something from that book (we won't get into WHAT I was knitting and whether or not it's finished, thank you) and asked if I could send her the pattern in English so she could finish the poor thing. Well mail to Poland was a lot quicker than I thought (as is Anna's knitting!) and VOILA!
Isn't he cute? Let's call him Charlie. Just another case of why the internet is wonderful for bringing us crafty ladies together. Please go see Anna's other wonderful knits on her
blog
(in Polish) and her
Flicker site
(in English.)
Thrifty Goodness: Saving the World, One Headless Knit Sheep at a Time.
So what did I do this weekend? Aside from standing in LONG lines to get my thrills on the roller coasters at Great Adventure, I spent my Sunday on the sofa knitting dog sweaters for my sister's three pooches. I'll show a picture when all three are complete. It's a theme project. So why do I knit for other dogs and not my own?
EXHIBIT A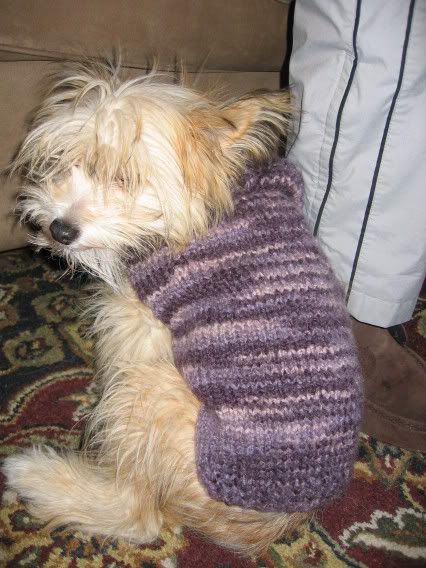 While Kaiser is a huge fan of Old Navy dog sweaters (particulary the ones with attached scarves) he is NOT so fond of those I've made for him. He kept walking into the wall trying to rub it off and then scooting across the floor in protest. So NO MORE SWEATERS for him. *hmphf*
But I digress . . . in addition to the sweater knitting, I also worked on a larger version of the
paper rosettes I made for the tea
. I thought they would make for nice Christmas decorations to hang in the windows:
I'm not 100% in love with this one yet but we're getting there. I'm thinking another rosette in the center, maybe dark red or green? I ordered some
glass glitter online
, maybe that is just what I need.
Tomorrow, more updates on the thrift heard round the world (aka - my $45 spree in Baltimore) and another fabulous tea party hat with touching long time friend story. I'm sure you're on the edge of your seats.
Keep me posted on your swap!
Sarah
received mine, check it out
here
!
until tomorrow . . . R