The internet is AMAZING. I know, you're like "Thanks for the NEWS FLASH" but seriously, it hits me once in awhile how connected we are. I've received so many lovely e-mails and comments lately and more people have joined the swap that I would have ever imagined! And of course it's not only because we are connected but because have loads in common being that we are all intelligent, kind, talented and THRIFTY girls. So, I thought I'd share a little story about me and the internet. :)
Back in like 2000 I had a
leeeeetle
crush on actor
Russell Crowe
. (Okay, can I continue or are you still laughing?) Anyway, I joined a Yahoo message board blah blah blah and made some amazing friends. Two of which I am still, six years later, very much in touch with. Lizzy Ann lives here in New York City (and is the reason I live here - she called to tell me she needed a room mate and I dropped everything and moved) and dear Cazza who lives in England (somewhere near Whales) with her fab hubby Mario and their new little princess Angelina. Both of these girls are a big part of my life and I'm so glad we met over something so silly as
GLADIATOR
. ha ha ha
Oh and speaking of funny stuff,
Vax Girl
, I think you did
see Mr. T on Martha the other day
as he has new
REALI-T series
. Oy.
Back to the
GOODNESS
part of this blog. Here is my Christmas stocking: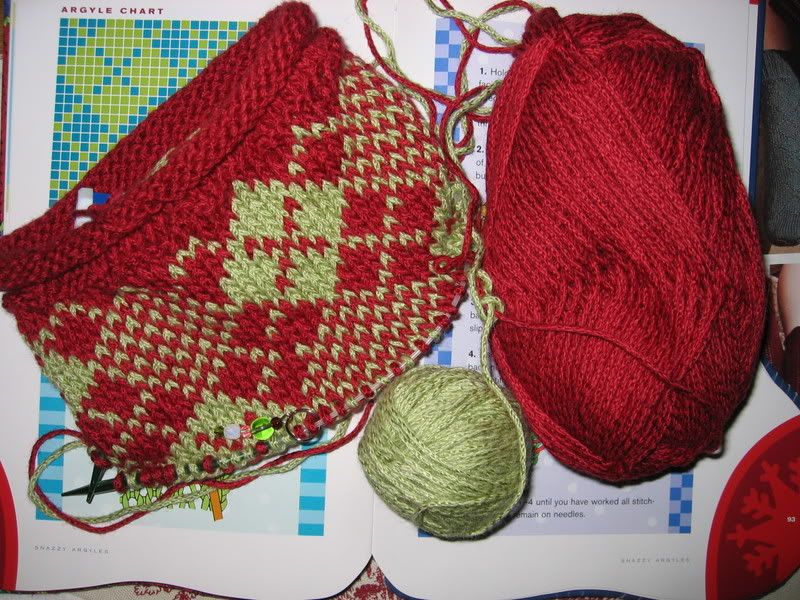 It's from
this book
which I found about 2 years ago on clearance at Michael's for $2. (How's that for thrifty, hmm?) I'm liking the argyle but I'll be lucky to finish it, I remember why I'm not keen on color work. It takes FOREVER. I knit all the way through the first half of the Ravens/Broncos game last night and maybe accomplished an inch. I'd really like to make one in the opposite colors to have two for this Christmas but, well,
you know
. I also hope I don't run out of green and that if I do, I can find more. It's really super soft and as long as I don't blow the heel and toe part, this stocking will end up being a favorite.
For some reason I'm into the knitting now (I still
blame it on fall
) and I plan to cruise the net for some new patterns (because I certainly don't have enough with my 20 plus knitting books and fire-hazard piles of printed patterns). I also have lots of other ideas for holiday projects up my crafty sleeves. I talked with Nina today about posting a tutorial on our felt garlands (she has some AWESOME ideas - not surprised, this
is
the pink kitchen girl) and maybe we'll inspire someone. Oh, and I like telling people what to do. :)
Well, I've certainly yammered away the morning. I'll be back tomorrow with some thrifted things I have yet to post.
xoxox bex
PS - go check out Apron Thrift Girl's
thrifted shirt turned apron
because I know you need ONE MORE thing you'll just HAVE to try. Go on, you know you want to . . .