Hello and thank you for all the get well wishes. I realized over the last week how much I take for granted the gift of pain free movement. It's quite humbling when your husband has to help you put your pants on. :(
So what would you do if you literally had to lay around all weekend? I found it quite hard honestly. Funny how I often say I'd love a weekend of nothing to do and when I got one all I wanted was to do laundry, dishes and grocery shop. Since there was nothing wrong with my hands I decided to get to work on some knitting and crocheting projects. Meet Priscilla: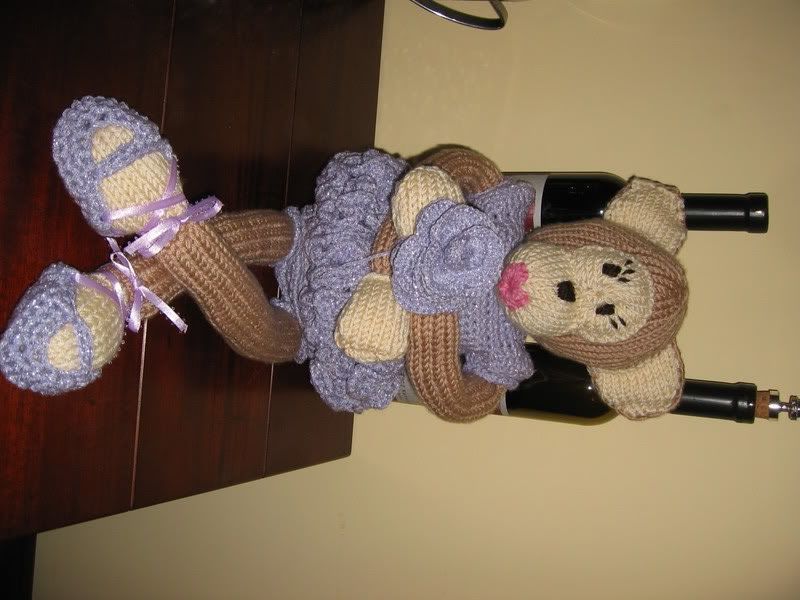 As you can see Miss Priscilla is a
prima
ballerina who just loves the color purple. She is knit from
Lion Brand

Microspun
(double stranded) and based on a pattern from
Knitted Toys
though I changed a few things, mostly the shape of her hands and feet.
She is quite light on her feet! Her clothes are crocheted and are my own original patterns. I just made them up as I went along. I am very happy with the way they turned out though I did forget to leave a hole for her tail. Luckily, Priscilla's dance recital leotards are two pieces and her tail can slip out and not be
smooshed
while she's pirouetting.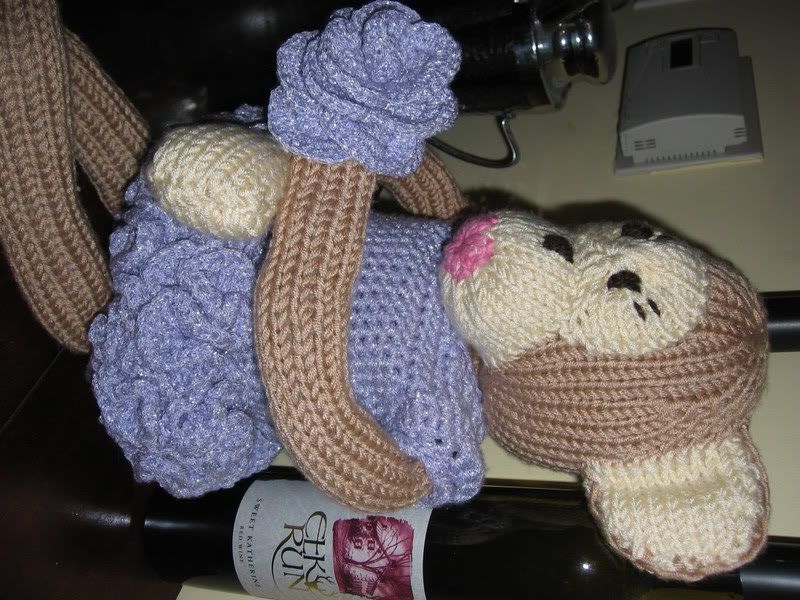 Don't you love her tutu and her ruffly sleeves? And how about her sweet rose wrist corsage? I used
Paton's Brilliant
(double stranded) in Lilac Luster. This was truly a "use what you have" project as I had 6 skeins of that deliciously sparkly purple yarn laying around for 3 years. I got them in a bargain bin for a dollar a skein. The M
icrospun
was in my collection as well.
So now the
quandary
. . . do I keep Miss Priscilla who happens to be my very first knit stuffy or do I gift her as I originally intended? I really am torn as she has certainly grown on me and makes for a wonderful companion when one is catching up on one's Tivo watching.
One thing is for sure. Now I know that when someone asks me what I would do with three days of nothing but laying around on the sofa, the answer is obviously "Crochet tiny clothes for my knit monkey friend, of course!"
Cheers
Rebecca
Coming tomorrow . . . the best darn mail a girl could ever hope for.