Jen
was gracious enough to do a little birdie swap with me and let me tell you, I am the lucky one of the two! Jen was overly generous with her crafty time and I am still just squealing with joy over the wonderful goodies she sent me. Allow me to now preface this with a disclaimer . . . I am a LOUSY photographer. The pictures you are about to see in no way show the
amazingness
of the items. Seriously.
First allow me to show you everything packaged. Not only was this shot hard to get because I was at work and the only choice for backdrop I had was a crappy table, I was hard pressed not to rip everything open
greedily
before snapping a shot.
People should pay Jen to wrap their gifts. She could wrap up a roll of toilet paper and make the receiver feel like they had the best gift in the world!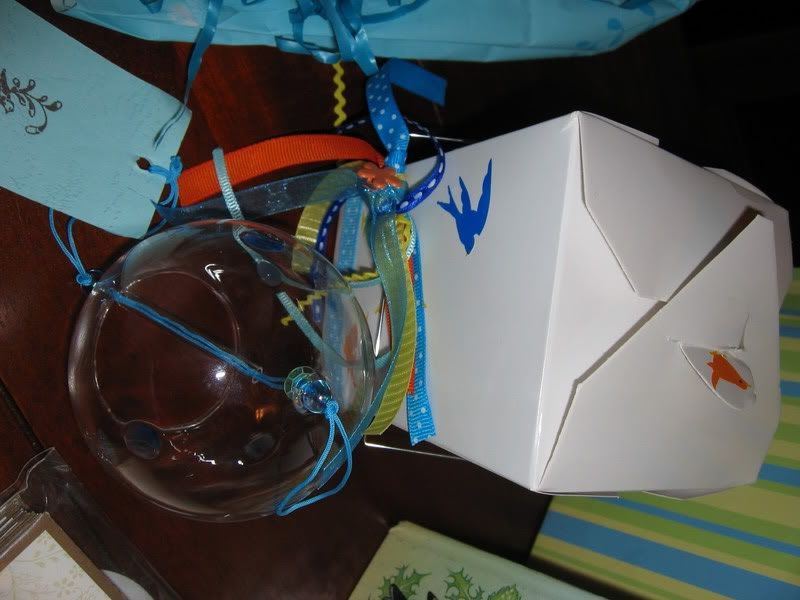 Here you can see the cutest take out box that contained this adorable wind chime! She attached a stamped paper to the end to make it fit our bird theme. I plan to hang this on my sun porch.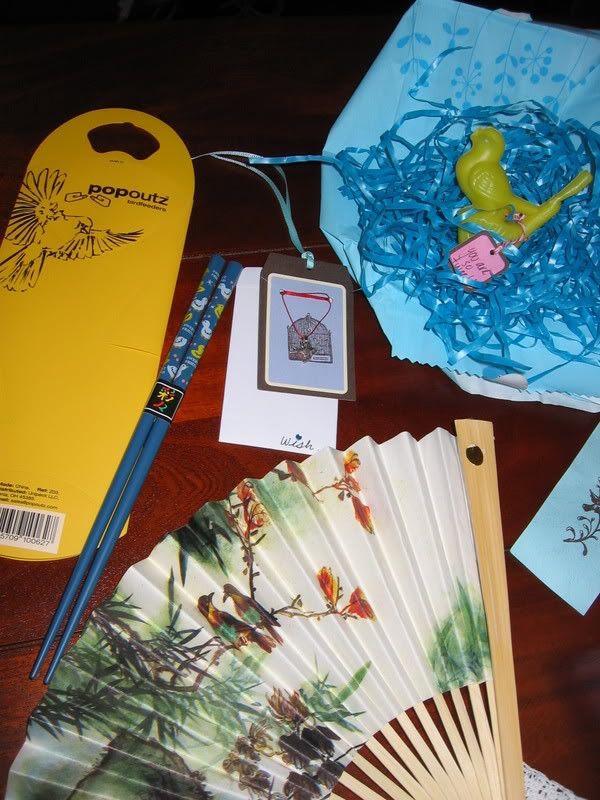 More goodness! A fan, the cutest birdie chop sticks, a little "pop out feeder," one of those adorable water bird whistles and a sweet wish necklace! It's a tiny bird on a little cord and you're supposed to make a wish and wear your necklace and when it falls off your wish will come true! I may have cheated. I wore my necklace yesterday but then took it off and tried to arrange it back on the card so you could see a picture. I am pretty sure my wish still stands though.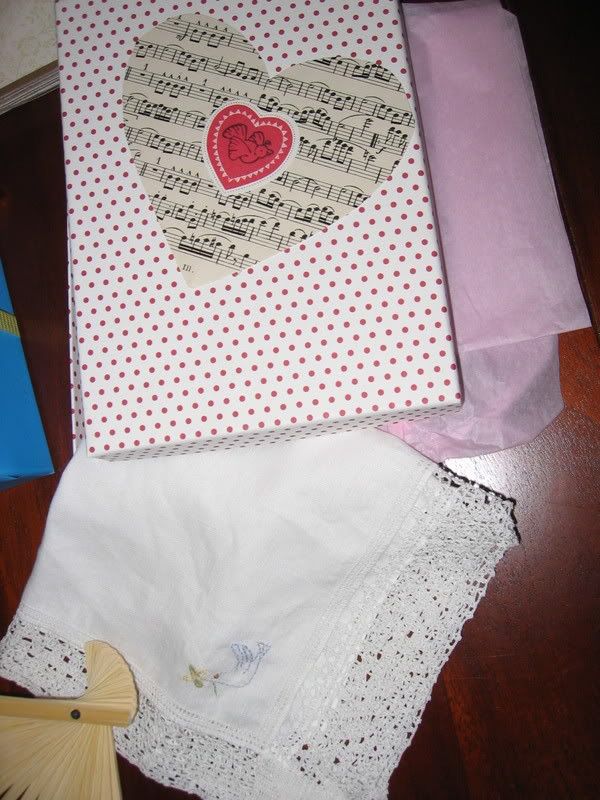 An adorable vintage
hanky
with a tiny dove embroidery! This is so sweet and delicate. I had to show you the box it came in, I think it's my favorite of all the wrappings.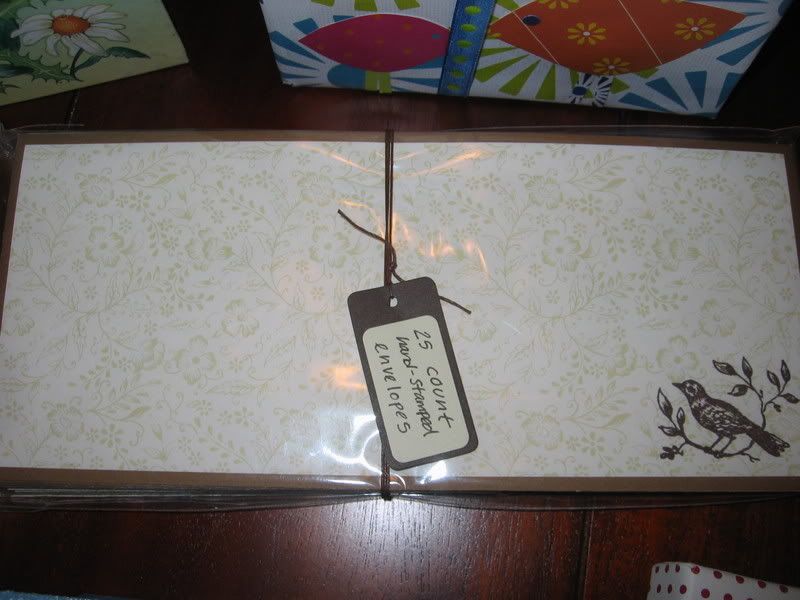 Wonderful hand stamped envelopes! These will be reserved for special letters for sure.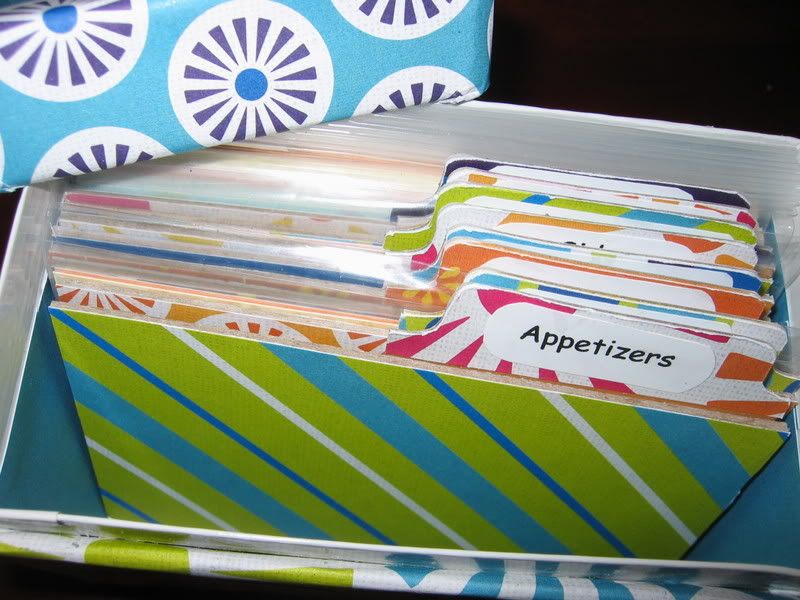 A hand decorated recipe box! Now I seem to have lost the picture I took of the outside of the box, I promise to take another and share this week. It's so cute! (I also know I took pictures of the cute box of Martha seeds she sent as well but I can't find that one either
hmmm
. . .) Anyway, back to MY recipe box. I am always so touched when people hand write recipes as gifts. As I told Jen, I never do that for myself because I'm lazy. I think they are just so personal and sweet. And get a load of those cute recipe card dividers! Love it.
And my very favorite thing of all . . . . (I know you are thinking, "There's MORE??" oh yes my friends, I was
totally
spoiled)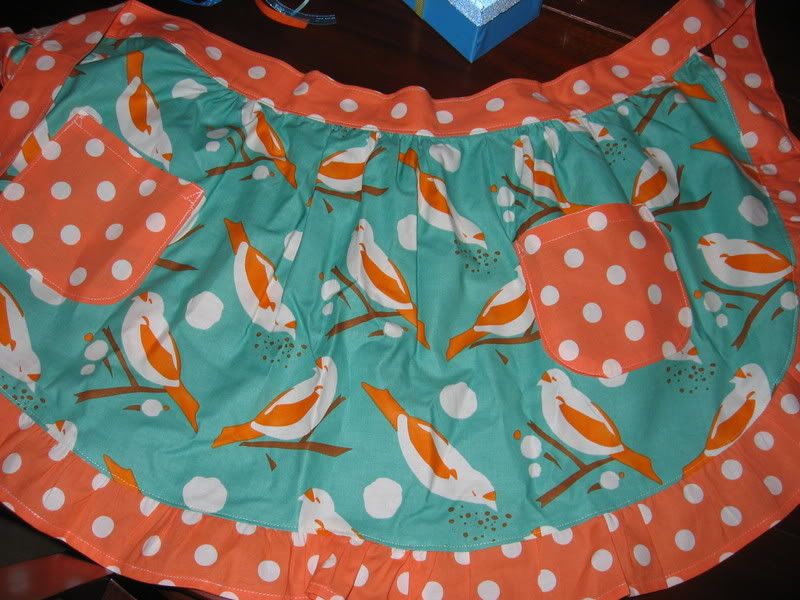 Couldn't you just DIE? Yes, that is a home made apron. Yes, it is aqua and orange and YES those are the sweetest polka dot pockets and ruffle one ever did see. Sigh . . . I about fainted when I saw this. :)
So thank you, Jen, my dear friend, for making such wonderful things just for me. I am touched beyond belief.
You can
go here
and see what I sent her. :)
*******************************
And remember
my flower swap
with
Vallen
? You can go
here
and see what I sent her. You'll notice that we both made the crocheted flowers from a recent issue of
Interweave Crochet
! How is that for coincidence? It just proves my point of how close our little family of bloggers has become. In my swap with Jen we noticed that we both sent stamped stationary, a piece of jewelry and an embroided piece. :)
*******************************
Only a few more days to
sign up for the Summer Fun Swap
! We should have your partners out to you by the middle of next week if not sooner. Last count we were up to over 50 participants! It's takes a bit of time to get everyone sorted out so be patient with us. :) Also, we will do our best not to pair you up with someone you have previously swapped with but now that we have a lot of repeat swappers that could happen so you'll have to let us know!
ciao
R