Finally! The sun is out. It's been a dark and stormy week here in Manhattan. I actually heard loud booming thunder! I'll tell you, that is rare here in the big city. But today is gorgeous and breezy and I wish it were like this always.
So what's on tap for the weekend? I'm heading over to
Leigh Ann's
tomorrow to thrift and just have some good old fashioned girl talk. LA, you'd better brew a big old pot of that delicious strong coffee you make!
I've been very blessed to receive not one but TWO sweet aprons from Leigh Ann.
The orange one is from a
thrifted
Martha
Stewart
dish towel (look at that cute rick rack!) and the other is from a
thrifted
pillow case. I was with LA when she found both of these items and it was neat to see them transformed.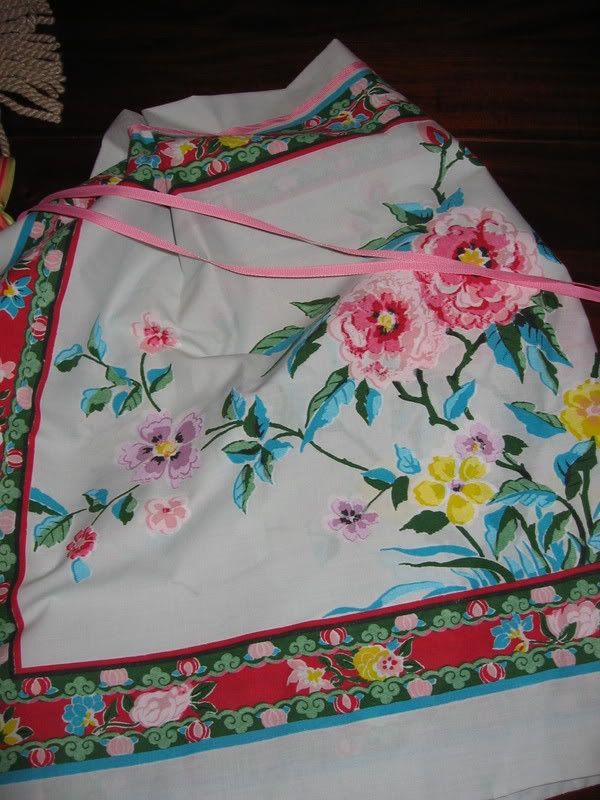 Look at how pretty this case is! The border made it perfect for the apron. Thanks, LA!
*********************************
I also received a lovely gift from the
Jungle Dream Pagoda
! If you haven't been there you really must visit. The scenery is divine and natives are restless. ;)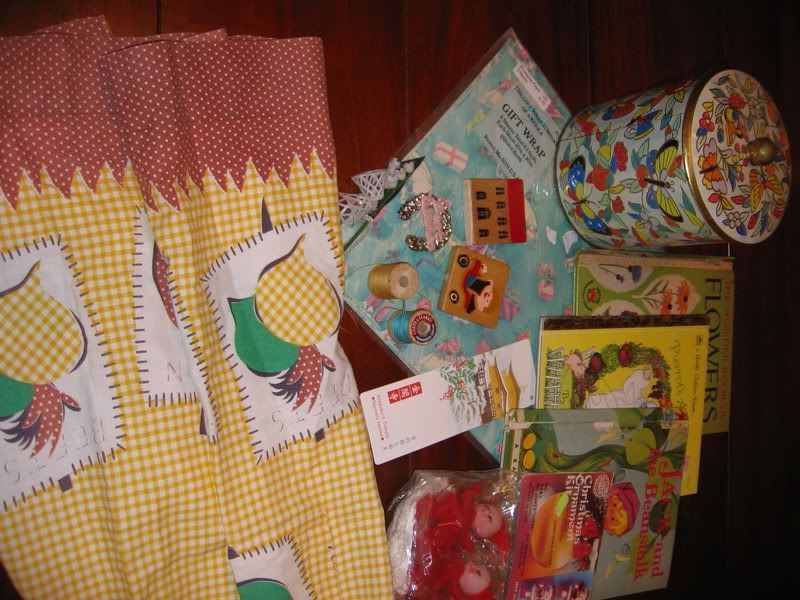 Lisa-Gabrielle had a little contest for her blog-o-
versary
(and I still don't know how to find out where you get that date from, anyone?? I'd like to celebrate mine!) and had a haiku writing contest and I was one of the lovely winners!!
How cute is that lovely apron! She also included a vintage tin that I commented on when she first showed it on her blog. I have one that matches it exactly. Plus there is some vintage wrapping paper, a cute kit to make elf ornaments, some adorable little baubles and wonderful
children's
books which I'll probably use in my collages. Thanks again, LG!
**************************
I did a miniature swap with
Natasha at Rickrack & Ribbons
. You can
go here
and see what I made for her. It's a doll house birthday party. :) It was so fun to come up with ways to make things in miniature. I know once my dollhouse is set up I'll become obsessed with all things small. I included a little chocolate cake from
The Doll House Bakery
a la
Turkey Feathers
. So cute! I can't wait to see what Natasha made for me. :)
***************************
Remember my bird swap with Jen
? How can you forget
that awesome apron
?? If you
go here
you can see some WAY better photos of the lovely goodies she sent to me. :)
***************************
Today is the last day to sign up for the
Summer Fun Swap
at
Sweet Goodness Swaps
! Get your names in ASAP and join the fun! I can't wait to see all the imaginative containers everyone comes up with.
***************************
Have a wonderful weekend friends! Wish me luck on some "hope to finds" at the thrift store with LA tomorrow.
Cheers!
Rebecca