First, I will tell you that I REALLY glad it's Friday. What a week! Whew! Second, thank you all for your thoughts on yesterdays question of a thrift barter site. I'm going to see what I can come up with. I've considered creating a "council of elders," if you will, to sort of hash out the details. If you are interested drop me a line. Basically it's just a group to throw around ideas on how to make a site of this nature work. :)
And thanks also for your list of thrifty wants! Make sure you visit the comments section from
yesterdays post
to see what is being hunted for across our
blogosphere
. Now on to our regularly scheduled programming . . .
MISMATCHED CHINA

When I got married I didn't register for china. I am fortunate to have
inherited
my Grandmother's wedding china. It's a complete set for 12 of the
Mikasa

Adrienne
pattern. It's a lovely pattern and I have never seen it at the thrift store. I have some of the extras, too, like a big platter, gravy dish, sugar bowl and creamer. I do not have a coffee pot and thus decided to register for a pot, sugar bowl and creamer in the
Mikasa
Parchment pattern. I was lucky enough to receive the sugar and creamer from Luis' family:
I did not get the coffee pot and at $120 I am hard pressed to purchase it for myself. Recently I found this for a mere $4: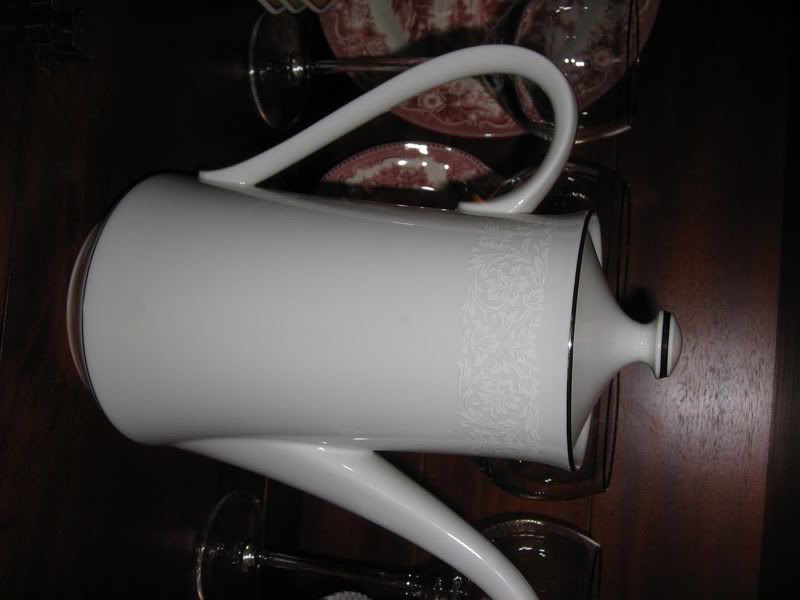 Not
Mikasa
but look how similar! Close enough that I am happy. I have always had a thing for mismatched china. I know I'm not alone. I think I'll use these two
Mikasa
tea cups (pattern name escapes me at the moment) with my coffee service: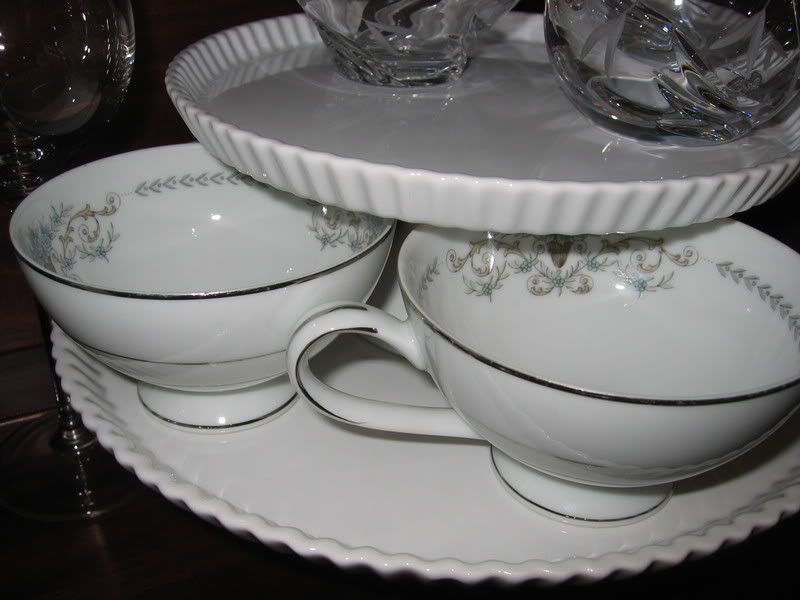 I adore these cups. Found at thrift for $2 a piece they have found a special place in my china cabinet and in my heart. And how nicely they "match" the rest of my china . . .
That's my little show and tell for the day. Highlights for next week . . . my bird swap with
Jen
(she takes such good pictures that my swap goodies look TWICE as nice), fabulous aprons from
Leigh Ann
and some vintage goodies found in Baltimore. At a thrift store no less . . . ;)
Enjoy your weekend!
xoxoxo
R