I wish I could share some photos with you from my visit to
The Bronx Zoo
but my camera battery died. :( It was fun though, pictures or not.
The Butterfly Garden
is lovely and the gorillas in the
Congo Gorilla Forest
are amazingly human. I watched a mother and her baby for about 15 minutes. They were so sweet together.
So what do I have pictures of? First, here is an AMAZING bag I got from
Suzie Sews
!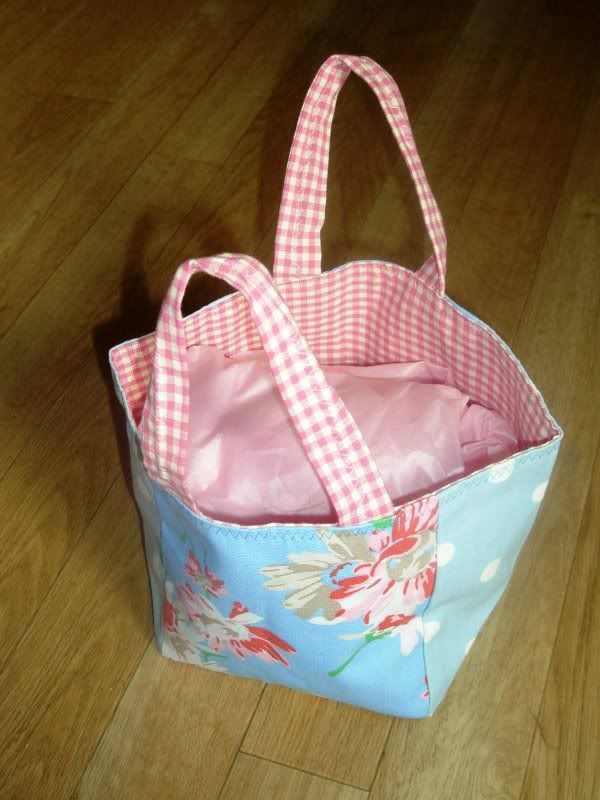 photo courtesy of Suzie Sews . . .
I left her a comment once saying if she ever wanted to do a swap for some US magazines (she had recently mentioned them) that I'd love to if she would please include
some
Cadbury

Roses
. So she kindly agreed and not only did get the candy, I got the bag AND a lovely crocheted belt. :) Suzie's picture came out better then mine so there you go. She said it's a bit of a
Cath
Kidston
type and I couldn't love it more.
If you go
here
and scroll down you can see the goodies I sent to Suzie. Funny how she thinks we have the best magazines and I totally love British mags!
I did not get to thrift this weekend. I'm sort of
jonesing
for it now. :) These are a few things I picked up at Savers a few weeks back:
Oh the ever
lovin
' dark picture. NICE. Anyway, the sweet Father mug is probably a shaving mug. I love his curly mustache. I couldn't find anything about it on
Ebay
. The red floral in the front is a very cool apron that wraps all the way round and covers your top as well. Great for messy baking I think. You'll probably see a lot of this come fall. Also a nice Pyrex bowl in
Butterprint
, new salt and pepper shakers and a few of those gold frames I love. Maybe I'll take a mid-week
thrifting
trip which I don't usually do because of the terrible traffic heading out to Long Island.
I did start making something for the Summer Fun swap this weekend but as you know, I cannot share it. Don't want to spoil the surprise! I've been making lists of other items to create for the swap and hope to make at least one of them. I like lists, it's fun to check things off.
Take care and have a wonderful day!
R