For most of us, the answer to that question is simply "we enjoy it!" Be it the thrill of the hunt, the collecting of certain items, giving "old" items a chance at new life or just for the sake of saving a little money we all have reasons why we thrift. Before I share my most recent thrifted treasures I thought I'd tell you how I actually started going to the thrift store.
There are two reasons, actually. One was simple, my Grandma went to the thrift store. She always bought second hand sofas and seemed to have a new one every year while last years model went to the basement where my cousin and I would play. The second is due to my Great-Great-Great Aunt Sissy. Aunt Sissy's real name was Lucia Sassi and she went by Lucy. However, as a child I couldn't say Aunt Lucy and instead called her Aunt Sissy. I wasn't kidding about all those "greats" in front of her name either. She was my Grandmother's Aunt who came from Italy when she was a child.
Aunt Sissy was a fashion plate!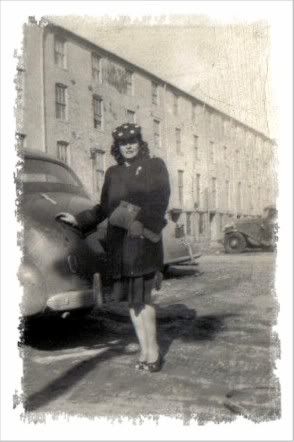 She gave me so many wonderful vintage things when I was teenager that I wanted more! I went to the thrift store with my Grandma and that's all she wrote! I was hooked. Back then, there was no EBay and it was much easier to find true vintage items. Though I do still get lucky once in a while. Anyway, I'm sure all of you have an Aunt Sissy or two and maybe you'll be prompted to share their story. :)
Now onto the thrifts!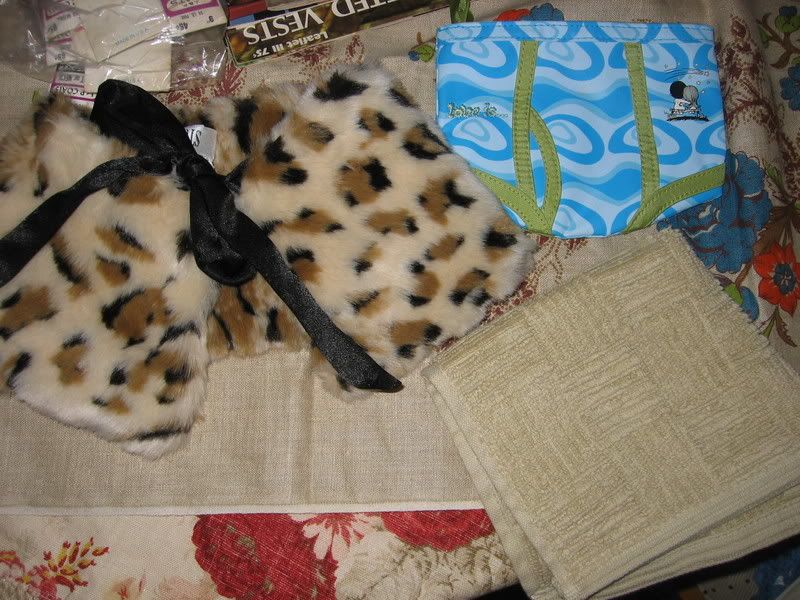 leopard collar - $3 -
not vintage but very fuzzy and warm and a true "Aunt Sissy" fashion statement .
change purse - $1 -
I couldn't resist a change purse shaped like underpants. :)
wash cloth - $1 -
brand new and nice and thick. One of the ones that you couldn't bring your self to spend $8 dollars on at the department store.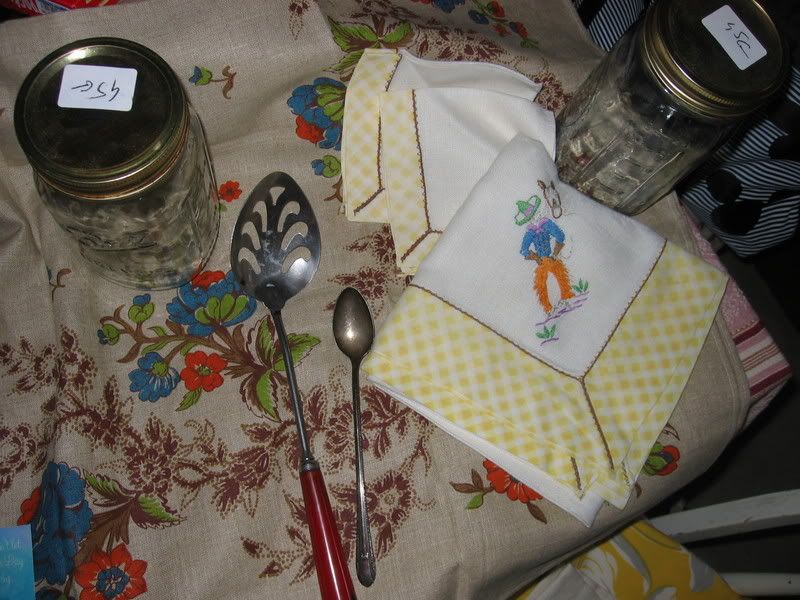 Ball jars - 50 cents each -
I've been buying up these jars like mad lately and these two are big and were half price. I plan to use them for storage in the craft room.
cowboy cloth and two napkins - $3 -
my mother said "wouldn't that be a cute table cloth and napkins for a child's tea party!" Well I had to have it then, right? It's very well made and could be a nice item for my soon to be (hopefully) Goodness shop. :)
slotted spoon - 45 cents -
this has a red bakelite handle (though there is a small burn mark on it) and is very sturdy. This will stay in my kitchen and get loads of use for sure. The long silver sppon next to it was a quarter and is for my silver flatware collection.
table cloth - $1.50 -
(under all the other items) this has such a fantastic pattern and is linen. it doesn't match per se, but I couldn't resist it especially since it was half price!
I'll share the linens and paper goods that were found on this same trip next week. Just looking at these pictures gives me the urge to thrift despite the fact that I am deperately fighting off what regrettably feels like the flu . . . :(
With that said, if you are awaiting a package from me I may not make it to the post office by tomorrow as promised but will do my best! (cough cough whine . . . achoo!)
Rebecca