Okay, are you ready for our SPRING FLING SWAP? Drum roll please . . . . visit our very new blog
Sweet Goodness Swaps
for all the details on ALL of our upcoming swaps. You can visit the post for SPRING FLING directly
here
. That email address goes to both Lucy and I but please feel free to also leave comments here on your thoughts of our theme for this swap. We tried to mix it up a bit this time!
So what shall I talk about today? Thrifting or crafting hmmm . . . . let me show you some things I've been working on and I'll save my few thrifted items for tommorrow. I feel a babbling coming on regarding a chipped Wedgewood teacup and that would make for a long post.
Remember novelty pot holders? They're still cool right? RIGHT?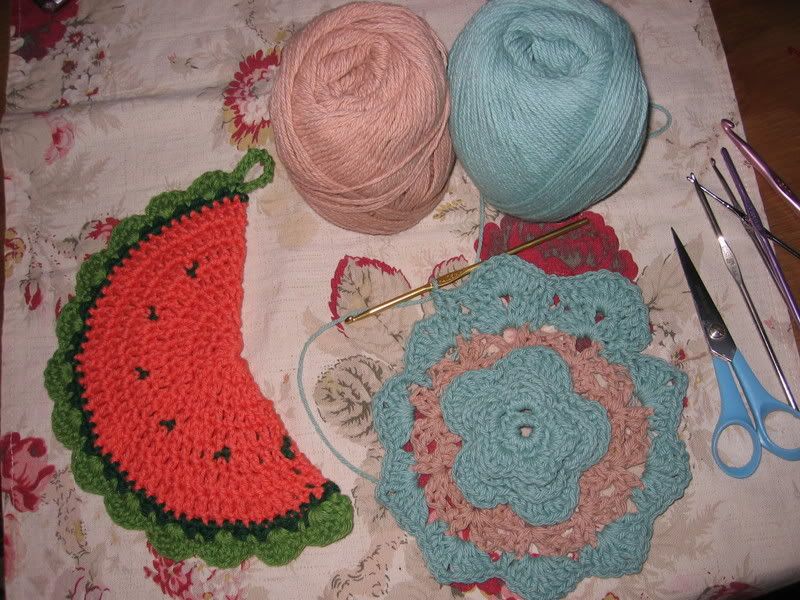 I mean you want that watermelon right? :) I think it came out super cute! These are some items I'm considering for the Goodness Shop (a mix of old and new items). Thoughts? Good or am I bringing dorky back? The one with the flower will get a backing and edging as well. I thought the color combo was nice.
Side note: those of you who read this blog often are probably thinking I own nothing but that same old Waverly table cloth right? I am having a hard time using another one since that one matches so well! Save me! Tell me it's okay to switch it up a bit. it's not like I don't have like 12 other table cloths yeesh . . .
Another thought for the shop will be custom made paper crowns:
This one was made on a whim when Lucy and I received our first email that a pink and brown swap package was on it's way. Lucy jokingly said that
Laurie
should get the pink and brown crown for being so early and of course I had to run with it. Well that was like 6 weeks ago (sorry!) and I FINALLY made it. Of course now I can't figure out how to ship it AND I sort of want to keep it BUT I will be sending it soon. PROMISE. Really.
Here is the side, which is my favorite part: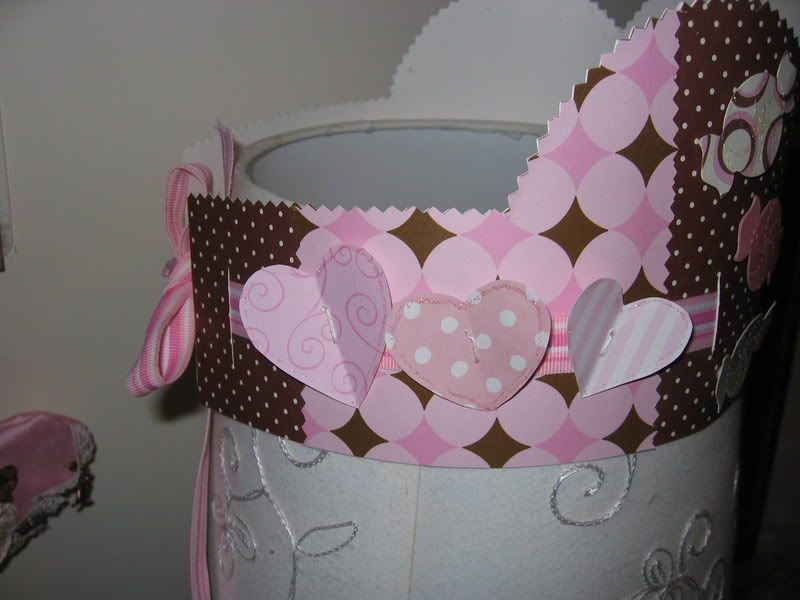 Why couldn't I come up with those cute sewn on hearts when I was trying to make but ONE Valentine this year?? All of the papers are left overs from my wedding projects. I am quite happy with it though I think it's needs a "liner" on the inside to cover up some tape. Sorry Laurie! I should have figured that out before I put it all together.
So do you think anyone would want a custom made crown? I'm thinking birthdays, showers, princess for a day, what ever. Mailing them is already challenging but my new design does allow the crown to lay flat and tie together at the back. Here is the first crown I made for mother to wear at my Bridesmaids Tea back in October:
I've also got ideas for party hats in the traditional cone shop with ribbons and glitter and the whole nine yards. I also scrapped together a rosette:
Hee hee, I think it's so cute. I'm going to whip up some Easter rosettes this weekend as well. I already made a few little chicks for them. Man I love paper.
Any hoo . . . that's what I have going on lately. I still have about 300 unfinished projects as well but let's just sweep those under the rug today okay?
Cheers!
Rebecca