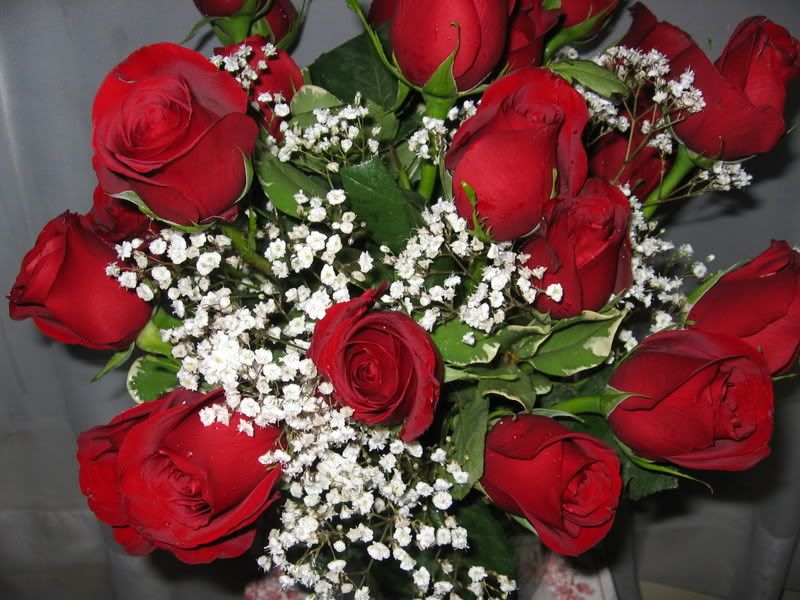 Yesterday was my birthday. I was going to say something but then sort of . . . forgot. That's how it is with birthdays as you get older I guess. Not that I'm OLD or anything. ;) My sweet dear husband (how fun it is to say that!) brought me gorgeous roses and the big box of chocolates from Godiva. AND I got a card. Yes, you heard me, an honest to goodness Hallmark card. He forgot to sign it but it's a start anyway.
This girl likes red, you think? :) That curtain up there is thrifted by the way. The wreath was hung for Christmas in 2005 and there it still hangs today.
Here's a lovely new blog for you to visit,
The T-Cozy
. A while ago
Leigh Ann
told me about a wonderful tea shop she visited in Connecticut and how we should certainly take a trip up there when she and I finally get together to meet. Well this is the shop and it's lovely! AND they have an
antique store!
Can you say ROAD TRIP?
Well my little bon-bons, have a fabulous weekend and I'll be thinking of you as I hit the thrift store tomorrow morning!
ciao!
R