Hello! I'm back from way too many days under the weather. Being sick sucks. :( It was nice to be home on Friday and not at work but I got almost nothing accomplished this weekend other than making a rather large dent in the sofa. So needless to say I did not get to the post office. I will mail my promised packages out on Wednesday once I return from my mini business trip to Jersey. PROMISE.
So what about color? You thought I was going to show you more thrifted linens didn't you? Ha! How wrong you are. I will share those another day as I have to wonder how many pictures of thrifted goodies you guys can take. :) So instead, I wanted to talk about Pink and Brown. Yes, I know, we've done that one to death but it has been incredibly inspiring to me lately. I loved the way the colors came together in all the aspects of my wedding and even more so how many of you were inspired to create such wonderful things for the pink and brown swap! Now when I see that combo it automatically makes me smile. I worked on some paper crafts in that color combo that I am very happy with. I hope to complete them and post some pictures soon but in the meantime, how about a few more wedding shots?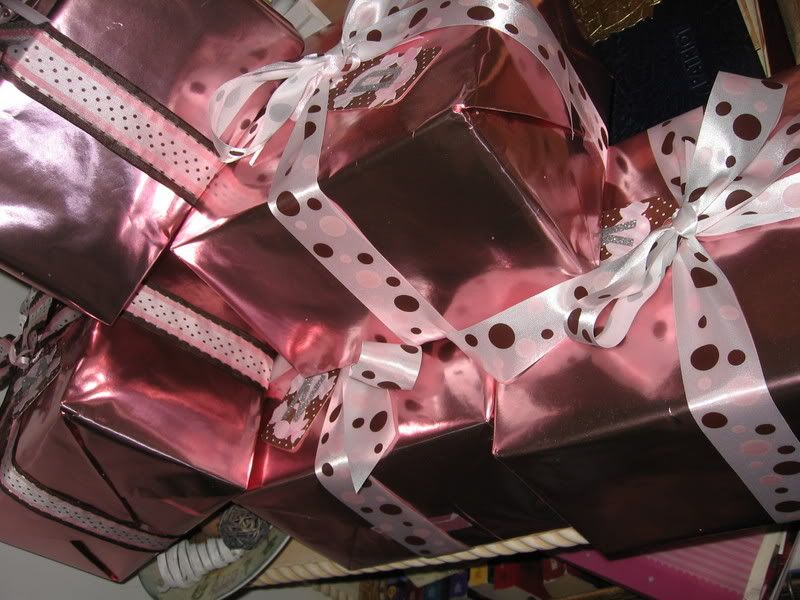 wrapped goodies for the bridesmaids . . .
Why does color, or the combination of colors, inspire us so? I think it's a bit like music. When you hear a certain song it may make you happy or sad or a whole multitude of other emotions because of the memories it brings. Colors are the same way especially when you associate an event, like a wedding, or a person to them.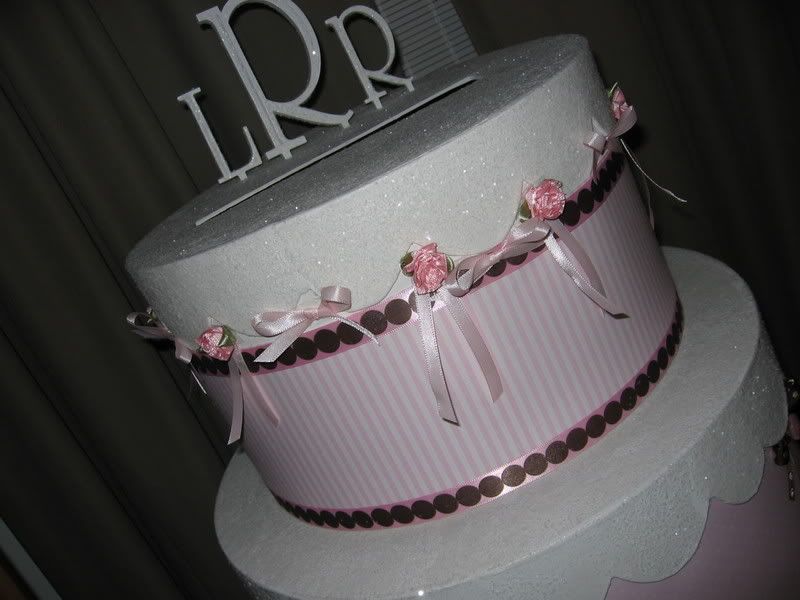 wedding cake shaped card box . . . this was probably my favorite thing we made!
I think that color swaps are so popular because you can take that color and use it as a basis for your creative process. Did she say SWAP? Yes, dear
Lucy
has already started cranking her brain wheels for our next swap. The theme will be spring and there will be a color element AND a twist. Oh yes, you'll have to put some thought into this one I think. It will be a fun challenge that leaves a lot of creative license so I know everyone will do a bang up job! We'll announce the details once we get them all ironed out and leave loads of time to complete the task.
Oh and by the way, I signed up for a pin cushion swap over at
Folded Gingham
. I think pin cushions are easy to make a fun way to experiment with different ideas. Plus, who couldn't use a fun new pin cushion? The deadline to sign up was supposed to be last Friday but as Tiff is having some computer trauma, etc, she has extended it! So go
here
right away and leave her a comment if you want to sign up!
May you have a wonderfully Pink and Brown day!
Rebecca