A few people sounded interested in my "Peep shaped" crocheted bunny so here is the pattern!
Sweet Bunny

Crochet Hook "I"*
Lily Sugar & Cream Cotton - 1 ball of your color choice
ribbon of your color choice
polyfil/stuffing/cotton balls
Make two bunny bodies:
Row 1 - chain (ch) 11
Row 2 - 1 single crochet (sc) in 2nd chain from end and every chain, turn (10 sc)
Row 3 - ch 1, 2 sc in first sc, 1 sc in each sc until last sc, 2 sc in last sc, turn (12 sc)
Row 4 - repeat row 3 (14 sc)
Row 5 - ch 1, 1 sc in every sc, turn (14 sc)
Rows 6 - 13: Repeat row 5 eight times
Row 14 - ch 1, decrease in first 2 sc: draw up loop through first sc and then draw up second loop through second sc and single crochet together = sc2tog, 1 sc in each sc until last 2 sc, sc2tog in last 2 sc, turn (12 sc)
Rows 15 - 16: repeat row 14 twice (8 sc)
Rows 17 - 18: repeat row 3 twice (12 sc)
Rows 19 - 23: repeat row 5 five times (12 sc)
Rows 24 - 26: repeat row 6 three times (6 sc)
*this completes the body, one ear is made and then the second
Row 27 - ch 1, 1 sc in first 2 sc, turn (2 sc)
Row 28 - ch 1, 2 sc in first 2 sc, turn (4 sc)
Row 29 - ch 1, 1 sc in each sc, turn (4 sc)
Rows 30 - 33: repeat row 29 4 times (4 sc)
Row 34 - ch 1, sc2tog twice, turn (2 sc)
Row 35 - ch 1, sc2tog and finish off
Attach yarn to first sc opposite the first ear with a slip stitch
Repeat Rows 27 - 35 for second ear
Place bunny bodies together and attach yarn to bottom right corner with slip stitch. Chain 1 and single crochet around bunny tucking in yarn ends as you go. Stop on bottom left corner stuff bunny using your crochet hook to push stuffing up into ear. Do not over stuff! The one you see above is a little too chubby and his stuffing is showing through. Continue doing single crochet to close up bottom opening. Finish off and weave in yarn end. Tie ribbon around neck and add button or embroidery eyes if desired. Enjoy!
I hope this pattern makes sense, I've never written one before. If you try it and it doesn't work please let me know! You can always increase or decrease the number of chains at the beginning to change the size of your bunny just remember to resize the ears appropriately.
I tried a crocheted chick last night but let's just say that the dogs are loving their new toy. It looked more like a sponge. :) I am going to try to make felt chicks this weekend or maybe a few of
these
. Go over to to Bee's blog and see her felt versions
here
and
here
! Love them!
Oh and for some fun shopping visit
Tender Heart Treasures
. They have the cutest shabby chic table items! My favorites are these adorable covered pastry stands:
So cute! They are a bit pricey for me at $60 but they have lots of deals, too, like this biscuit server: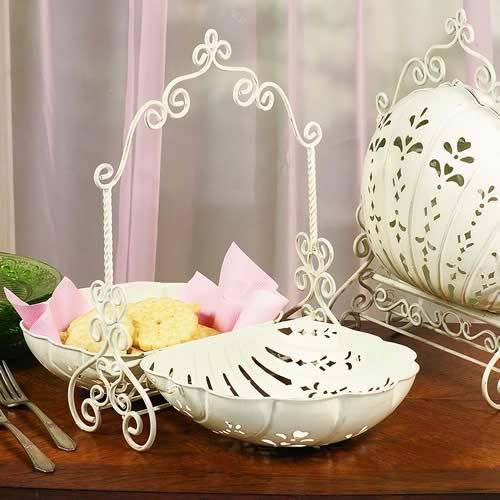 and this three tiered server: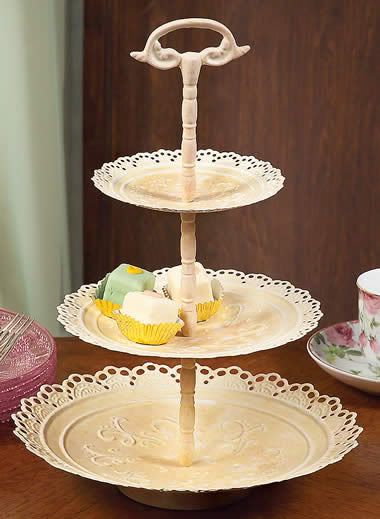 both are only $15! Can you tell I'm in a pastel Spring mood?
Speaking of SPRING, only FOUR MORE DAYS to sign up for the Spring Fling Swap! Go
here
for details and to send us your info. We'll be posting soon about a spending limit of $20 on the included swap items not including postage. Stay tuned!
Cheers!
Rebecca