I have been sitting here for the last few days wishing I were somewhere else. In an attempt to wittle down my ever growing magazine stack I lugged a bunch to work for breaktime perusal. I've been getting caught up on Country Living mostly and I'm absolutely DROOLING over the antique fairs they have been highlighting! You know it, you've done it, day dreamed you were walking along aisles and aisles of goodies just hoping to find that one treasure to take home. I did some reasearch and there are two such events not far from me. This
one
and this
one
. Has anyone ever been to these markets or any like them? I'm always up for a nice roadtrip but it's good to know what to expect.
Here are the linens I thrifted in Baltimore before the wedding: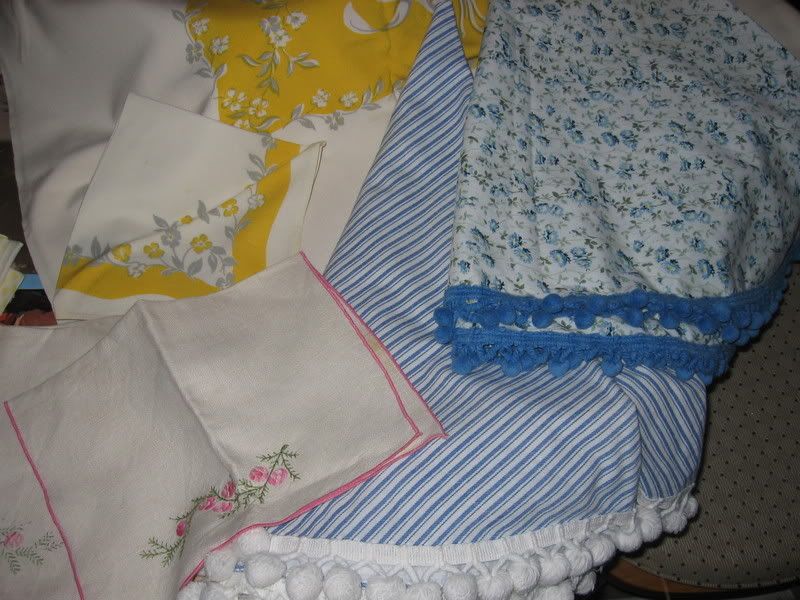 I won't bore you with the cost break down, all three cloths were around $3 - $4 each and the napkins were 95 cents. The yellow cloth (sadly I only found one matching napkin) at the top may get to sit on my Easter table. We are getting our new dining room table Saturday so I'll have to see if it's the right size but I think so. The two blue cloths are round table toppers and hand made. Now I just need a little round side table for my porch and these will go perfectly with the slate blue walls out there. The pink embroidered napkins are darling and will certainly be put to good use.
I was also lucky with some crafting supplies:
At the top you'll see some old knitting books and on the left top there are some iron on transfers from Aunt Martha's for days of the week piggies. Cute! I also found a pattern for some stuffed bears. The cards are only a few samples from a HUGE bag I got for $2. They are only the fronts of the cards and they span a great number of years from the variety of styles. The best part is that all of these cards are for "Father" or "Grandfather" and I just think it is so sweet that someone (and a man at that!) kept all of these cards for so long. Very sentimental! I thought they would be good for crafting and I also plan to scan in some of the more interesting vintage images. I also sorted out a nice stack for
someone I know
who will certainly turn them into works of art.
In other thrifty news, I FINALLY sent out the two 100th post Thrifty Goodness prize packs!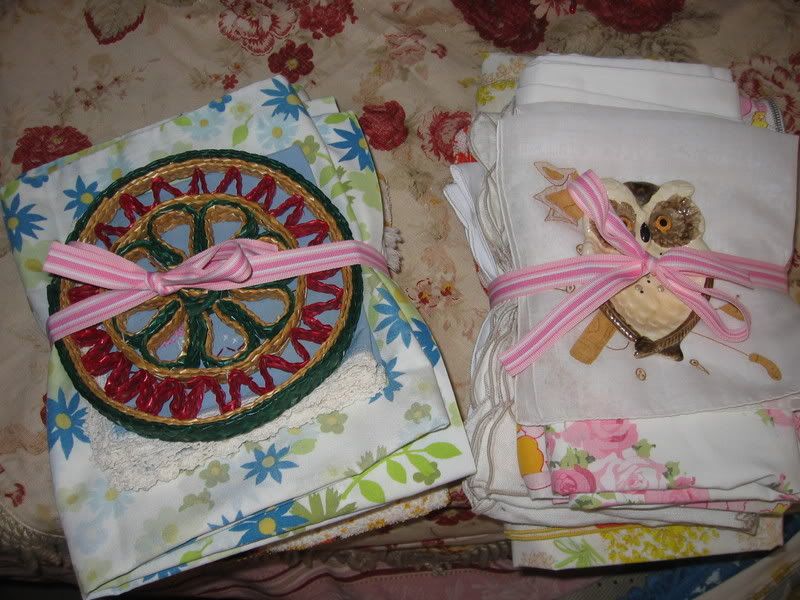 So
Diana
and
Colleen
, please keep an eagle eye out for boxes coming your way! I hope you find something you like. :)
And speaking of GOODNESS (how often do I use that segue, huh?) tomorrow will be the day that
Lucy
and I announce the BIG SPRING FLING SWAP! That's a working title by the way ha ha. I will tell you that sign up will be through March 26th so you won't have long to tell all of your friends to get on over here and get on board. We are doing this in hopes of making the send out date in time for everyone to receive their goodies before the end of April.
So until then . . .
Rebecca