Just kidding, I'm not really going to list 100 reasons why I do this or that. I wouldn't want to scare off the few readers who stuck around during my 3 week hiatus. :) So without further ado . . . the winners of my 100th Post Thrifty Give away are . . .
Diana aka Plongstocking
and
Colleen of Burgee Blogs
! So ladies please email me with your addresses and the goodies are on the way. Thank you!
So how is everyone? I've been able to quickly breeze past some of my favorite blogs but have loads of catching up to do. I'm all gung ho to jump in feet first to my crafting aspirations and of course plan to use all of your wonderful endeavors as inspiration.
I guess you want to hear about the wedding, huh? It was wonderful! We had hardly any issues other than waiting much too long for the hotel shuttle at the end of the evening. Everything was beautiful, the food was delicious and I danced until I had blisters. People were so kind and generous and I felt quite the hottie! :) So I'll share first what you most want to see, the thrifty and crafty details:
The Centerpieces

I purchased the trees after Christmas on clearance from
Crate & Barrel
. They were only $12 each! Much less than a floral centerpiece and I was thrilled with the look. The votive cups are from AC Moore and we dipped the edges in glitter and glue for a bit more sparkle. The rose and hydrangea petals are also from the craft store bought when they were on sale.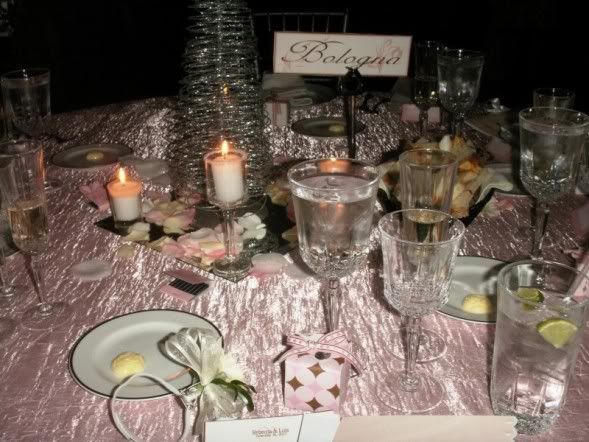 You can see one of the favors here. They went perfectly with the table decor! Also, I made the table names in Powerpoint lickety split.
This is the view from the balcony prior to the event. You can see how we alternated the table cloths to fit the pink and brown theme and how the silver chiavari chairs are just perfect!
And my favorite thing of all . . .
THE CAKE
I think it is just the most beautiful, most perfect cake ever! The ribbon you see around the layers was salvaged from a gift my boss received from
Henri Bendel
years ago. I knew it would come in handy one day. My father made the cake stand and I got the gorgeous
Lenox
cake topper for only $40 on clearance. Oh and
the cake itself
was delicious, Neapolitan of course with each layer being a triple layer of one chocolate, one vanilla and one strawberry cake with yummy butter cream icing. Who gets so ga ga over a cake like this ha ha . . .
I will miss keeping my eyes peeled for all things pink and brown and I guess I won't be picking up wedding magazines anymore but it's good to have "free" time to persue other crafty interests. And you know I have LOADS of those. I just started a filet crochet project as a wedding gift for my sister and I'm also trying my hand at crocheting baby things for my many expecting friends. I plan to jump back into knitting as well and have lots still to do on my wedding scrapbook. I'm kicking around the idea of starting a crafty venture with Dita in the fall and there will be some prep work for that as well. Oh, and there will be thrifting. LOTS and lots of thrifting. :)
Until tomorrow . . .
Rebecca