Thank you all for the wonderful birthday wishes! I had a truly enjoyable weekend despite a bit too much wine on Friday night with
Joolz
. Oy. ;) Saturday brought me good luck at the thrift store considering I thought about turning back about 50 times before I got there thanks to my throbbing brain. I am glad I suffered through it for look at my bounty!
mason jar - 99 cents -
yes I know, how many of these do I need? But I will use them I SWEAR.
Japanese tea cups (upper left) 99 cents each -
these were just too cute to pass up! I love the patchwork look to them.
bowl - 99 cents -
I thought the blue was bright and lovely and the price was right!
blue lotus bowls - $1.99 each -
I about sighed out loud when I say these. How cute! I love the color, the shape, you name it. Made in Japan no less!
Mikasa tea cups - $1.99 each -
I need more cups like I need a hole in the head but . . . well you know. The pattern is Margaret.
Found among those random bags of stuff . . .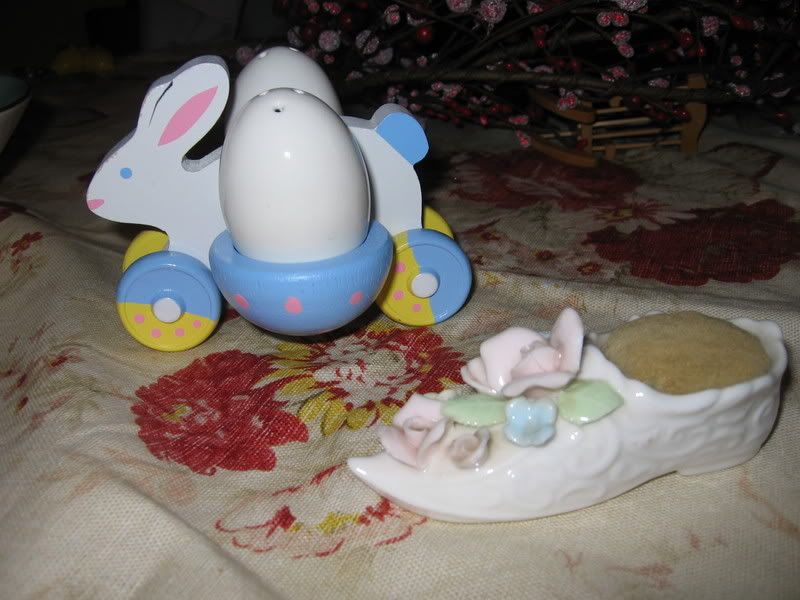 bunny salt & pepper shaker set - $1.99 for the bag -
um . . . you can ROLL the condiments down the table.
shoe pincushion - 99 cents for the bag -
this is too cute for words and prompted me to search on EBay for other tiny pin cushions. I didn't bid on anything (I have crappy EBay luck) but I might . . . I just might.
flocked Easter picks - $1.99 for the bag -
So cute and vintage! There are tags on some of them that have an address for a store on Broadway in Manhattan and say "Parisienne Made in Hong Kong 10 cents."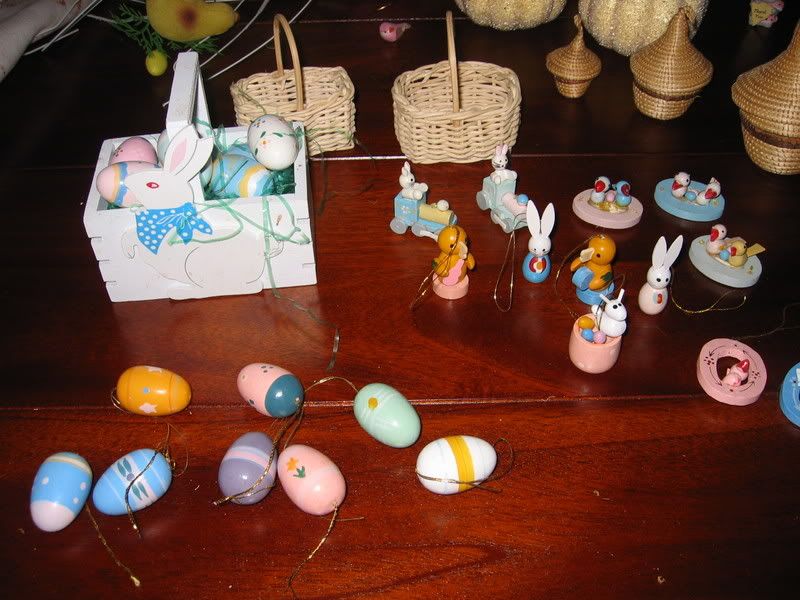 miniature Easter ornaments and baskets - $1.99 for the bag -
the ornaments are wooden and tiny! Some close ups:
These were difficult to photograph . . . the birds nests are my favorites: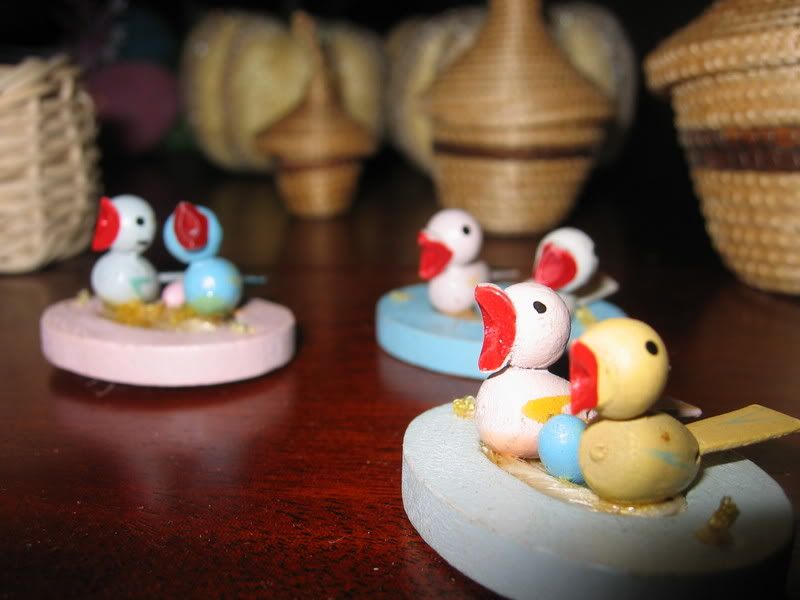 Perhaps I'll be able to use one of them in the doll house. (Speaking of, I need to paint it before I assemble it and it recommends latex paint which means I have to go to Home Depot or something and well . . . I don't get there much. Plus I'm on the fence about colors but I'll leave that to another post.)
So anyway, hung over thrifting seems to work for me. :)
Today is the last day to sign up for the Spring Fling Swap!
By my calculations I think we are close to 50 participants! Needless to say, Lucy and I hope to get your partners out ASAP but please bear with us. We will at least post a list on
Sweet Goodness Swaps
and those of you with partners with blogs can check each other out and we'll get email addresses and home addresses out within the next few days. I've already started gathering all things pink and green!
Cheers!
Rebecca