I'm starting to think I collect craft supplies. I really need to start actually USING them. Especially some of the fun vintage trims and fabrics I've been lucky to run into. Seriously, what am I waiting for?
So I am making a declaration.
USE WHAT YOU HAVE
.
Oh yes, we've heard this one before. I've even made the pledge! But this time, I'm sticking to it. And I'm not cheating! I will use what I have. Period. Okay, there are a few exceptions (you knew that was coming didn't you?) I will buy "basics" as in needles and thread. I mean one cannot sew without them, right? Oh and glue and other adhesives. Again needed to create. And of course "stuffing" for all the softies I want to make but I will not buy any new fabric or ribbons or paper (especially paper!) for a month. No, TWO MONTHS. (Come on June!!) In addition to the basics I will allow myself to buy
thrifted
craft supplies. I mean these are once in a life time chances, right? But I will limit the amount I can spend on
thrifted
items period.
Any one with me?? Okay, I can hear the tumble weeds blowing by. I know it's not an easy
challenge
for me and some of you as well but I'm sticking to it. For
reals
. I need to. For the sake of my craft room and my wallet. And Lord knows I have enough crap to create for two years let alone two months.
Another part of
Use What You Have
needs to be
Finish What You Started
. I need to do this, too. I have so many half done projects.
Oy
. Especially knit and crochet. I dug one out recently that I will see through to the end: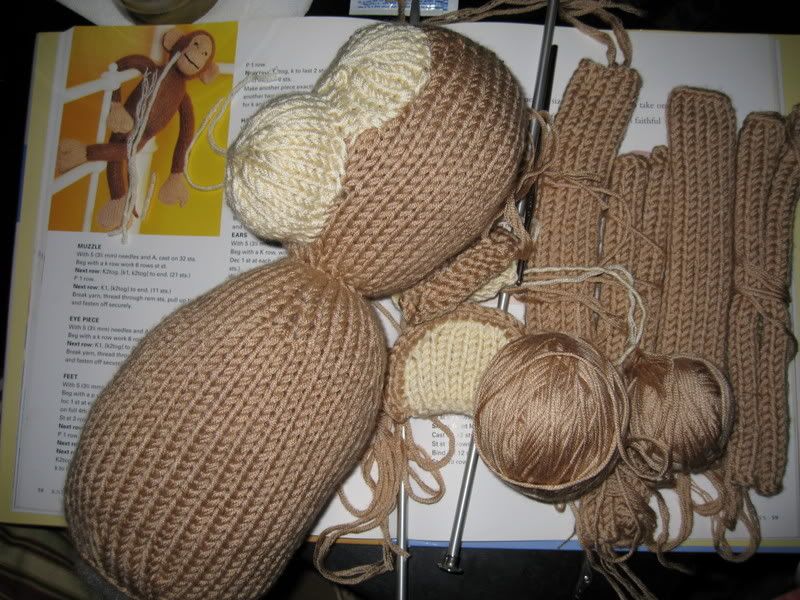 It's another knit monkey just like
Priscilla
. (you can also
read more about Priscilla here
and leave me some comments! I feel lonely
LOL
) Priscilla came out so cute and I do think that the recipient liked her very much. I also think she got a new name, right
Leigh Ann
? I was very happy to send Priscilla to her new home and think that this new monkey will be just as cute. I have a whole different outfit planned for using yarn I already have. And her body is also from yarn already in my stash.
In honor of using what I have I'll be having a wee give away later this week. You'll just have to wait and see what it is but I think it's a good one. After all, I'm guessing quite a few of you collect craft supplies as well. :)
hugs -
Rebecca
PS - go visit my new swap partner,
Robyn
! She's a firefighter!!! And she likes hockey. We're a match made in heaven.