Well . . . . I've been home this week. It's been both good and a little odd. There are times when I don't know what to do with myself (though I should be cleaning) and times I'm really enjoying being here and not in my always too hot office in Manhattan. So what
have
I been doing? Yesterday I played
hookey
and went to a rummage sale with
a friend
. I'll share those treasures soon. And Monday I cleaned the entire craft room! Boy was that a task. Now I just need one more small shelving unit and it *might* look like a normal room in there instead of a storage shed. I did manage to clean off my long table and got some sewing done:
It even looks good close up. :) The pattern is from
Sew Pretty Home Style
and the fabrics were remnant bin finds. I also already had the wooden handles so this was completely made from my stash!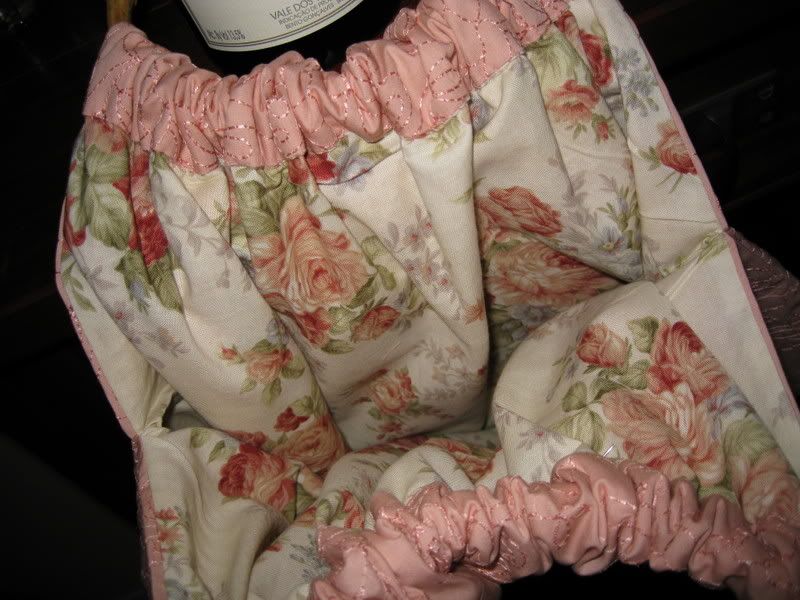 One of my biggest challenges has always been putting fabrics together that compliment each other. I think I did pretty well this time! And from remnants. :) The lining looks great and I took
my time
hand sewing in the handles so even that part looks less sloppy than usual.
The pattern for the rose is from the same book. I sewed a pin back to it so it's removable. I had just enough of the lining fabric left to make it so it felt very "meant to be." Can you tell I'm happy with this project? Now I just need to go to a tea party or
something
that calls for a
frou
-
frou
pink purse. ;)
Oh, and speaking of new bags. When I was in Baltimore a bit ago
my sister
gave me this cute little bag she made:
It's a cute little zippered pouch that has become my makeup bag in my work tote. Mandi actually free hand draws her embroidery patterns right on the
felt
and then goes to town! She also gave me
this book
and
this book
both of which have some cute and fun projects I can't wait to try.
**************************
French swappers, Monday is the send out date for your swaps! If you are going to be late please let your partner know and drop us a line over at
Sweet Goodness
.
Cheers
Rebecca