Two years. Today. For this little old blog. And for those of you who remember my old blog,
NYCe
Girl Knits, I'm not counting that one. Just Good Old Thrifty Goodness.
I was going to tell you a story about underpants but I'll save that for a day when I really need something to talk about. ;) So instead, how about a sample of some true thrifty goodness? On my visit to Charm City last weekend my Mom took Dita and I to a store called Ryan's Relics. It's not exactly a thrift store but it's not really an antique store either. It's somewhere in between and the prices are good. I spent a total of $17 and this is most of my finds: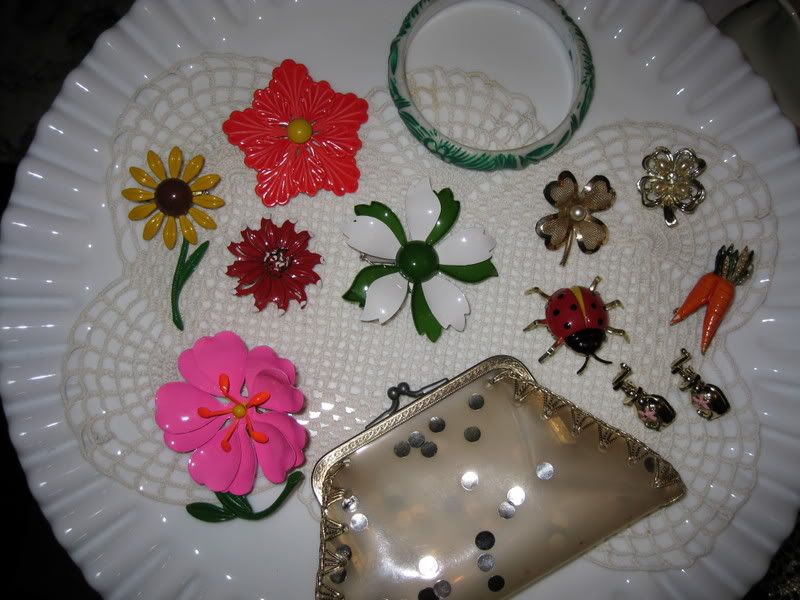 Oh yes, I hit the jewelry section. As many of you know, thrift stores tend to really mark up jewelry even if it's broken or damaged. Well most of the pieces you see here were $1 or under. I did pay $2 for the super cute change purse and the green and white flower. One of my favorites is the carrots pin on the right. There are tiny pearls in the leaves and it was only 50 cents!
The
enamel
flower pins are an instant collection! It's hard to pick a favorite. Of course I'll have the eagle eye out for more and you know Ryan's Relics will be on the circuit from now on. :) (I also got two sweet little hankies with crocheted edging there!)
So how's that for some Thrifty Goodness?
And now for the
Martha Crafts Give It Away Winner
. . . . .
drumroll
. . . .
The Random Integer Generator
chose comment number 8 which was
Heather from Way Out West
! Woo
Hoo
! Congrats Heather! Send me an email with your address and I'll put your goodies right in the mail:
rrdusquesne
(at)
aol
(dot) com :)
And because I have a lot of stuff and in honor of my sweet Rangers going up 3 to 1 on the crappy Devils*, I chose a second winner for another prize pack which will
include
a
specimen
box, the rose stickers, the
wood grain
note cards, some Martha ribbon and a Martha best wishes Banner. The second number the RIG chose was number 26 which is
Jen from Red Hen Studios
! So congrats to you, too, Jen and send me your address when you can.
I'll be doing a big mailing next week some time for these prizes, the Spring French Swap and some random mail goodness.
xoxoxo
Rebecca
* - Rangers and Devils in Game 5 on Friday. Go Blue