Sigh . . .
Selena
spoke of
swap angst
. That overwhelming feeling you get when you have all these swaps to complete and you freak out thinking you won't get them all done. While I do get swap angst (on the rare occasion I join a swap) I also get SWAP GUILT. This is where you sweat and worry over whether or not what you send your swap partner will measure up to what they send you.
Sarah
spoiled me with not only craft supplies a go-go but also
that wonderful hand made flour sack towel
. And yesterday I finally was able to get to the post office to pick up
Sara's
swap box and well . . . THE GUILT IS OVER WHELMING. :) I can't remember all of what I sent to her but it in no way measures up to this:
WOW and you're not even seeing the best part (which I'll get to in a moment). Let's see . . .
Vogue Knitting from summer 1994 & yummy yarn (I knit!)
artistic wire (this is EXACTLY what I am using on my
yo-yo trees
)
embroidery floss (I embroider!)
fabric, a bag of button and beads & zipper foot attachments (I sew! sort of . . .)
paper (I LOVE paper)
monkey note cards (I love monkeys!), lovely French inspired notecards & MC Escher postcards
candle beads (this is what I think they are, right Sara?)
chocolate (drool . . .)
AND (drum roll please) some hand made goodies including this pin cushion:
Are you dying with jealousy? You should be. Do you see the ribbon that says love and has the little dancing mice?? Back off sisters, it's mine. ;)
and THIS: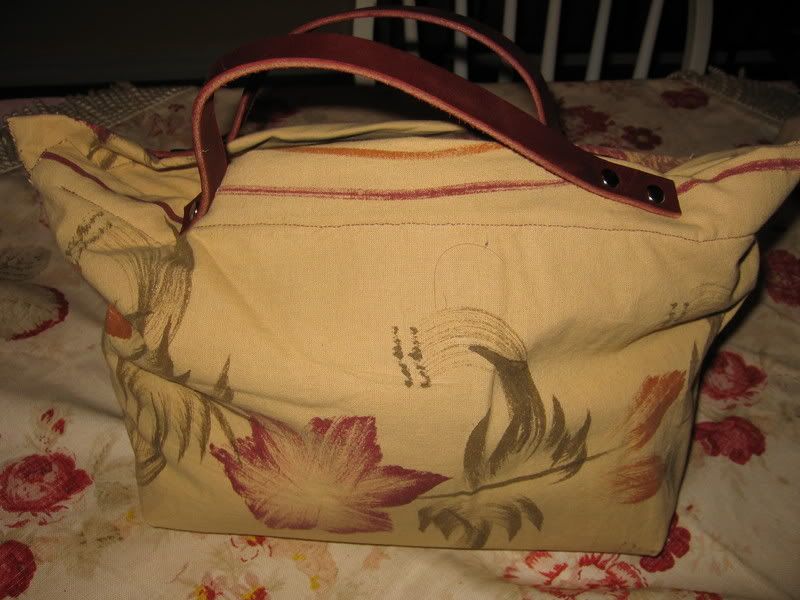 Yes, she made me a BAG. A beautiful, roomy, leather handled bag! Simply said, I LOVE IT. It's the perfect size for a knitting project and the fabric? Perfect! Notice how it's quite similar to my table cloth hmmm . . . so either Sara is clairvoyent (some one call Dionne Warwick) or she's my long lost sister. I'm hoping it's the later. DNA tests pending. :)
Thank you, Sara. Thank you. Now please come to my house and teach me to sew.
Cheers - Bex