You know me. I have LOTS of craft stuff and not nearly enough time to use it all. Every year I say I'm going to make my Christmas cards so I buy the stuff, make one and that's about it. So this year I decided to to throw a little par-tay for a few friends to come over and use up my supplies, I mean MAKE some Christmas cards to take home. :)
So, did I lie? I had A LOT of stuff. Honestly, all I bought was some holiday papers and 2 boxes of
these
from
K & Company
. The rest I already owned, stockpiled all squirrel like in my craft room. (That's the lovely Joolz hard at work in the back there.) In my defense, my friend
Vera
did bring the multitude of glitter glue. It was a wonderful day. I love to see crafty friends at work. Vera, Joolz and I were joined by another friend, Ali, who brought blueberry cobbler & wine. We love Ali.
I did teach some techniques that were new to the girls including using the Sizzix die cutter and heat embossing: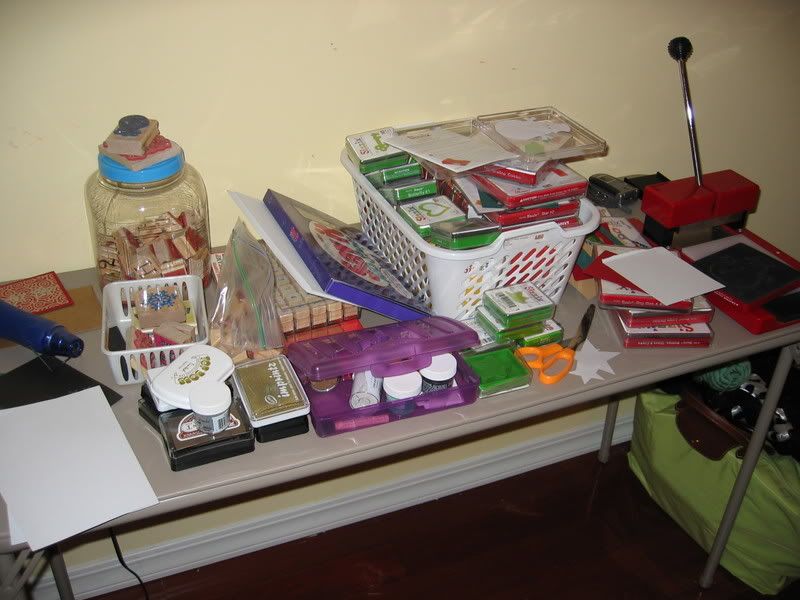 Plus we had a wonderful brunch of mushroom spinach quiche, spaghetti squash, salad and shrimp cocktail. Desserts included Ali's bluberry cobbler, yummy strawberry cupcakes made by Vera and a pumpkin carrot cake Joolz and I made the night before. Speaking of Joolz, she did a great job keeping the bellinis flowing!
Here are some of the cards I made: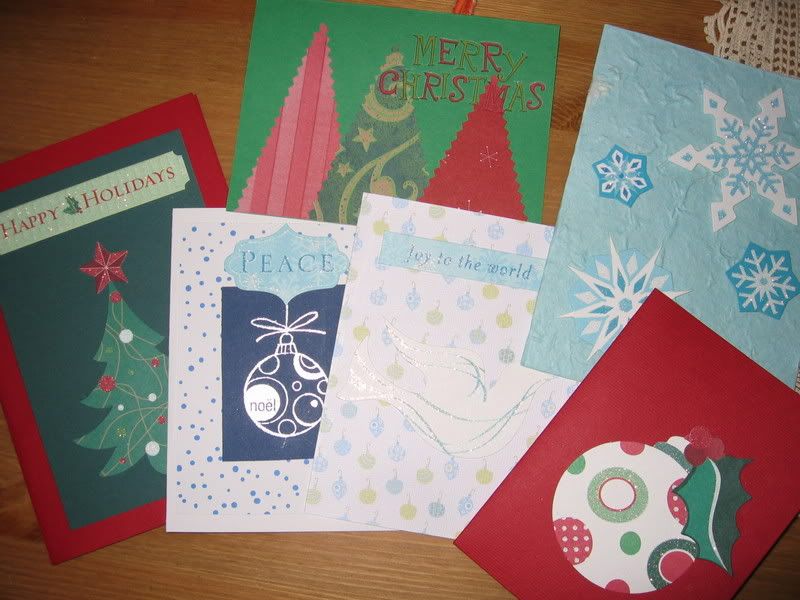 I of course need LOADS more. I love sending holiday cards (and any kind of snail mail really) and hope to drag out the left over supplies and make a few more. What a fun day! Maybe I'll make it a tradition . . .
Anyone else making holiday cards this year? I'd also like to make some gift tags, it should go pretty quickly once I get started. You know, when I finish all the other things I'm doing right now. Let's make a list:
1 - Ornaments!
I decided to give my boss of a basket full of home made ornaments for Christmas. Hmm . . . maybe that's not such a hot idea. I'm thinking now of making it a basket of ornaments and baked goods.
2 - Baked goods!
Lizzy and I are supposed to get together soon to decide what treats we'll be making this year. I know I want to do truffles and gingerbread.
Joolz - you should join us!
3 - Afghan!
I started crocheting myself an afghan and I'm loving it. I love the softness, the colors and I'm really enjoying the crocheting. I need to put this down and finish my stuffed scottie dog ornaments (see number 1)
4 - Doggie Sweaters!
1 down, 2 to go!
5 - Misc. knitted gifts!
Yeah . . . not sure where I'm going with that one
So you see my dilemna. 8,000 ideas and only 41 days to go.
Oy.
Tommorow I'll post about all those wonderful things I've found around blogville that I want to try, too. :)
cheers - R
PS - remember that pumpkin lolly from yesterday that I said was too cute to eat? Well
'>Heidi left a comment saying it was a candle. WHOOPS. Good thing I didn't taste it LOL