Ever just have an idea, execute it and then are really really happy with the results? Well that rarely happens to me as I A.) have a problem finishing things and B.) usually don't like what I finish for various reasons. So at the moment, I am very pleased with myself about the project I've been working on.
I like to make a different Christmas ornament every year. I date them and hang them on my tree and if I'm lucky, make extras for friends and family. I've done paper mache bird houses, wooden mittens and pearlized sea shells to name a few. The Sculpey snowmen Mom I made from
this pattern
at HGTV are, I mean WERE, my favorites to date. (I'll post a picture of them later this month when I unpack my ornaments.)
As you know, I'm the queen of "monkey see, monkey do" and saw
these fab yo-yo trees
at
Gooseberry Patch
. I've been hoarding wooden spools for sometime now and just KNEW I'd find something to do with them. I made my own version of yo-yo tree ornaments:
I am so pleased with them! AND I didn't buy anything for them and just used what I had. (Thanks to the fabulous Joolz for supplying the chopsticks I used as the center of the trees.) I've completed these 4 so far (and gifted the black and plaid one to Joolz) and plan to make quite a few more. These are small spools and are ornament sized. I have a few larger spools and would like to make some trees to place on my coffee table. Now I'm in search of more fabric for my trees. All you see above is fabric I had that I purchased from the remnant bin at Joanns. My favorite (and the one I'll keep) is the one on the far left. I plan to make more in that combo as well.
Aside from making yo-yo trees I did also manage to get some cleaning done and hit the thrift. You know me, I like to drag these things out so I'll post a few items today and more through out the week. Here is my collection of "misc" stuff I picked up Sunday:
Hello Kitty Rummy
- $1 - great stocking stuffer for Luis' niece Christina. I also thrifted her a new (with tags) Hello Kitty purse on a
previous trip
.
stuffed flower
- 69 cents - another little stuffer for Christina's stocking.
Giants beer coozie
- 49 cents - Luis love them Giants! (oh, and beer, too)
Eeyore book
- 49 cents - a little something for my sister who has a thing for Eeyore. ;)
vintage cards
- $1 - there are two decks in this decorative box. One has been opened but all cards are there. The other is sealed. I saved this for last so Icould share this: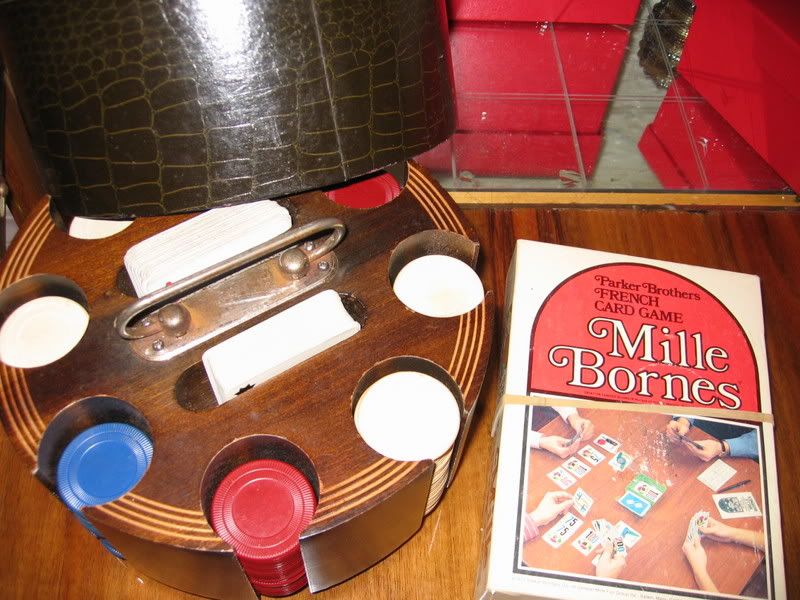 The vintage poker chip "go-round" is from an antique store in Havre De Grace, Maryland. I paid $20 for it. Luis was entertaining the idea of setting up a game room in the basement and I thought this set was just fabulous.
Mille Bornes
is a French card game and if you've never played you should. You can get new versions of it but this is a circa 1970 edition I found at the thrift a while ago. Coup Fourré! The new decks of vintage cards will be great in my collection.
More thrifts to come tomorrow and perhaps more yo-yo trees as well but I want to start my Apron ATCs for the swap over at
Apron Thrift Girl's place
. Maybe I'll drag some stuff down in front of the TV tonight . . .
xoxoxo
R
PS - Remember my grubby buddy?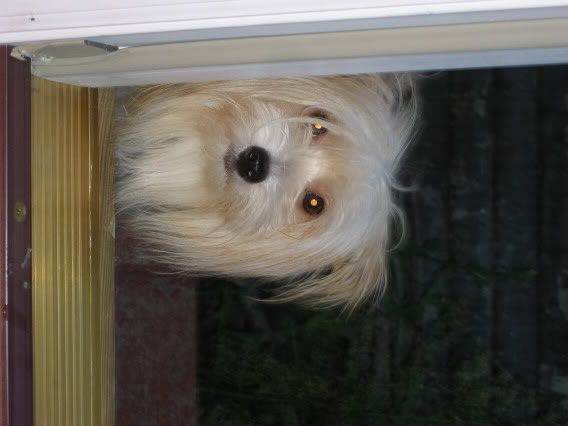 well he got a haircut :)