I know, I've got my holidays all screwed up around here but I'm in a jolly mood. I have been day dreaming about the Friday after Thanksgiving and how I'll drag all my plastic bins up from the basement and start digging through my Christmas goodies. You see, during the week after Christmas every year I hit the sales. My favorite place to stalk is Target. On the 26th (if tradition holds) all of the hoiliday stuff at Target goes on sale for 50% off. My suggestion to you would be to buy whatever it is you lusted over before the holidays right away. (I'll be hunting down these
white feather trees
since I can't seem to bring myself to spend $40 on them now but maybe $20. We'll see.) Usually a few days later the discount will become deeper yet in my experience, you never find what you hoped would be there.
Now what was my point? Oh yeah, I'm particularly excited to open up my bins and see what I bought after Christmas last year at the sales. It's like getting brand new stuff! And we all love stuff, right? I also tend to buy Christmas ornaments through out the year as well. I guess I collect them. (I know, what a dork.)
Since I was in a Christmas mood I thought I'd share some of the ornaments I've made. You've already seen the
felt mitten, star and circle
but there are some new things, take a look:
See my scottie dogs in the back? I love them. And that weird apple/tomato plaid thing? Love that, too. Don't know what you do with it, but I love it anyway. Yeah Christmas. :)
I also thrift for Christmas though I have to say I'm not that lucky with finding decorations. I do find some gifts but my thrifted decorations are few and far between.
napkins - 49 cents each -
you can never have enough linen napkins. Though I did buy these with the intent of turning them into
yo yo trees
.
festive goose cross stitch kit - $3 -
I always buy these. I have like 5 stacked up. I'll start them next year. Yeah.
small quilted stocking - 70 cents -
I thought it would be good for stashing a little gift in for someone.
gold pineapple spreaders - $1 -
while these aren't Christmas specifically they sure are festive. Plus pineapples mean "welcome." That's goodness right there.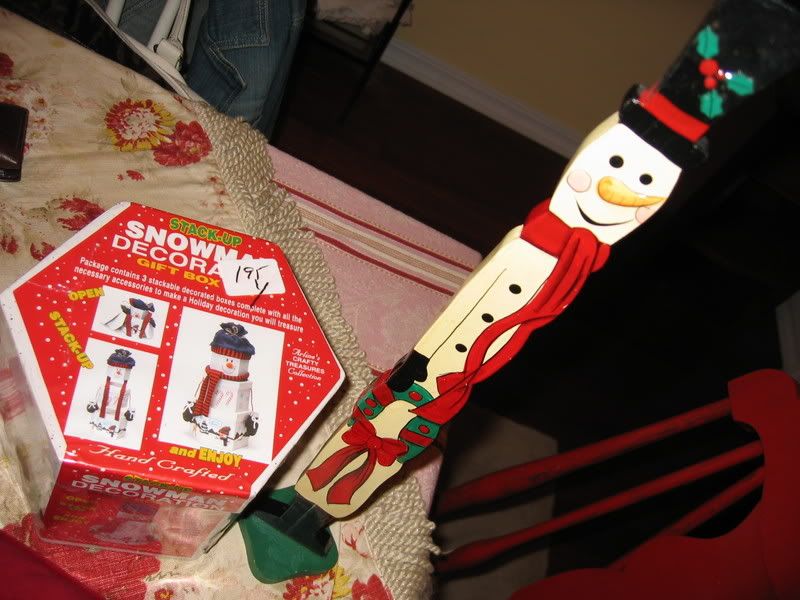 snowman stackable boxes - $2 -
yeah, he's real cute.
reeaaallly tall snowman - $2 -
I just had to have him. I had to.
and I probably shared this before . . .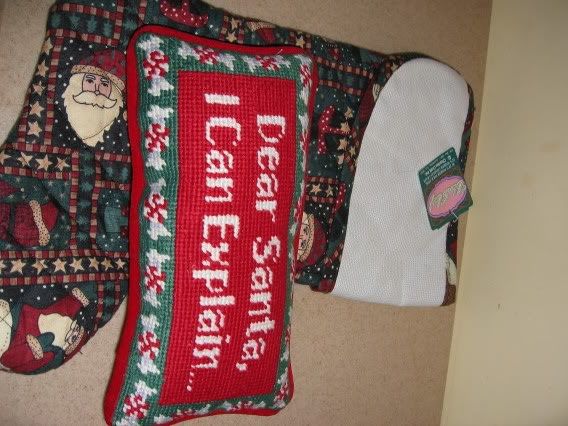 Christmas pillow - $2 -
I have a few of these for my sofa.
stitchable stocking - $2 -
yet another cross stitch project. I do intend to put my friend's name on this and gift it this year. Check back soon to see if I follow through.
Are you in a holiday mood yet? I am. You just wait until after Thanksgiving, all of my posts will be holiday related I fear. I have a feeling that most of you are the same way so I know I'm in good company.
Tomorrow, to try to get away from my holiday craziness, I'll post about some other cards I've made in the past. I find them a great creative outlet and a good way to use up my mountains of scrapbook supplies.
ta!
Rebecca