I made more ornaments last night. Not
yo-yo trees
, though I need to make a few more of those. I made these: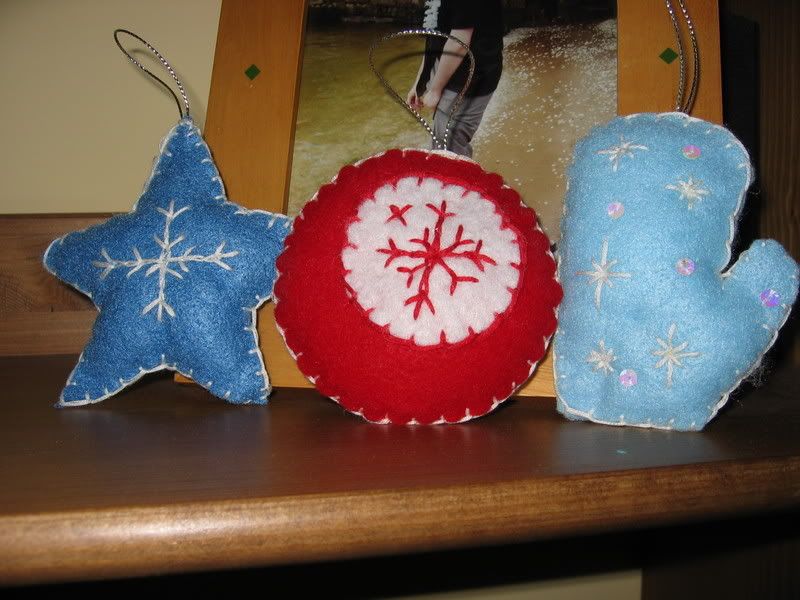 As
Austin Powers
would say "Easy peasy, lemon squeezy!" I just cut the shapes out of felt, blanket stitched them together (leaving a space to stuff and then continued stitching) and then I decorated them with embroidery, sequins and a silver cord for hanging. My embroidery could use some work but I was just seeing if I could do it and have some ideas for improvement. I want to make some cute scottie dogs like
these
and
these
. I just need to search out a picture to make a template from. I'm thinking of doing two larger dogs for Luis' neice and nephew for Christmas. Any other ideas for shapes??
Now onto my obsession with glass. Not colored glass, not carnival glass, not even depression glass (though I do rather like it), just plain old clear glass. I would like to use glass for everything in the kitchen but I'm still tied to plastic containers for lunch. Much easier to lug on the subway to work. Anyway, my latest haul: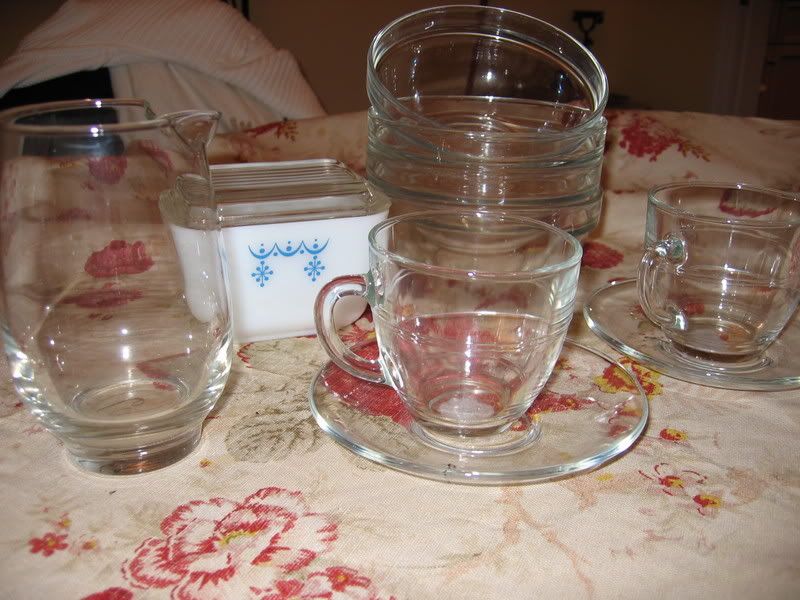 pitcher - 49 cents -
this is a tumbler style with no handle. It will be great for my mini pitcher collection (who HAS one of those, seriously? I'm such a dork.) The only makers mark is a cursive style "L" any ideas?
Pyrex refridgerator dish - $1 -
no need to explain, I know you all covet these as well.
glass bowls - 49 cents each (4 total)
- these are GREAT. They have a slight lip on top so they are stackable. They just say France on the bottom so I'm unsure of the maker.
glass tea/punch cups - $1 each (2 total)
- man I searched for more of these! I like to make warm spiced apple wine and these will be perfect for serving it in. The bottom says made in France and of course now that I'm not staring at them I can't remember the maker. Something like pyrolux maybe? Anyway, I love them.
Well I haven't shared a tea party hat in awhile (oh yes there are more) so here is one made by the lovely Nina:
One of Nina's many nicknames (we are famous for giving each other nicknames galore) is Nine hence the big pink number 9 on the front. For the full affect of this dashing chapeau you must see it in action:
I think it's very Prince meets the Merry Widow but my Mom said it was more like the
Black Dahlia.
;)
cheers!
rebecca