Seriously, I can justify ANYTHING. I was just telling
Sarah
that while I do tend to thrift with a purpose at times I can ALWAYS make something I like HAVE purpose. Take, for example, these recent finds at Savers: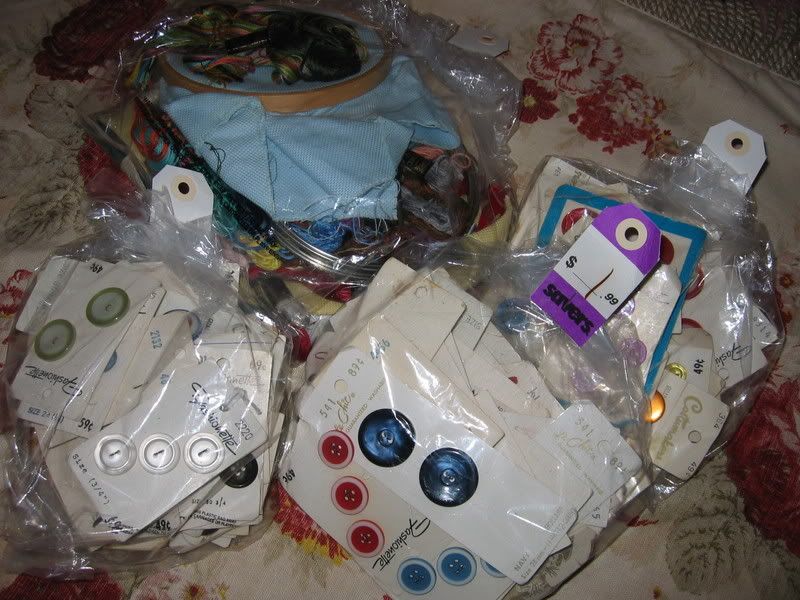 Bags of carded buttons: $2 each (3 bags)
- Do I NEED buttons?
NO.
Do I have friends who need buttons? Um . . . yeah! and carded are nice for knitting and sewing projects where you'd like to find more than one of the same kind of button, right? RIGHT? (psst, anyone need buttons??)
Bag of misc. embroidery crap - $2 -
I said I wasn't going to buy any more random embroidery floss. It's hard to do cross stich projects that call for specific numbered colors when you have no CLUE what colors you have because you buy tons of floss at the trift store and they either have no labels or are so old that the manufacturer has CHANGED the numbers. Hmpf. Hate that. But hey, is that a piece of blue cross stitch linen in there? And are those wooden hoops AND metal hoops?? I'll take it, thanks.
Oh and how about these: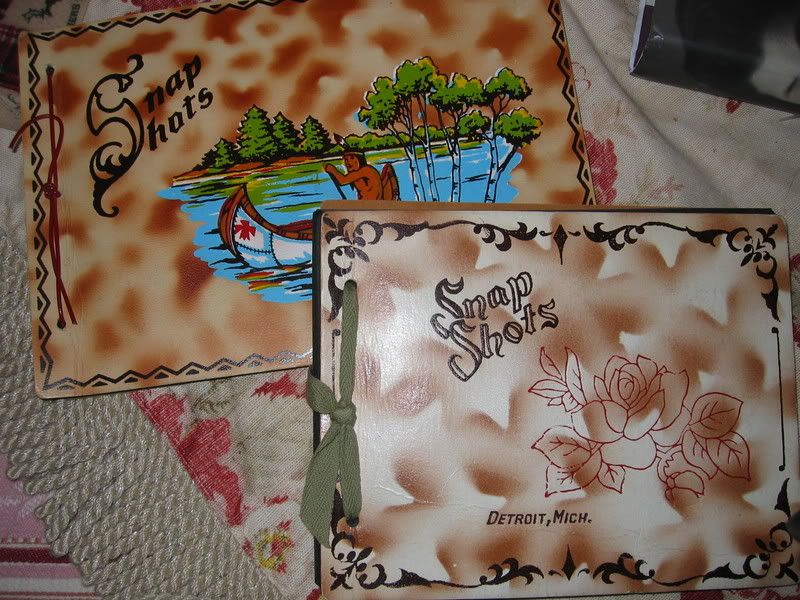 old photo albums - $2 for both -
these were in a bag and I could hardly tell what they looked like but come on! I'm a scrapbooker, how can I resist these awesome leather covered snap shot books? The fact that I've never even been to Detriot is moot, thanks.
Now for the stuff I NEEDED. Oh come on, you know you've picked up stuff at the the thrift and said you needed it even if you didn't. How do you justify it? The way my Mom did when I was a kid. Any time I said "WHY?" she said "Because I said so." Well there you go. I needed this stuff because I said so.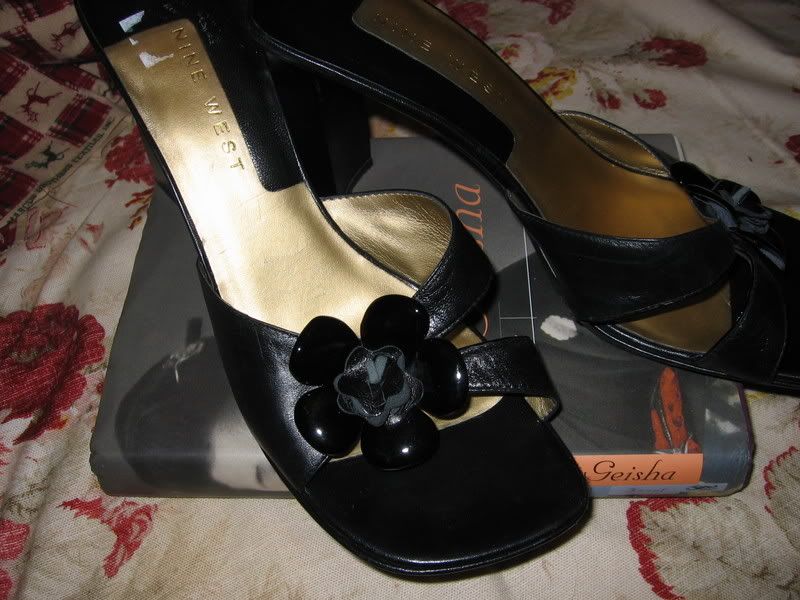 Nine West black sandals - $3.50 -
no I won't be able to wear them until next summer but still, they are in great shape and being large footed, I don't usually find shoes at the thrift. And $3.50, hello? Have you ever seen the prices at Nine West?
Memoirs of a Geisha - $3 -
one of my favorite books and I'm currently only in possession of a paper back and it's nice to have hard backs of your favorites right? Plus it's a pre-movie copy with the original cover. I enjoyed the movie but I loved this book way before that . . .
Moral of the story?
If you need a reason to buy something? CALL ME. I'm here for you.
I'll save my oodles of glassware and my thrifted Christmas stuff for tommorrow. Have a fab night, sweets.
xoxoxo
R
PS - got turned onto
this blog
because of
this tutorial
linked to at
Heidi's place
.