Whew! What a week. I've been such a bad blogger. I've actually had to WORK. Yes, my REAL job. No fun there. I knew I had to come on just to say hi today and wish you all a fabulous weekend. But since I'm here . . .
I'm in print again! See my article
here
on thrifting for Thanksgiving. Cookie at
The Thrift Shopper
has been so kind as to allow me to be the roving holiday thrifting reporter so expect more babble from me on thrifting for the winter holidays soon. Make sure you poke around her web site, loads of good stuff!
Speaking of thrifting, I'm going through withdrawl having not been in a few weeks. I'm hoping *fingers crossed* to hit the Savers on Sunday. In an effort to not repeat myself (and please let me know if I am) here are more things thrifted while in Baltimore in October.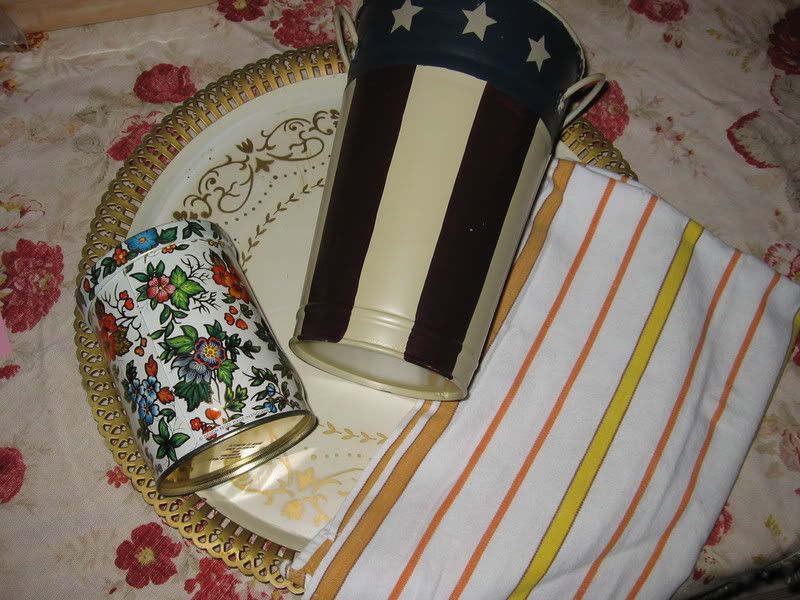 metal tray - $2
- there is a lovely rose motif in the middle that you can't see from this picture. I'm trying to bring tea service into my evenings so this will be a great tray for toting the cups and pot out to the living room.
tin - $1
- I have a few tins that I don't know what to do with but I figure to find a use eventually.
tea towel - $1
- I'll buy any linen-type tea towel regardless of pattern though I am particularly fond of these citris stripes.
american flag motif "jar" - $2
- for lack of a better word, I'm not sure what you call it, a planter maybe? But Luis loves that "old-school" American flag style and has several pieces in his office (including a wooden plaque we picked up in Vermont a few years back) and this goes nicely.
I've been promising another tea party hat complete with story: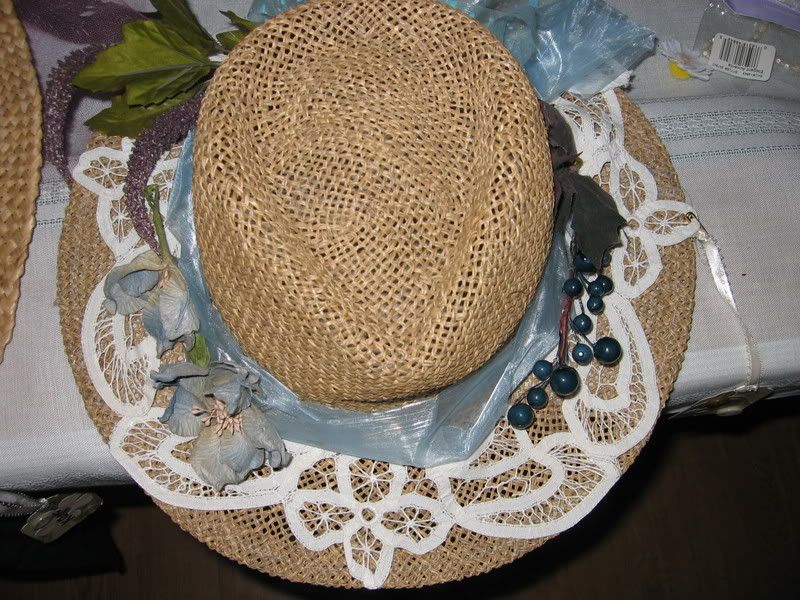 This one was decorated by my dear friend Ida who I met the summer before 10th grade at Show Choir camp. Yes, it's very similar to
BAND CAMP
but you sing and dance instead. At the end of the week of camp you put on a big show and your parents come up and yada yada yada I was 15 so give me a break okay? Anyway, on the way to the performance Ida, who I had not managed to meet during the week, asked if she could stow her wallet in my bag while we performed. I said sure and we went and did our thing. Needless to say, Ida forget her wallet (which was silver by the way) and it went back to Maryland with me. (Camp was in Pennsylvania where Ida lived at the time) LONG STORY SHORT (too late) we ended up calling each other regarding the missing wallet and I mailed it back it to her (after she told me I could borrow money from it if I wanted to!) and we became fast friends. Not only did we see each other the next summer at camp but we also convinced our high school music teachers to let my school take a field trip to her school. Weren't we cool? 18 years later and we are still the bestest friends. Can't beat that with a stick.
Anyway, here is Ida modeling her fab hat prior to decoration: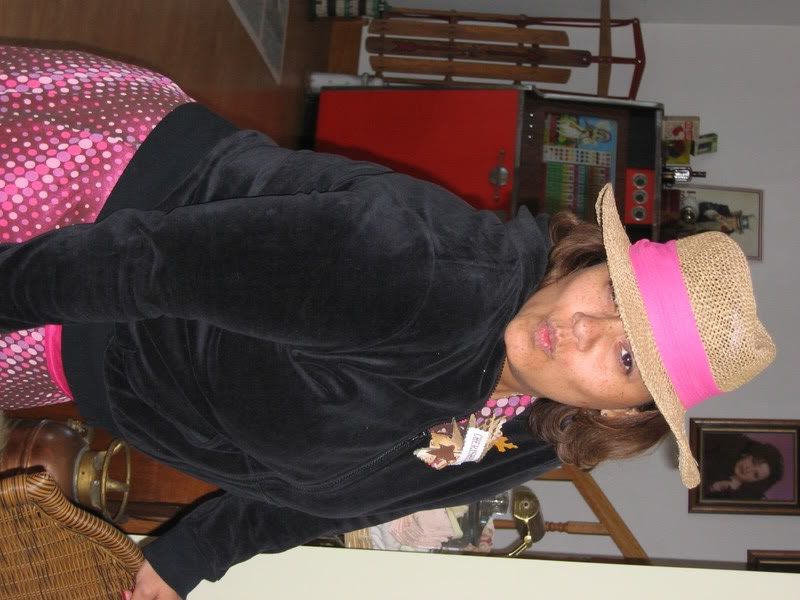 Don't you wish she were your friend, too??
Have a great weekend my little fioras. Until the next . . .
xoxo
Rebecca