No, this is not a post I wrote two weeks ago and forgot to upload. This is because I got to celebrate Halloween TWICE this year. :) Over the weekend I received a WONDERFUL package from
Heidi
to get me in the mood for Halloween. She sent it on October 13th but I didn't get a note from the post office that it arrived until November 8th! Well sweet Louie stood in line for an HOUR to pick it up for me and I don't know if he would agree but I think it was REALLY worth the wait!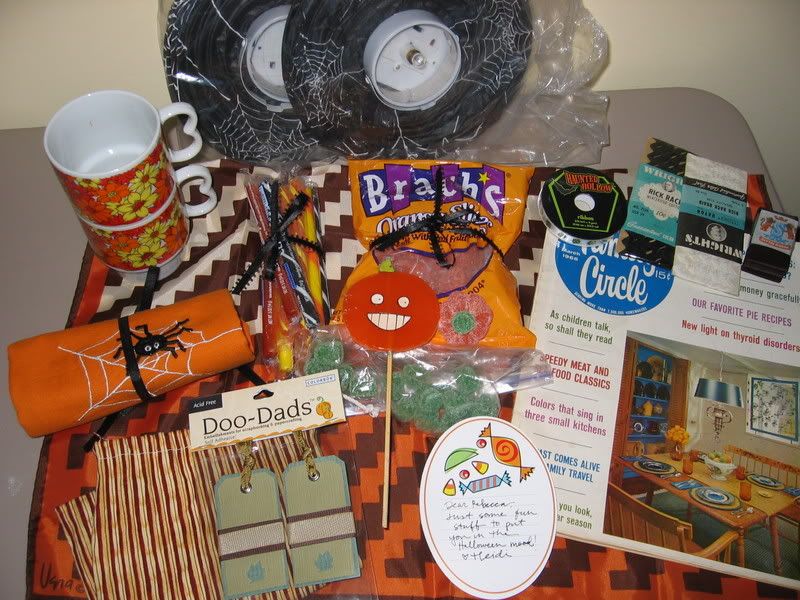 Look at this Goodness! The note from Heidi says "some things to get you in the Halloween mood." There are two paper lanterns with spider webs on them, a super cute orange tea towel with a spider, those adorable stacking flowered mugs (in orange of course!), candy! yeah! including that pupkin lolly that may be too cute to eat, a striped drawstring bag (bottom left corner) filled with fall inspired tags, black ribbon, Halloween ribbon and black and white rickrack, an old Family Circle from 1966 and it's sitting on top of the best orange and brown VERA scarf! Ack, could you die?? While I love everything, here are some close ups of my favorites: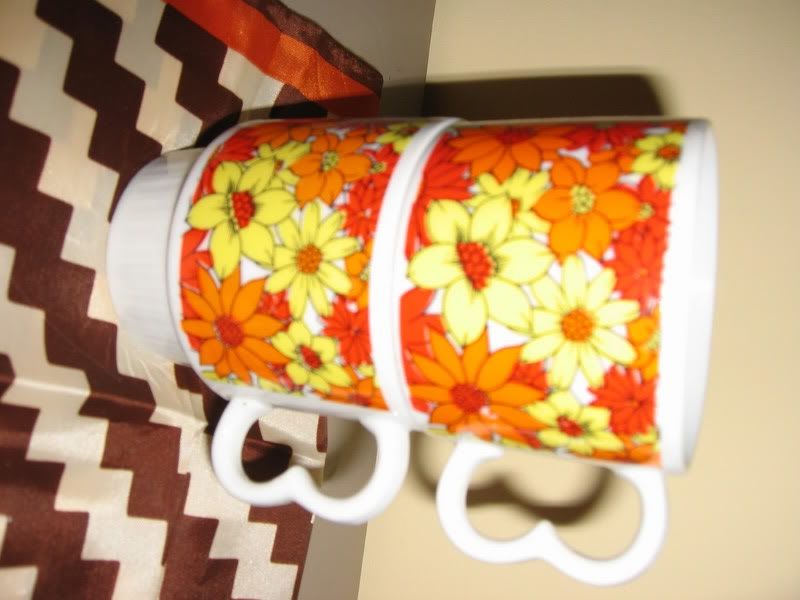 Love these mugs! I may have loads of thrifted glasses and bowls but I was sorely in need of some mugs.
And who doesn't love Vera?? And the colors! I love fall colors.
So thank you Heidi, this was such a thoughtful package! It was nice to have my Halloween spill over into November. I've already gone through half of those orange slices and 2 candy sticks. What diet??? ;)
How was your weekend? I know I rarely post on the weekends and in 2007 I'm going to attempt to do better. Luis has sorted out some of our
computer problems
and we've decided to move it dowstairs and use the TV as a monitor. At first I was against this but when I realized that the CPU would fit almost unseen behind the TV and that we have both a wireless keyboard and mouse that would be hidden under the coffee table I was gung ho. Hmmm surfing
Etsy
from the sofa . . . nice.
Anyway, my weekend was fun. I had a little Christmas Card making party on Saturday. I will post pictures and details tomorrow. We had a great time! I may be able to actually send out homemade cards for the first time. :) I'll leave you with a picture of what my guys do best . . .
I belive they call that "maxin' and relaxin'." Until tomorrow!
cheers - R