Wow I feel out of the loop. My vacation was wonderful! I had a lovely visit with my parents, a quiet Thanksgiving and a lot of crafting time. It was nice but I am having a hard time getting back to reality. I find my mind wandering a lot, thinking about all my crafty blog friends and wondering what everyone was up to over the long holiday weekend.
The Christmas bomb went off on Friday at my house: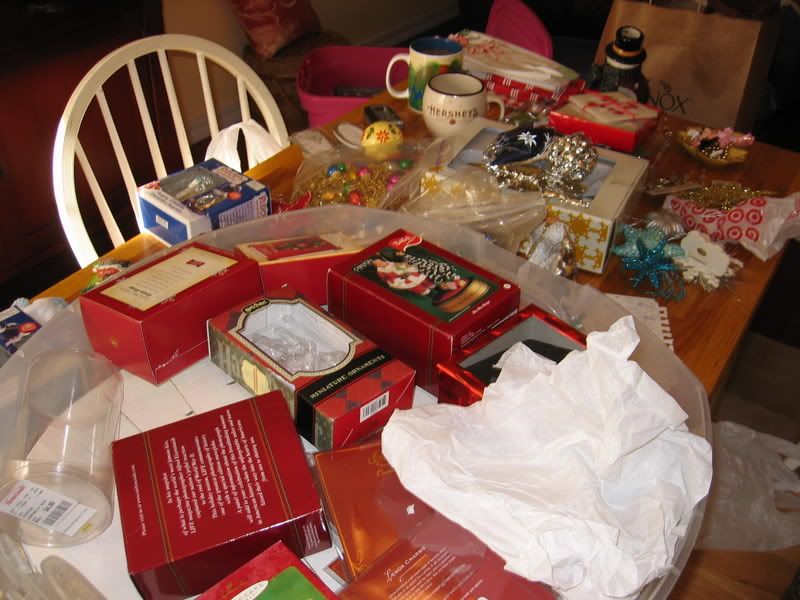 Damn. I have a lot of stuff. So much that there is a whole bin of things I decided NOT to put out this year. You see, last year I had minimal furniture. Only a sofa, TV cabinet, side bar and table in a very large living room/dining room area. So my Christmas decorations really filled in the gaps. In fact, I was very sad when I put everything away last year because it looked so bare! Now this year I have LOADS more furniture and all my decorations are making the place look . . . cluttered. So I have my work cut out for me. I'll share more pictures of my decorations as I get them perfected over the next few weeks. I hope you will be doing the same on your blogs, I'd love to see what everyone comes up with in the way of holiday sparkle.
Did I mention that I crafted? I did. Mom and I turned out LOADS of paper rosette ornaments: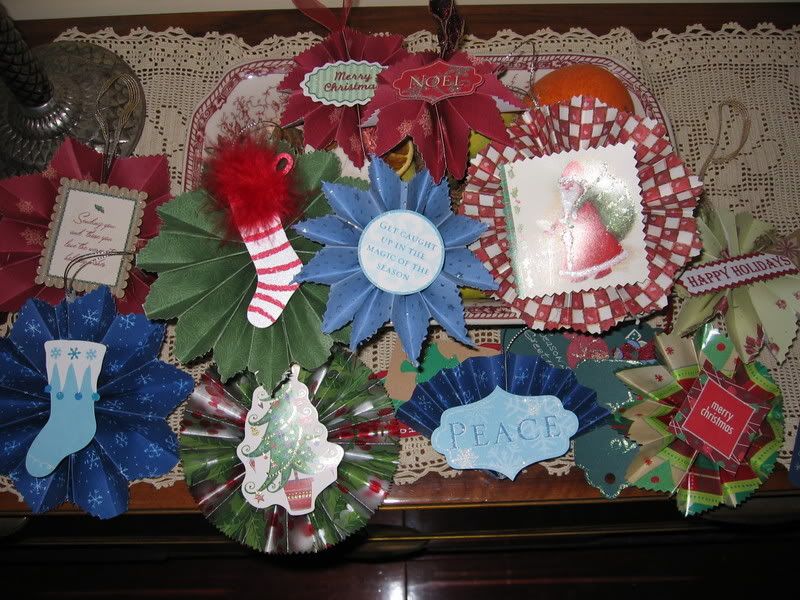 They came out very cute and will be nice to tie on packages or the tree. They are really easy to make and I got to use some gift tags and holiday cards I saved from last year as embellishments. You know I love to repurpose!
I also went a little crazy with the felt. This is definately the year of felt for me. This stocking is probably my favorite of the felt ornaments I've done so far:
In fact, I'm keeping this one. It's already on the tree. (By the way, I have two artificial trees in my house. The one on the porch is all blue, silver and white. I love live trees but we travel for Christmas and coming home to a dead tree sounds terrible to me.) I do love how this turned out and have a template cut out to make more.
I also made these: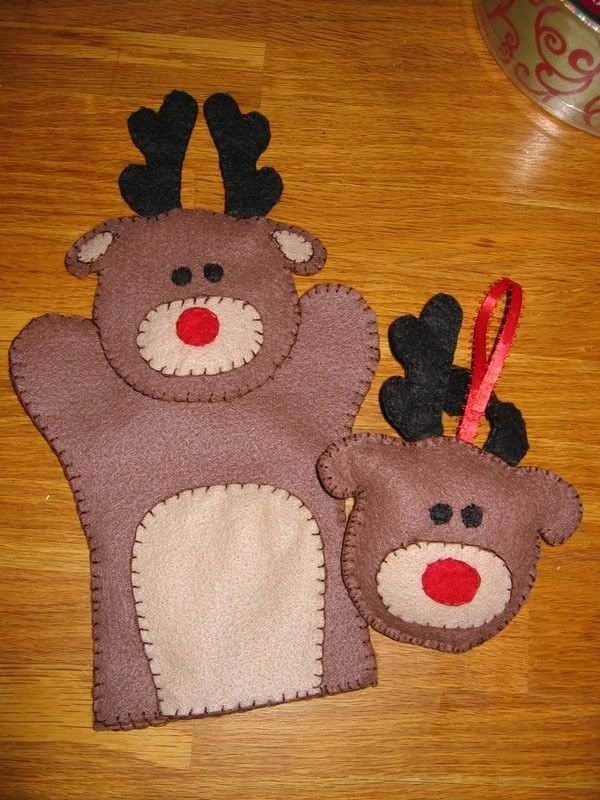 The hand puppet came out wonderfully! I think he's just adorable. The ornament isn't so bad either (despite his one floppy antler). I may try to make a Santa puppet to go with the reindeer. It is definately the year of felt.
Today I plan to hit ALL of my favorite blogs to see what everyone is up to. Expect multiple comments in your inboxes with my name on them! Tomorrow I'll share some goodies Mom and I thrifted during her visit. Oh, and maybe more felty goodness.
cheers!
Rebecca