I have a new friend. Well, a new
acquaintance
BUT I can tell we will be friends. Want to know why? Because anyone who can whip up a
poodle cake
HAS to be my friend. Oh yeah, and she
thrifts
, too. AND she
crafts
. AND she
sews
. So anyway, go
visit her blog
and often. She sent me a lovely email about how she's been reading mine and honestly, her stuff is WAY better. :) Plus, she lives in New Zealand. Ahhhh New Zealand . . .
I'm in a blathering mood today so please pardon if I go on and on. When Mom was in town, we did some thrifting. We hit the regular old Savers, of course, but we also got to visit The Church Attic in Amityville which
Vaxgirl
told me about. It is only open during the week and the first Saturday of each month. It's in an old house and each room is filled with treasures. Plus the prices are pretty good! I'm hoping to stop by there again this Saturday when I FINALLY get to met Vaxgirl live and in person. Anyway, the booty: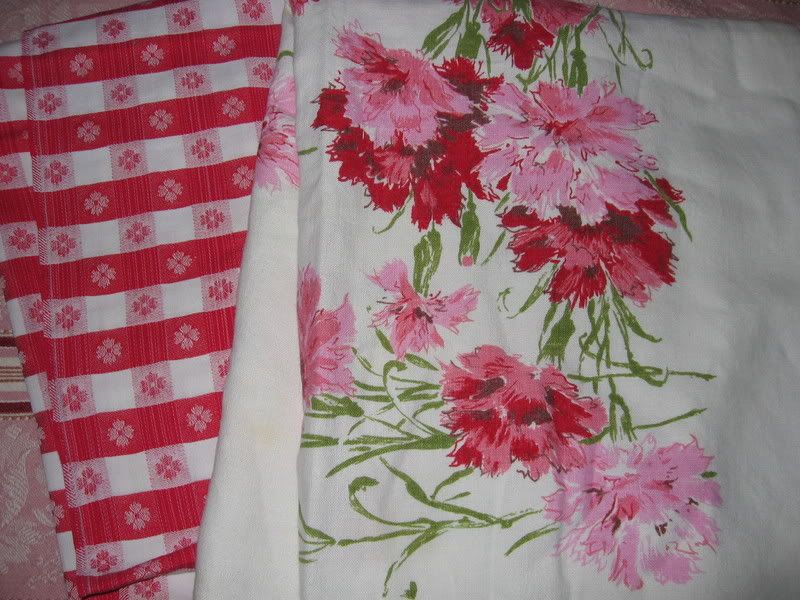 red checkered table cloth - $3 -
this is small which is great because my table is ridiculously small. My cloths usually overwhelm it. Plus, it's classic picnic style!
floral vintage cloth - 99 cents -
funny enough, I looked at this at Savers some time ago and it was $6! It had a multitude of stains and I certainly wasn't shellin' out 6 bones for it. Well when Mom and I were there the special was that all items with a purple tag were 99 cents and guess what? It was purple! So 99 cents and a load of Oxy Clean later and this is one gorgeous cloth!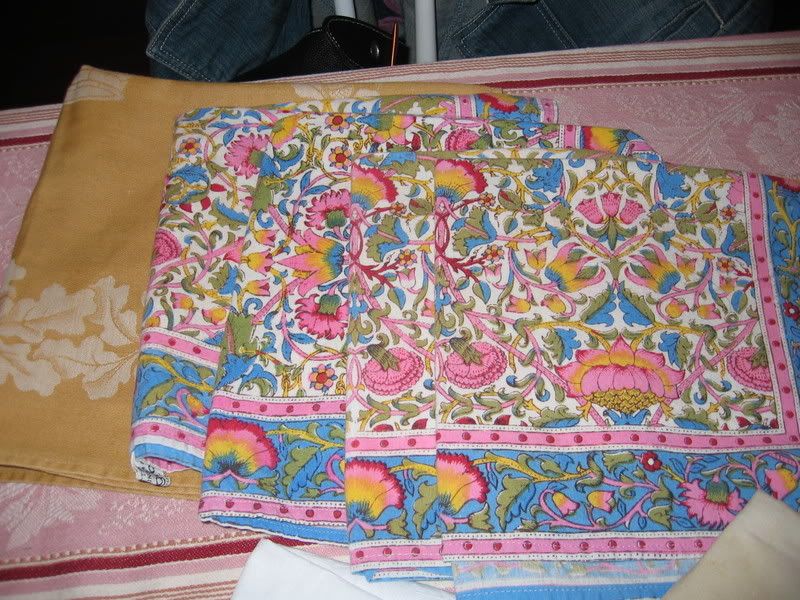 napkins - 59 cents each -
all from Savers. The gold one has a crown in the center and it's probably some kind of brand. I'll get a better picture of it eventually. The others are from Bloomingdales and I couldn't resist the color combo! Of course they match nothing I own.
This is all from The Church Attic and mostly went home with Mom:
barware -
since Mom picked it all up I wasn't paying much attention to the prices but it must have been around 50 cents to $1 for each piece.
scoop - 75 cents -
dog food scoop!
trivet - $1 -
this was the first thing we found when we walked in. Mom has a bit of a collection of these small trivets.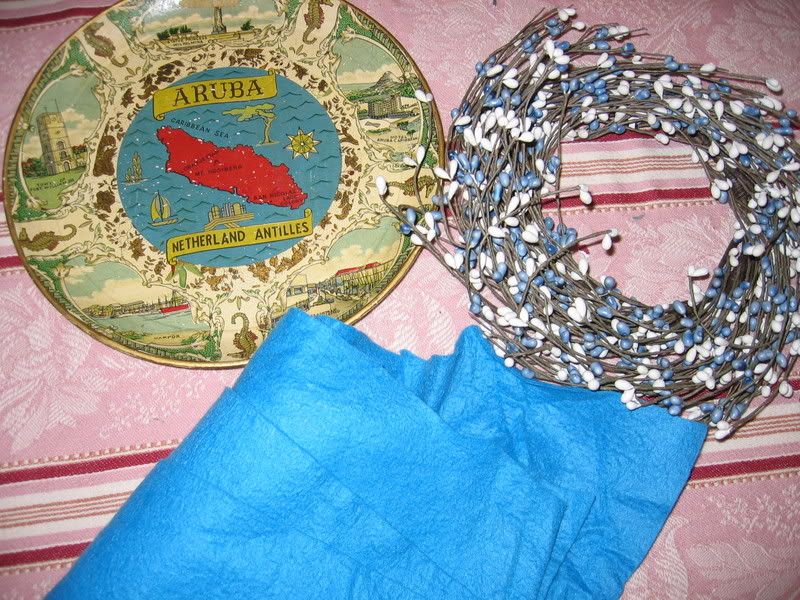 aruba paper mache plate - $2 -
this goes nicely on my beach themed sun porch (Savers)
blue/white garland - $2 -
also will go nicely on the porch and these things are so expensive at the craft store for some reason (Savers)
blue felt - 25 cents -
This is what I made the stocking from that I shared
yesterday
. (Church Attic)
Tomorrow I'll share the thrifted Christmas items we picked up. I think between the two of us we spent around $40 combined. Not so bad for our haul!
xoxoxo
R