$18.98. That's how much I dropped on magazines at the Hudson News yesterday morning. I'm a sucker for magazines. For someone who tries to live thrifty and "claims" to be cheap, I fall off the wagon at the news stand. I also get like 6 magazines mailed to me so I assure you, this is a sickness.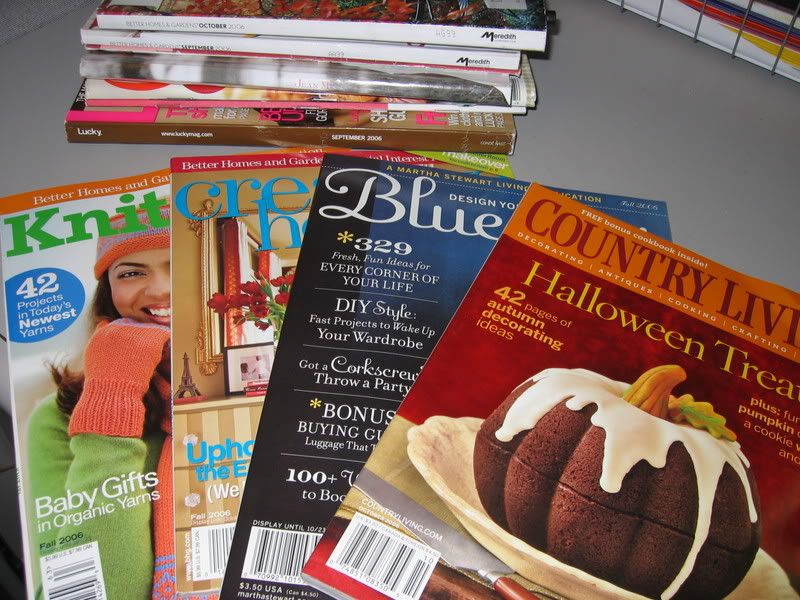 Yeah, I can't help it. Ofcourse
Martha
is my favorite but
Country Living
comes in a close second. I mean how cute is that pumpkin cake on the cover?? You know I'm making that, right? AND it's made from a box mix. That's my kind of cake. Also, they have a Flea Market page on their website where you can post things you have to sell and browse others. Check it out
here
.
I'm still on the fence about
Blueprint
which is new from Martha. the first issue was okay but I didn't love it. I thought I'd give it one more chance. :)
The new Knit It has some to die for cute baby hat and bootie patterns and a bag from Nicky Epstein. You know, if you like doing all those hours of color work and then felting it down to mish mash.
The other one is Creative Home, one of the hundreds of publications by Better Homes & Gardens (who I also think distributes Knit It for that matter.) I usually find some good decorating tips.
So why all the magazines? You see, I have this book . . .
I mean I can't possibly KEEP all the magazines, right? So instead I cut out all the stuff that inspires me to be creative and paste them in this book. It can be anything for the instructions for Christmas crafts you see here to just pictures I like. I can jote down notes, too. Now I have a place to go when I want to make something but I just don't know what. Occasionally I cut out things to mail to other people. Be glad I don't have your address.
So anyway, that's that. Now you know something about me. I'm obsessed with magazines and cut & paste. :)
xoxo
R
PS -
Hillary's
new pattern is up for sale
here
!