Maybe it's time to try to organize a craft supplies swap. I think it will be good for all of us. (Okay, it will be especially good for me since I will send a little something to each participant and thus de-stash much faster than the rest of you. Ah ha!)
Anyway, I've never done this so please help me if I start screwing it up. My thoughts are that anyone who would like to swap (meaning they want to send supplies and receive some in return) please send me your info and tell me what kind of crafts you are into or even better, that you are looking to get into. I will do my best to match everyone up with a buddy. It should be easy considering how AMAZING we all are. :)
If you would like to receive some supplies yet have not much to trade (for people like Dita who just made room for a crafting area) please also send me your info. I'll send you something! :) (Anyone who feels like sending and not receiving can do this as well, e-mail me.)
Does that sound good? Now go tell your friends and neighbors! We should probably put a date on this thing and I'll hope you will be patient with me as I have two weekends of big fun coming up that may keep me from the post office. So how about we gather and mail out by October 11th That's 3 weeks, is that enough time? Too much time? Should we make it an even month? Can you tell I'm making this up as I go along?? HELP ME ;)
Onto crafty endeavors. Way back when Mom snagged me
a ton of craft books
at the thrift. My favorite is
Jo Verso's Complete Cross Stitch Course
. I like a lot of the projects and over the weekend made the lavender sachet: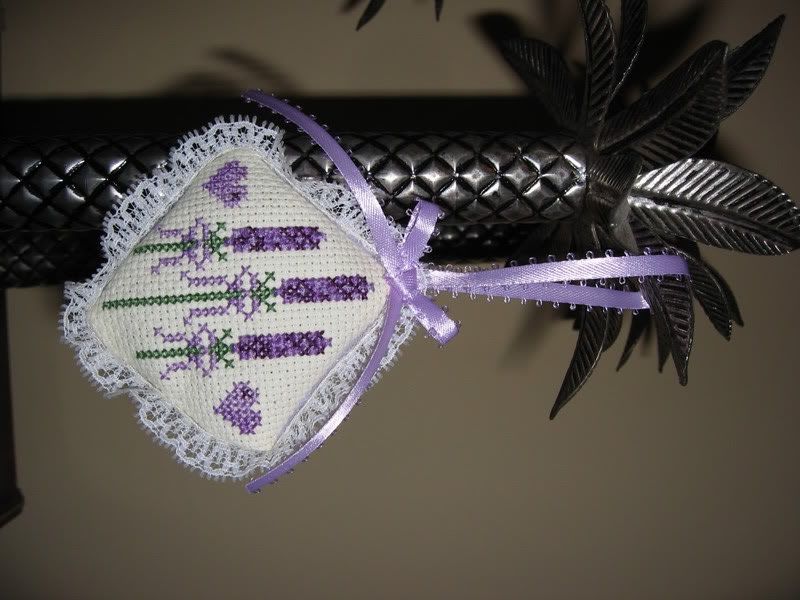 I faked this. I did not use the recommended thread colors (I was being impatient) and the lavender flowers were supposed to be French knots (a combination of impatience and the fact that I kept pricking my finger). Regardless, I like it. My lavender is not that strong smelling (I've had it for awhile) and my shoddy hand sewing is pretty much hidden behind the lace ruffle so that is okay, too. The back is purple flannel. I'm planning to make a trio of these to give my boss for Christmas. She seems to dig hand made gifts.
It's so nice to actually finish something. :)
xoxoxo bellas!