This weekend I . . . . honestly, I can't even remember what I did. I know I went to the craft stores and the thrift store and I know I made SOMETHING and I might have even finished something but . . . it was one of those black hole weekends. I just have so many projects going on right now that I can't keep anything straight. I need to focus. Easier said than done right?
Well I know I thrifted. I thrifted $39 of stuff. That's a lot for the Savers. The haul? Here is some (in yet another crappy photo - I have no clue how to photograph thrifted stuff? Any ideas? tips?):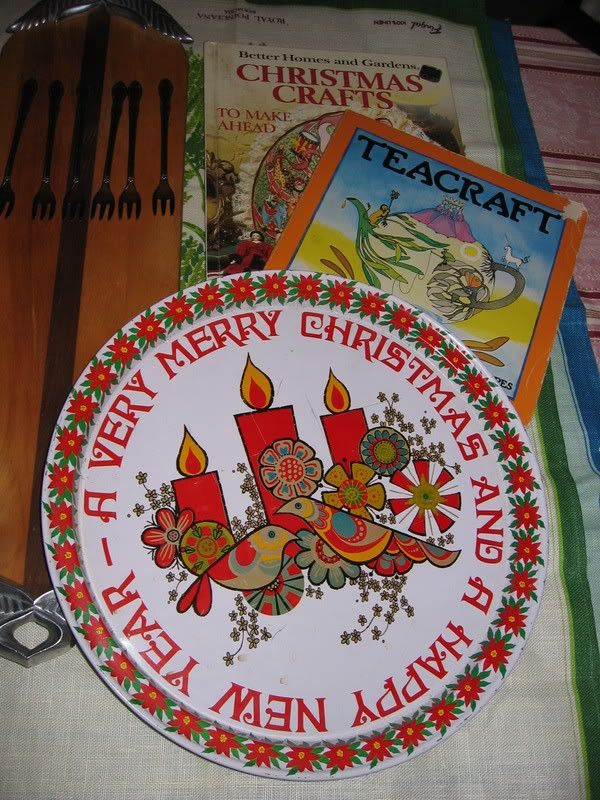 long oval cutting board with metal handles
- $5 - I really liked this so I was okay with the high price. It is made well, heavy and not very "scarred." It will be a great cheese board.
cocktail forks
- $1.99 for 6 - these were individually sealed in little bags and I wasn't sure about them but I've been wanting cocktail forks. Anyway, turns out they are Oneida. :)
Christmas tray
- 49 cents - is it vintage? I have no clue but I LOVE the design!
books
- 99 cents each - Better Homes and Gardens Christmas crafts has some cute things. Tea Craft was picked up for my Mom since we are throwing a tea in a few weeks for my brides maids.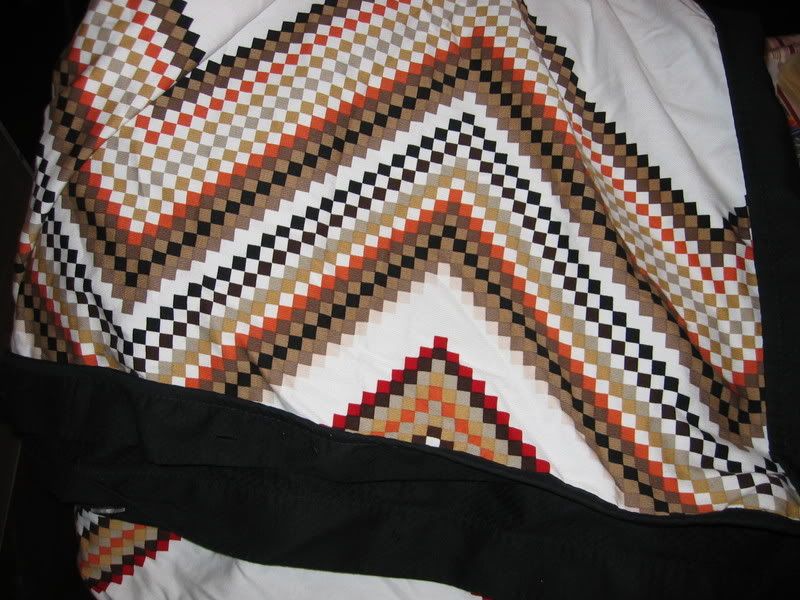 duvet cover
- $8 - now that's a BIG price tag for the thrift but this is very well made and a nifty geometric pattern. I am always looking for a cover for my sad old down comforter and this will do nicely.
candy jar
(far right) - 99 cents - this is my candy jar collection I was telling you about. I still don't know what to put in them. I think I only paid about a dollar for each and I love how they are all differently shaped yet all match. I will probably not buy anymore, I think 4 is a good number.
There is more but I won't go overboard today. More to come tomorrow. Also more to come on what I actually accomplished craftwise this past weekend.
I'm feeling the need for a purge. I am overwhelmed with stuff. Particularly crafting supplies (I hereby do solemnly swear NOT to buy any craft supplies for the next 9 months - please help me stick to that!) Seriously, I need to get rid of things. I'm going to go through and start getting together bags for the thrift of clothes, shoes and house hold items but I don't know what to do with the unwanted craft supplies. I wonder if you can open an Etsy shop just to sell supplies? I'm sure someone could get some good use out of them.
Remind me tomorrow to tell you about the craft supplies I bought over the weekend ha ha. Sick I tell you . . .
until next time . . .
Rebecca