WIP
- acronym for
W
ork
I
n
P
rogress (also known as UFO or
u
n
f
inished
o
bject).
Whip
- to strike with a slender lithe implement
especially as a punishment.
That is how I feel about my ever growing stack of WIPs. I'm such a starter! I need to be a finisher. Remember Monday I said I may have another finished project to share? I was referring to this:
At this point I've pinned the head to the dress but that's about it. It sits alone (and probably dusty) on my desk.
I also have this:
It's my "subway project" meaning it A.) fits in my bag B.) can be knit on circular needles and C.) consists mostly of stockinette stitch with little thought involved. It's
Lucie
from
the new Fall Knitty
being done in
Elsebeth Lavold Silky Wool
in Verdigris. I have boatloads of this stuff.
There is also another sweater, an afghan, TWO cross stitch kits and stitched sachets all in different stages of "doneness." I won't bore you with the details nor mention all the other projects "on deck" like various Christmas ornaments, napkins to be embroidered and the pattern I just bought to sew an apron. Sigh . . .
I want to be like Dita. Dita finishes things. Things like this Donna Summer Solid Gold Disco bag (I named it myself thanks):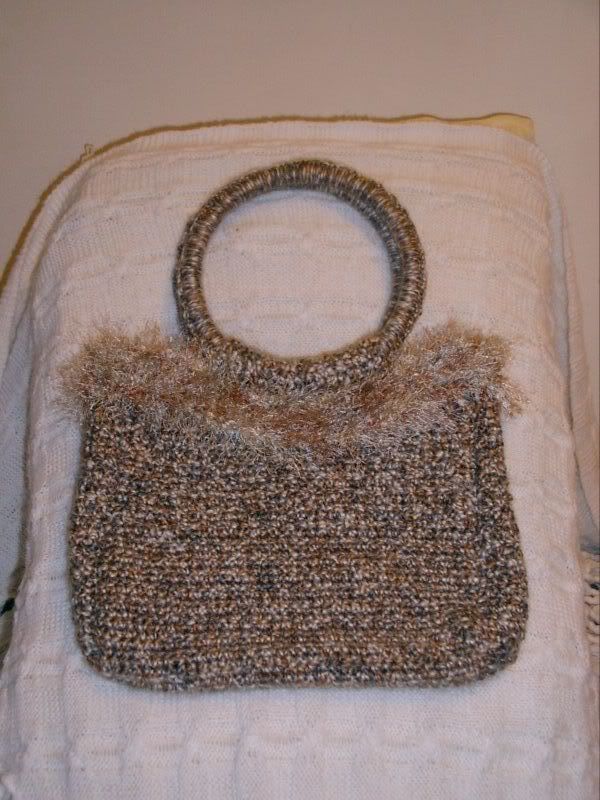 and the super cute Pumpkin Patch pillow:
Both of which are DONE despite the fact that Dita is running from the "Crochet Po-Po" AND planning a trip to visit yours truly. Maybe some of her dedication will wipe off on me. We have big plans to thrift, craft and sightsee with Nine as long as we can avoid the THREE B'S - bourbon, B&B and Beer. (actually I think that's 4 B's) :)
So here's to gettin' shit done. Salute' Dita!
xoxoxo
Rebecca