Well that's it, isn't it? The end of the summer. I'm glad. I will miss the beach but other than that, bring on the fall! It's my favorite season. I start knitting with a new fire (scarves for everyone!) and I can't wait to take the AC units out to the garage. I want to light pumpkin spice candles and make stew. I love the fall.
I've been so busy this summer that it just flew by. I always feel it takes twice as much effort to do anything when it's hot. I'm just not a summer girl. I wilt. I'm looking forward to all of my upcoming fall activities: Monica's wedding, trips to Cold Spring, a visit from Nine and Dita and even a visit from my parents! My Dad hates New York City but he loves to fix stuff so he's coming to hang my closet doors and revent my dryer. :) It's a good way to get him to visit.
Luis and I spent two of our Labor Day weekend days in Atlantic City. We are not big gamblers but we like to get a free hotel room and walk the steel pier. We are also known to play the money wheel (we lost) and I am oddly attracted to the penny Star Wars slot machines. I won $22 on Chewbacca!
Well enough babbling, I hit the thrift on Saturday on a whim. It was not a great trip.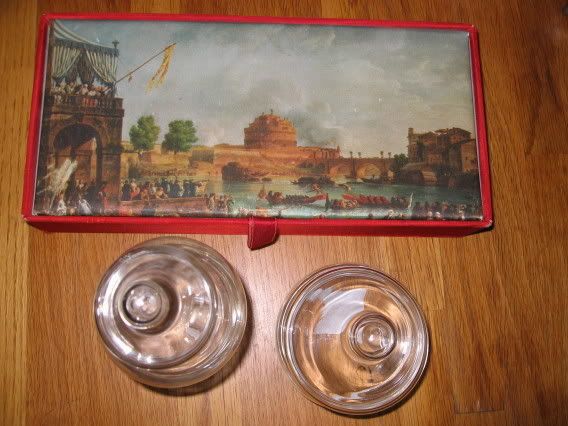 satin box
- $2 - it says "hosiery" on the bottom. I think it's cute and can use it in my dresser.
candy jars
- $2 each - this is a terrible picture of these jars. I have a third and they are all different sizes. I'm looking for something to fill them with other than candy. I have some beach glass and shells but not quite enough. Ideas??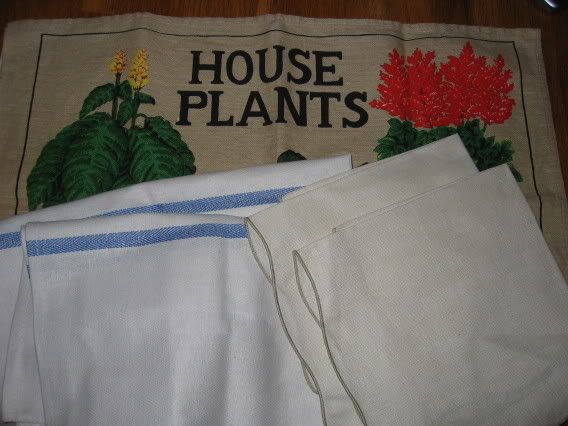 linen towel
- 49 cents - House Plants, very cute!
napkins blue/white cotton
- 49 cents each - my favorite color combo and to be used as kitchen towels
linen napkins
- 49 cents each - I bought these to do cross stitch on. I learned a agreat technique where you put the aida cloth on top of the napkin and do your cross stitch and then cut out the aida. I stitched an "R" on one napkin and it's very cute but I totally didn't center it properly. I'll post a picture tomorrow. I know it wouldn't do to rip it out, there will be too many holes, so I may just suck it up and stitch the other one off-kilter to match. :)
So what are your plans for fall? What kind of crafts are on deck? What are looking for at the thrift?
Tomorrow we talk about how I found
Sizzix
dies for $1 each! Anyone else out there own a Sizzix machine??
ciao!
Rebecca