I decided to face my fears and blew the dust off the old sewing monster this weekend. As many of you know I get really frustrated sewing. Thanks to my DH I have a lovely new machine that doesn't get a lot of attention. I promised myself I'd get over it and dive right in. So of course I'm starting small.
Lovely picture, yes I know. I probably should have stuffed them for a more
attractive
shot but I was just so happy they turned out that I wanted to document it quickly. Two drawstring shoe bags for Luis to use on our trip next week. The fabric is a lovely scrap of Waverly decorator cotton I've had forever and have been afraid to cut into. (If someone can explain to me why we
crafters
HATE using craft supplies please do.) I pretty much used
this tutorial
(which I found
here
on
Roxanne's blog
) but as I was going from memory I'm sure my method was a wee bit different. Simple, I know, but oh so handy and some serious instant gratification. Does it
matter
that Luis can only fit one shoe in each bag instead of two? No.
That done I decided to push my luck and try something similar but a bit more difficult. I found
this tutorial
through
Sara's blog
(you can see her version
here
) and decided to give it a go: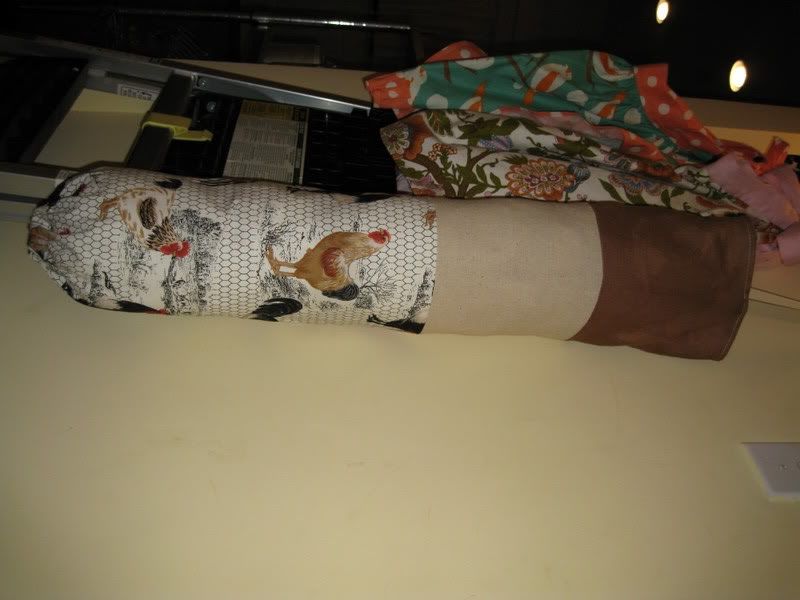 Not bad for my first piece of patchwork! The rooster fabric is again something I've had for awhile but have been loathe to cut into but I'm glad I did. I've been wanting to use it for a kitchen project forever and really did need a place to store those pesky grocery bags I still end up with even though I try to always take my own bags to the store. Now if only I had enough of that fabric left for curtains!
I hung it in the basement way with my favorite aprons which includes that sweet orange and green bird apron
Jen
was kind enough to make me for a
swap
. I really need to work on my picture taking
LOL
.
Anyway, it was quite a productive weekend for me with all the sewing, crafting, and patting myself on the back. I'll have a few things to share this week including some thrifts and a tutorial. :)
hugs
RR