Seriously. I said I wasn't going to spend money this year and well . . . the clearance section at the
Michaels
got me again. In my defense I used a gift card which still has some funds on it.
Oh Martha, you slay me! Seriously. But what a wonderful palette, no? The rolls of paper are
glassine
, wrapping, vellum and
tissue
from the bottom up. Either $2.00 or $1.50. On the right: the recipes cards were $1 (I sent these in red to
Breanna
for the Sister Swap. I like that they fold over as I always run out of room when writing out a recipe!), the package behind that are memorabilia pockets for a scrapbook and were not on clearance but well, you know, I NEEDED them. Only $3 so okay. ;) The "
specimen
" boxes were $2 each,
originally
$9.99. They are hinged boxes with padded fabric inside and
specimen
pins to attach some thing. Not sure what I'm going to do but perhaps something from my wedding as they are pink and brown. And wouldn't that be a neat gift for someone? Ideas welcome! What would you make? The ribbon is actually ribbon tape (sticky back) and I can think of many uses for it, $2, and the kit is to make 3 lovely frames and was $5. I will probably frame photos for gits with these. So this was all under $20 and like I said, I used a gift card.
I'm very into these colors right now. Especially the soft pink. I about drooled all over the February Country Living that
arrived
in my box yesterday: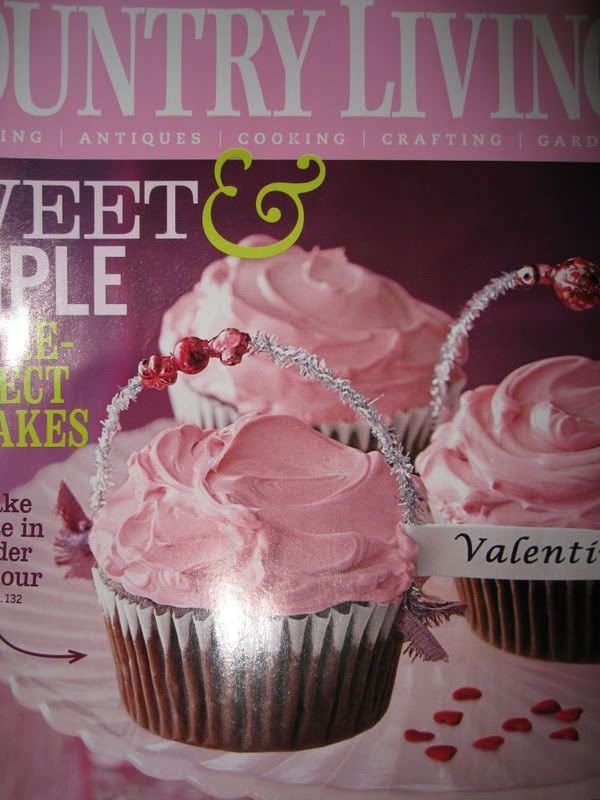 There's my combo of pink and brown! And hello, I want a cupcake. :) Love the little basket handle, too. Might have to steal that idea. So did I read the magazine? Um no. I haven't finished with January yet and like
Leigh Ann
I like to read things in order.
I'll share my seven random/strange facts tomorrow as I can't come up with any as I'm so very normal. ;) Off to a long day of CPR and first aid training!
cheers
Rebecca