That was my attitude heading into the Northern Thrift on Sunday with my friend Lizzy. I really just wanted to drop off my donations and have a quick spin around. No need for a cart. Well as we all know that never works. While I didn't get a ton I did buy a large wicker basket to use in reorganizing the craft room and ended up needing that cart after all.
A few other things I found . . .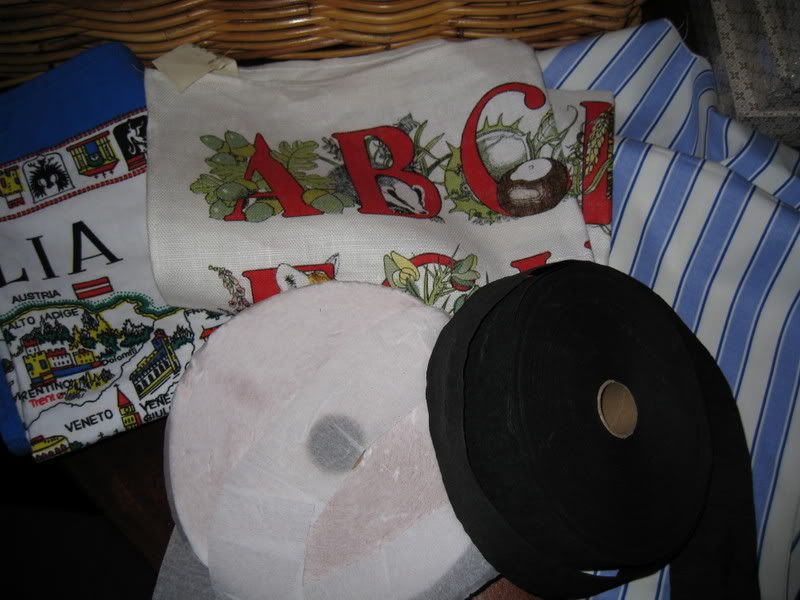 Two tea towels, one is cotton and has a picture of Italy and the other is Irish Linen (by order of Her Royal Majesty according to the tag) and has a lovely alphabet on it. The striped fabric is a yard of Laura Ashley "Old English" and was a steal at 69 cents. I think I'll make myself some shoe bags with that. And the big rolls of crepe paper are the nice stuff, not the cheapy dollar store crap. I'm picturing Halloween crafts for some reason. ;)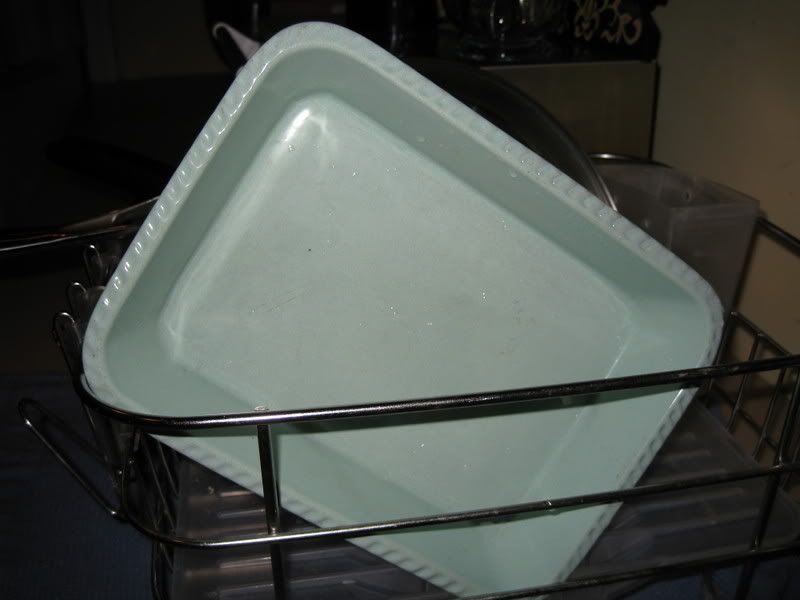 My favorite find was this small enamelware dish. It's about 9 X 6 and is quite heavy. I love the aqua color! The bottom is slightly darker. Funny how a small dish can make me so happy LOL.
A pretty good thrifting trip in all with most items being small ticket and only a few dollars more for the large basket and the dish. Lizzy did well, too. She cleaned up on nice wool sweaters! I've got the junkin' itch and just chatted with
Breanna
today about planning a spring trip to the
Elephant's Trunk Flea Market
.
So I'm way over due in showing you the lovely wedding gift
VaxGirl
made for me. She gave it to me when we went to the rummage sale in November and I thought I posted about it but couldn't find it!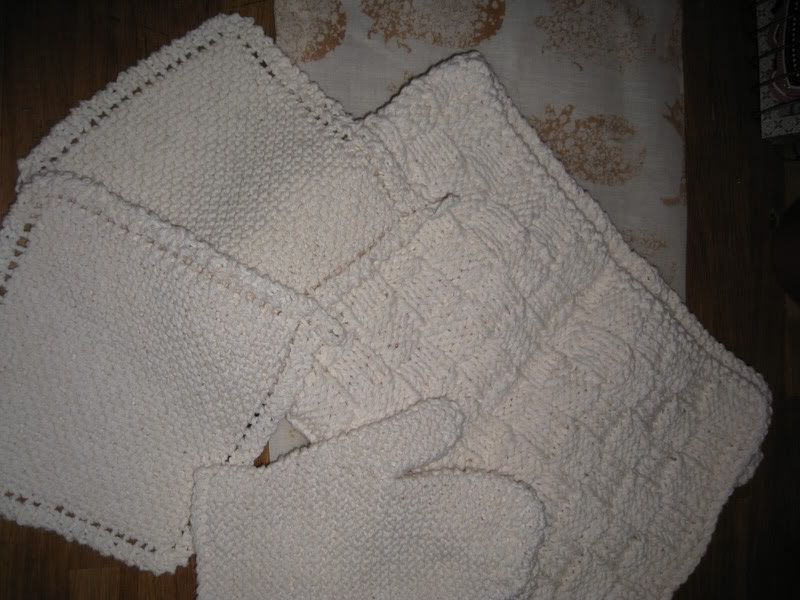 She crocheted me this lovely cotton bathroom set! The picture really doesn't do it justice at all. You should see that bath mat! Hopefully soon my bathroom will be clean enough for me to use it in there. ;) She also gave me a set of Pyrex mixing bowls and a jar of her home made pickles. Thanks again, Catherine, and so so sorry I didn't post about this long ago!
Until the next . . .
Rebecca
PS - My sister is back blogging! Visit her
here
!