Happy New Year! My holidays were filled with family, friends and fun and they went much to fast. So now it's that time of year to make resolutions that I promise to keep this time. I WILL get healthy. I WILL get organized. Those are the two big ones. I feel like I'm losing myself in the hustle bustle of my life and need to get back on track. I have loads of smaller
resolutions
as well like sticking to a budget, using more moisturizer and learning a new skill.
Anyone
else out there making resolutions?
Now that's it's January I am roaring to get a move on to all those projects on the January List. Once I get my house in order (decorations away, cleaning done) I plan to dig in deep in my craft room. It's a mess. And I am not exaggerating. My 10 year old
niece
opened the door and said "WHOA." So you know it's bad. Anyone who has any unique storage ideas please send them my way. I'm working with a smallish room (maybe 12 X 10) with no closet and one wall that has a radiator and window. I have two desks, two bookcases, yarn cubes and a small sewing table. I need some serious help! :)
Sweet Louie gave me a new camera for Christmas! It's a Canon
Elph
SD950 and has all sorts of fancy features I have yet to understand. I should probably read the book. :) And what do you think the first picture I took was of? My dear husband? My sweet doggies? My family? Um no.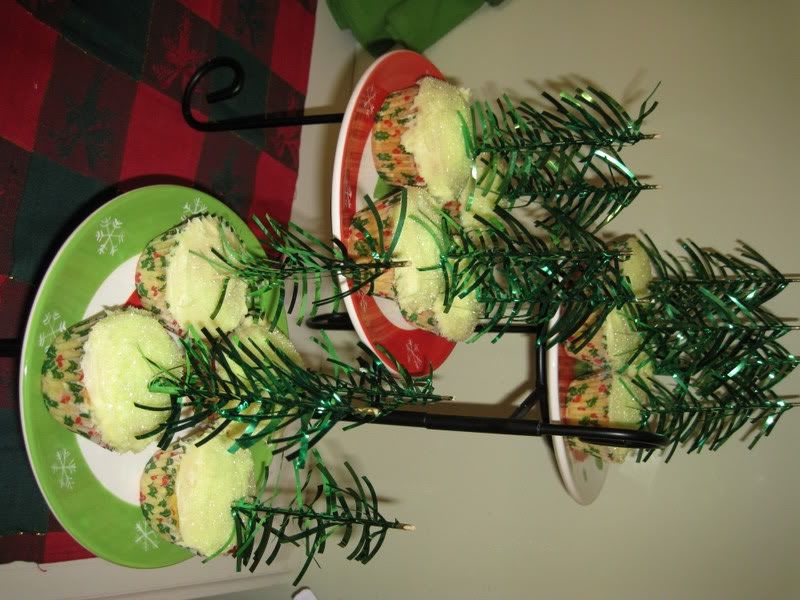 It was of cupcakes. I just thought they were so pretty. Want to see them close up?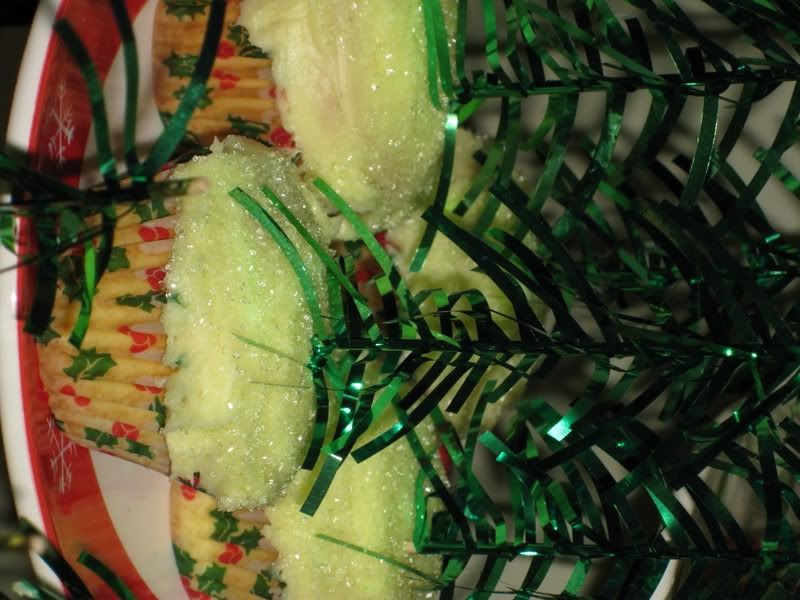 See the sparkly sugar? I guess that is what 12 mega pixels will do for you. So my 2
nd
picture was also of cupcakes. What a crazy lady. And speaking of cupcakes . . .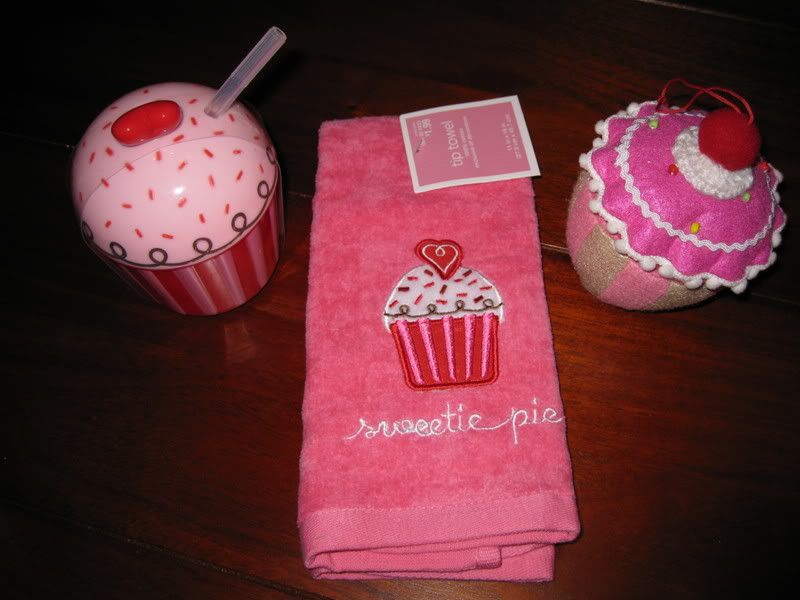 Seems to be a bit of a theme,
hmmm
. . . Maybe I should call this blog Thrifty Cupcakes or Cupcakey Goodness? The cupcake
sippie
cup and tea towel are from Target from their Valentine's Day line. I went on the day after Christmas for our annual sale hopping and couldn't resist them. (I was in shopping mode!) The stuffed cupcake is an ornament I found at JC Penny of all places for 70% off. Too cute to put away for next Christmas don't you think? I got some other things at Target like two table cloths, some napkins, an apron and some rag rugs I plan to use on
the
porch. They were with
the
Christmas stuff but are blue and brown. Perfect as they were only $4 each. :)
I also hit the Macy's to prowl the Martha Ornaments. I got a few small glittered houses and some of those elves made from
pine cones
. Also got a
Santa
tree topper. Everything was 75% off. I picked up these as well: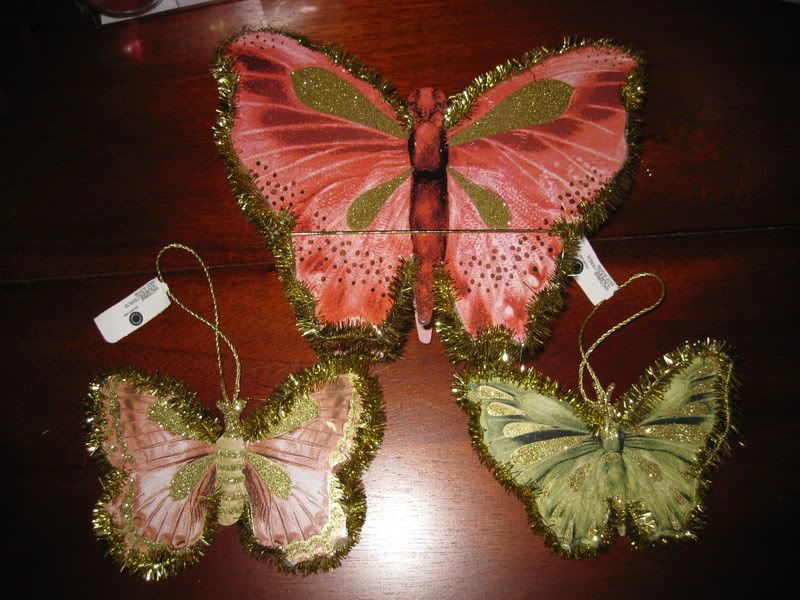 The top one is a box and the smaller ones are flat ornaments. I also plan to leave these out and think I'll hang them on my Easter tree.
Next stop?
Michaels
to dig for half price Martha craft goods: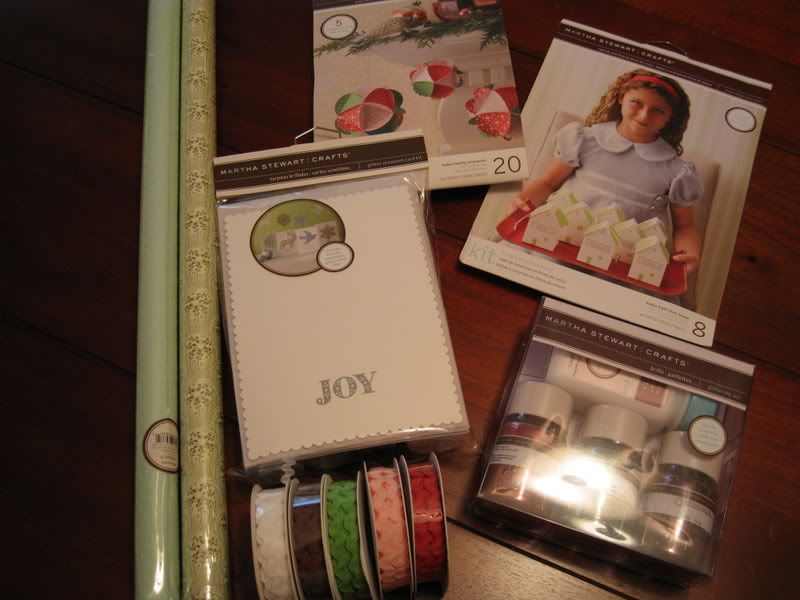 I tried to pick up things that I could use now like the wrapping paper, rick rack and those cute treat houses which I plan to use for Easter. The ornament kit, glitter card kit and an advent house kit (not shown) will go away for next year and we'll see what projects I can use that glitter on.
So good thing I put myself on a budget AFTER this shopping trip, right? :) I also did some
thrifting
while in Baltimore but don't have much to show. I'll share those small finds later this week.
So now that I've gotten all my babbling out and shared my treasures with you I'm off to talk myself INTO going to the gym today. Time to get started on the new me. ;)
xoxoxo
Rebecca