As you know, I have MAJOR swap angst at any given time. Right now I am sweating over three personal swaps with three very established creative ladies,
Vallen
,
Jen
and
Natasha
.
I. AM. FREAKING. OUT.
No seriously, I am so nervous my
swappy
prowess won't match up or, swap god forbid it, I'm LATE in sending my package out OR, EVEN WORSE, I have no clue what to make. So why do I do it? Aside from the obvious adoration I share for the creative wonders that come from these three
bloggers
and many others, I love the push it gives me to create something with someone specific in mind. Each of my personal swaps (and these are my first, in truth) is very exciting and challenging in a good way. I can't wait to show you what I create for my new friends! I just hope they like it. ;) (angst, angst, angst)
Another great part of swapping is when you open your partners package and see what they put together with you in mind. I just received this package from
Roxanne
who was my buddy in
Vallen's
mounted
ATC
swap. Girl, you spoiled me!
Not only did I get a fabulous
ATC
, she also included chocolate (yum . . . what diet?), a tiny pin cushion (I love all things tiny AND
cushiony
), a measuring tape (this is going in my purse for when I need to measure sheets at the thrift - ahem, L.A.), ball fringe (who doesn't love this??), tiny paper file folders (favorite spring color combo), a green trivet (is this
thrifted
? Now you know I love
thrifted
!) and a scrap of the fabric that inspired her
ATC
. I thought it was so clever to include that, I enjoyed knowing what sparked the idea behind this: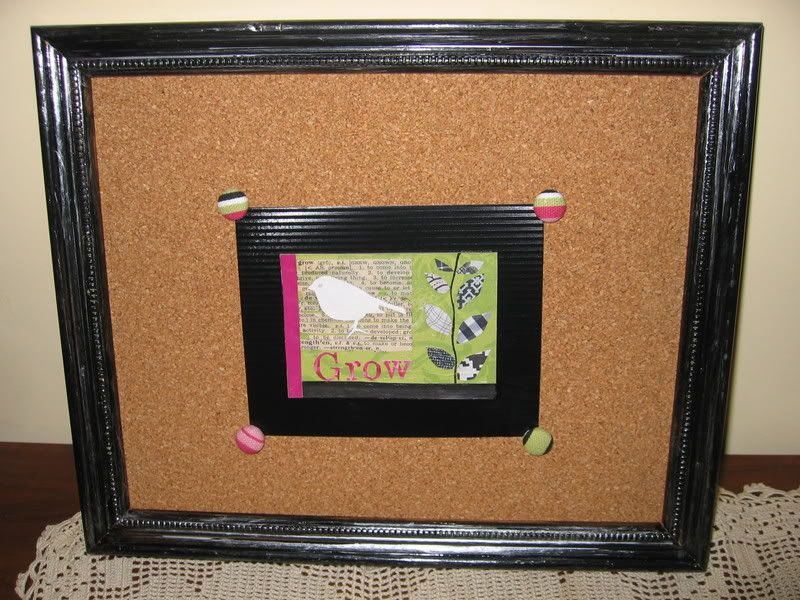 The
ATC
is actually tacked to the cork board and can be removed (as if I would do that!). The little fabric thumb tacks are so cute! Roxanne shared the link to the tutorial, you can find it
here
.
I really enjoyed making Roxanne's
ATC
, too. The mounting was a fun challenge and thanks to
Leigh Ann
I was able to make something a bit more unique than what I originally had in mind. She actually pointed out two things that I could use for mounting both of which I snatched up for a song at the thrift. Here is the frame I didn't use for Roxanne's
ATC
with it's own little bit of art inside: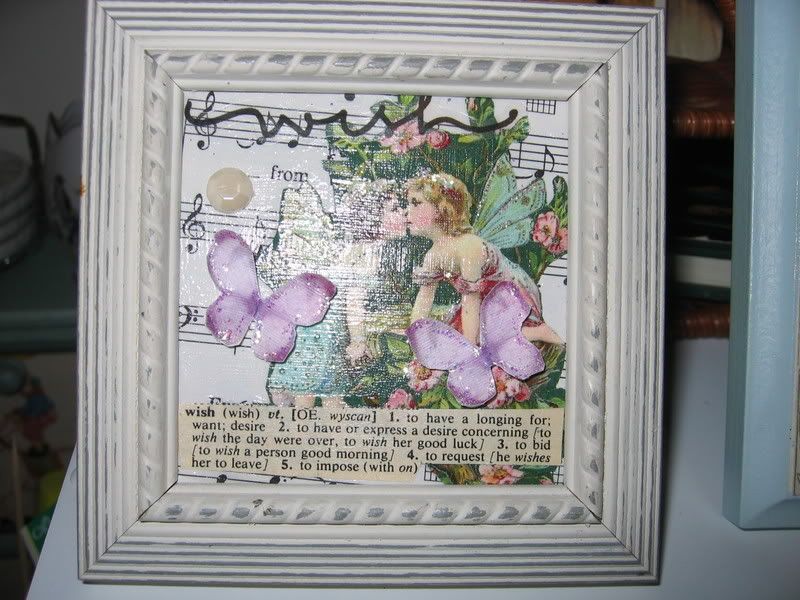 Sorry about that glare, this is some shiny
Modge
Podge
. Do they make it in matte? I'll have to check. Anyway, it was fun making this little collage (it's even smaller than an
ATC
) and I think a new craft has been born for me. Look out!
Want to see the one I made for Roxanne? Well check back later in the week, I don't want to spoil the surprise.
cheers
RR