You know all my whinging about never getting anything done lately? Well it's in part because I was working on mass producing crocheted ducks and cupcakes for a whole sale order: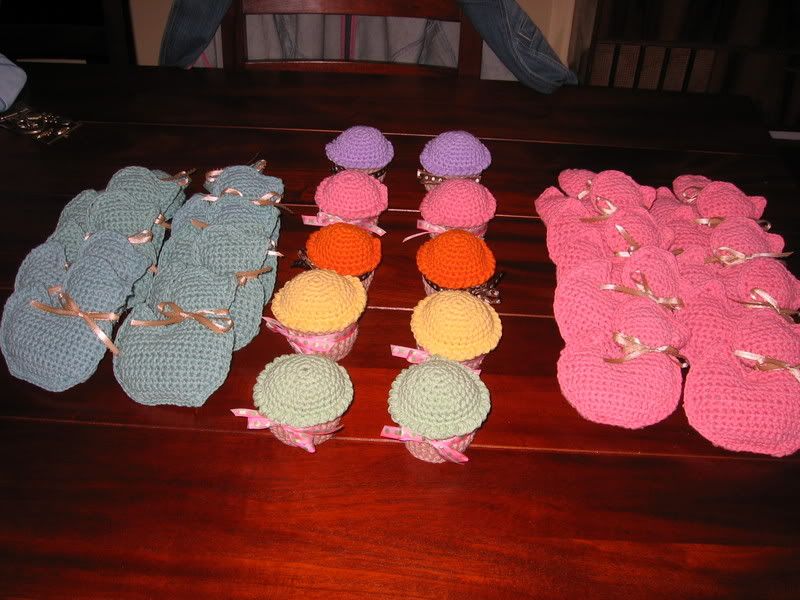 Basically I was paid for my crocheting time and the supplies and it was an interesting challenge to see how I would do at having to create multiples. I learned I could crochet one side of a duck and start the second side during my subway ride to work in the morning. I also learned that making cupcakes is way more interesting than ducks and that I stink at tying bows. All in all a good experience but would I do it again? I'm not sure. I certainly perfected these two patterns and I suppose I could be prompted to do so again for a craft show or a charity event. However, I'm glad it's finished so I can get down to business on the next thing on my mile long to do list.
I started a crocheted bath set like the one I made for Peta in the Pink and Brown swap. You can see it
here
on
Peta's blog
. It will be for my boss'
birthday
which is next Wednesday. I should be able to finish in time. It's tough coming up with something home made for her twice a year but she really likes it so I do what I must. I also haven't done and inch on
my afghan
or even touched the dollhouse. Though I did buy paint for it. I guess that is a start. Once the bath set is complete, I've done 10 inches on the afghan and
at least
painted part of the dollhouse I think I'm getting the knitting needles out. It's been awhile and as I can't seem to sew any
stuffies
I'll have to resort to knitting them.
Aside from crafting I am hoping to do more baking.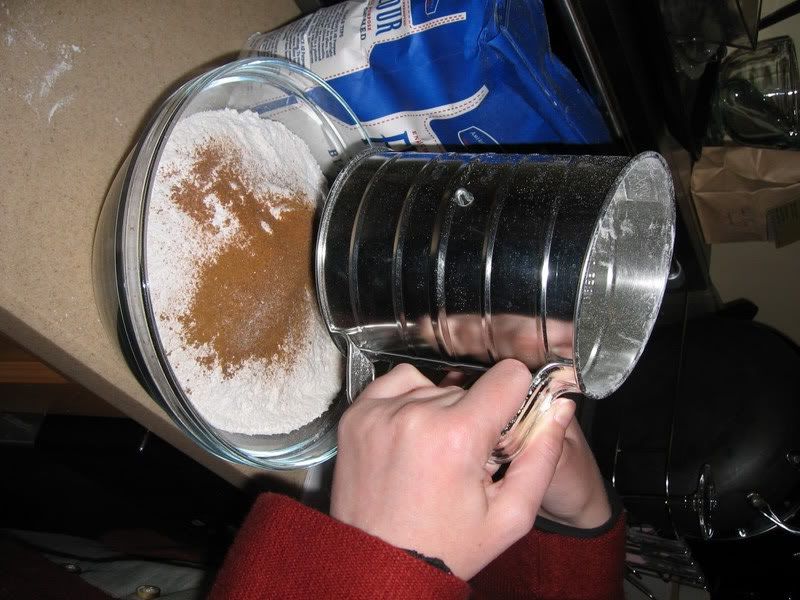 *note - that is not actually me doing the sifting, it's Katie from
An Odd Duck
. You see while I personally want to do more baking I also will recruit unknowing others into the mix. (pun pun pun)
As I'm on a diet (I know, I know AGAIN) I am hoping to find desserts that fit into my daily point allowance so I don't have deny myself that little something sweet once in awhile. The photo you about to see does
not
contain one of these diet recipes, this one is full on calories:
That, in all it's
messy
glory, would be Martha's Stout Bread from the Holiday Gifts special issue of MS Living last year. (I searched her website but no luck in finding the recipe. If you're really interested in bread made with dark beer get in touch, I'll give you the scoop.) I'm a little late at trying these but as I happened to have all of the ingredients, including the Guinness, it was
worth a
try. And I HAD been saving those empty cans since like November. It was rather tasty and the only thing I would do differently next time is to split the batter between six cans instead of four as reccomended in the recipe. You do get a nice round loaf that pops right out and I enjoyed mine with pumpkin butter from Trader Joe's. Yes, I have my seasons all mixed up, I know. It totally put me in a holiday mood.
And speaking of, I am thinking of instituting a challenge come September 1st. How about some early winter holiday crafting? I'm always saying I should get going early so why not try? Maybe you'll join me on the band wagon? I did happen to recently purchase a Christmas gift for a friend from
this very talented lady
just last week so technically I've already started. One thing down, 80 million more to go. Or so it feels . . .
And in reality, another challenge to myself and all of you out there who have been grumbling about not feeling focused. Somewhere in blog land last year there was a whole month of "use what you have" for crafting. I say we give it a try again! Lord knows I have enough stuff to support several
crafters
plus all the
miscellaneous
cans of stuff in my pantry that are waiting to be used for meals. So let's have it, shall we? I'd love to see some creative creations both crafty and
foody
coming from your already possessed goods. Up to the challenge?? Well it doesn't start until Sunday because I'm going shopping with
Leigh Ann
on Saturday. :)
cheers!
RR